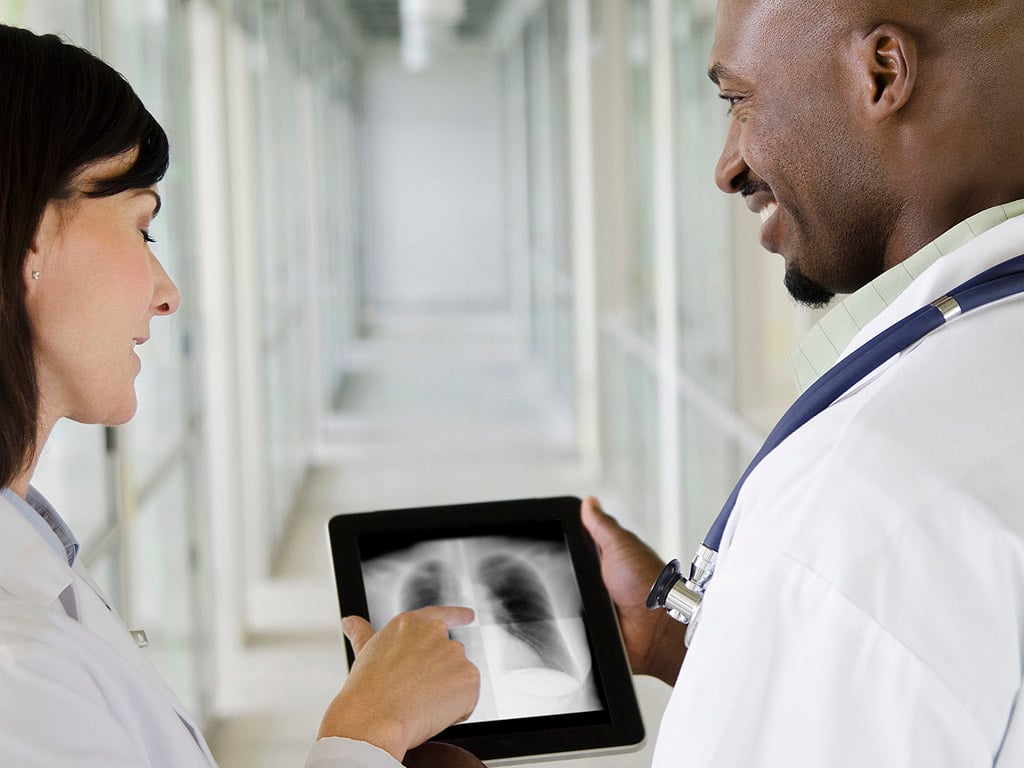 Image courtesy of Barco
Radiology is undergoing a major overhaul in terms of the business model practices used for the past several decades, due to new challenges from healthcare reforms and increased competition for hospital contracts. Additionally, some hospitals are increasingly marginalizing radiology as a service that can be provided by anyone. In an era of closely examining healthcare cost effectiveness, these factors may affect the future of radiology practices and their integration into the hospitals they serve. These changes in the radiology business were detailed in sessions at the 2015 meeting of the Radiological Society of North America (RSNA) in December.
"In order to compensate for the declining reimbursement some radiology practices have concentrated on volume and have not spent time in hospitals or face time doing non-clinical work with hospitals or at conferences, so radiologists are being commoditized," said Lawrence Muroff, M.D., FACR, CEO and president of Imaging Consultants Inc., a consulting radiology and hospital consulting service. "This was an unintended consequence of lower reimbursements." 
He explained that unless radiologists can show their practice will add value to a health organization, they risk being replaced by competitors that offer radiology reading services alone for a lower price. This commoditization of radiology also extends to government policy makers in Washington, D.C., where there is a lack of understanding about what radiologists do and their workload. Muroff used the example of general practioners, and how the Centers for Medicare and Medicaid (CMS) has raised their reimbursements because of the public perception, partly due to lobby efforts, that they need more money because they are overextended and overworked. 
"Many people don't know what radiologists do, or even that they are qualified doctors," Muroff said. "That needs to change if radiologists are to be paid accordingly for their specialty. Radiologists will have to be significant or we will be irrelevant in regards to the new payment systems and increasing patient volumes." 
He said hospitals replace their radiology groups for several reasons:
●    Complaints from referring physicians (service issues).
●    Hospitals get tired of radiology group competing with them if they operate outside imaging centers.
●    Hospitals want more control over radiologists' hours and numbers.
●    Hospitals want to own the radiology practices, to integrate them into a service model to own all assets in the care continuum, as they do already with the building and the imaging equipment. 
●    Some hospitals do not like or get along with their radiologists.
●    Hospitals often do not think radiologists have leadership or business leadership skills.
●    Referring physicians feel the radiology group is too small, so if a specialist goes on vacation, they lose their expert, and hospitals are finding replacement experts elsewhere. 
●    There are greater demands for alignments of practice goals and those of the hospitals. These issues may include wanting the radiology practice to take sides on some issues or want the radiology practice to sell their outpatient services to the hospital.
Increasing Competition in Radiology
Job security will likely become more of a priority for radiologists in the coming years due to rapidly expanding competition aimed at taking hospital business away from established radiology practices. Muroff said national radiology companies are aggressive so they can show growth and revenue. This is partly because many of these companies want to go public or be acquired. 
The night call coverage market is another source of competition for established radiology groups. This market is completely saturated, and Muroff said many of these companies are looking to expand the easiest way, which is to get hospital contracts for all radiology services. He referred to the most aggressive national radiology and night coverage entities as predatory radiology companies.
"We need to understand this is not business as usual," Muroff said. "If we continue with business as usual, there are others who will take away our business. A shift in culture is not a luxury, it is an imperative for professional survival." 
He suggested several actions practices can take to improve their standing with hospitals, including:
●    Radiology practices generally do a terrible job in dealing with problematic radiologists who cause friction with their referring physicians, so groups need to be more aggressive at disciplining or removing these radiologists to improve customer service. 
●    Quality metrics are often not shared by the radiologists with hospitals, which will need to change. Data sharing also offers a new level of customer service. Muroff said analytics data can help hospitals better understand their own efficiency, and quality and service improvement needs. 
●    Radiology practices need to ensure they have 24/7 sub-specialty expertise coverage.
●    Structured reporting or other technology measures should be adopted to eliminate the need for transcription. This will not only help with turnaround times, but also be a big cost savings. Structured reporting also will help with data analytics.
Impact of Alternative Payment Models
Healthcare reform is also a major agent for change in radiology. The main goal is to make healthcare more efficient by changing the current fee-for-service model to alternative payment models, such as fee-for-value. 
Bundled payments for specific episodes of care are one of the biggest drivers, where a single payment is made by the CMS and it is up to the hospital to figure out where that money goes to diagnose or treat a patient in the most cost-effective manner. This payment model is a challenge to radiology practices that operate outside the hospital. Muroff said practices need to be prepared to know what is their fair share of these bundled payments. Under this payment model, he said it is much easier from the hospital's perspective to hire the radiologists and salary them, rather than negotiating separate fees for everything they do. 
"Pressures from healthcare reform are requiring us to think differently," said Ronald Arenson, M.D., FACR, president of RSNA and chair of the Department of Radiology and Biomedical Imaging at the University of California, San Francisco (UCSF). "It is also extremely important to have radiology represented on any governing body and at negotiations." 
He said hospitals want to be able to negotiate reimbursement for the entire organization and take the risk for a population of patients, or to bundle payments. CMS wants to send payments to a single entity, not to multiple physicians involved, so it is easier to make payment decisions without negotiating with each physician or practice. He also said hospitals want to look at bundled payments with the thought that revenue from these can be put anywhere the hospital deems necessary, rather than specific departments as with the current fee-for service model. He said this is the future model of how healthcare will operate.
Arenson used the example of his own radiology department at UCSF to explain how this new business model might be implemented at other health systems.  The university medical center took over the management of all departments to remove the burden of high practice expenses. He said the medical center also provides incentives for doing clinical work so academic physicians are available to see more patients. It also incentivizes specific areas of medicine that the medical center feels are underserved. In taking over management, the medical center also aimed to improve operations in poorly run departments. 
He said the new model is still a work in progress and not all the decisions made have had the desired effect or improved efficiency. He also noted radiology plays a key role in all departments and most facets of care, so it is important to have someone from radiology involved in the decision-making process who understands the abilities or limitations of their department, so realistic goals can be set. 
Related Radiology Business Transition Content:
VIDEO: The Consolidation Trend in Radiology Business
Opportunities for Growth in a Competitive Radiology Climate
HHS Sets Clear Goals, Timeline for Shifting Reimbursements From Volume to Value
Federal Requirements for Clinical Decision Support for Imaging
Preparing for Cardiology Bundled Payments in 2017
VIDEO: MACRA's Impact on Cardiac Imaging — Interview with Kim Williams, M.D.