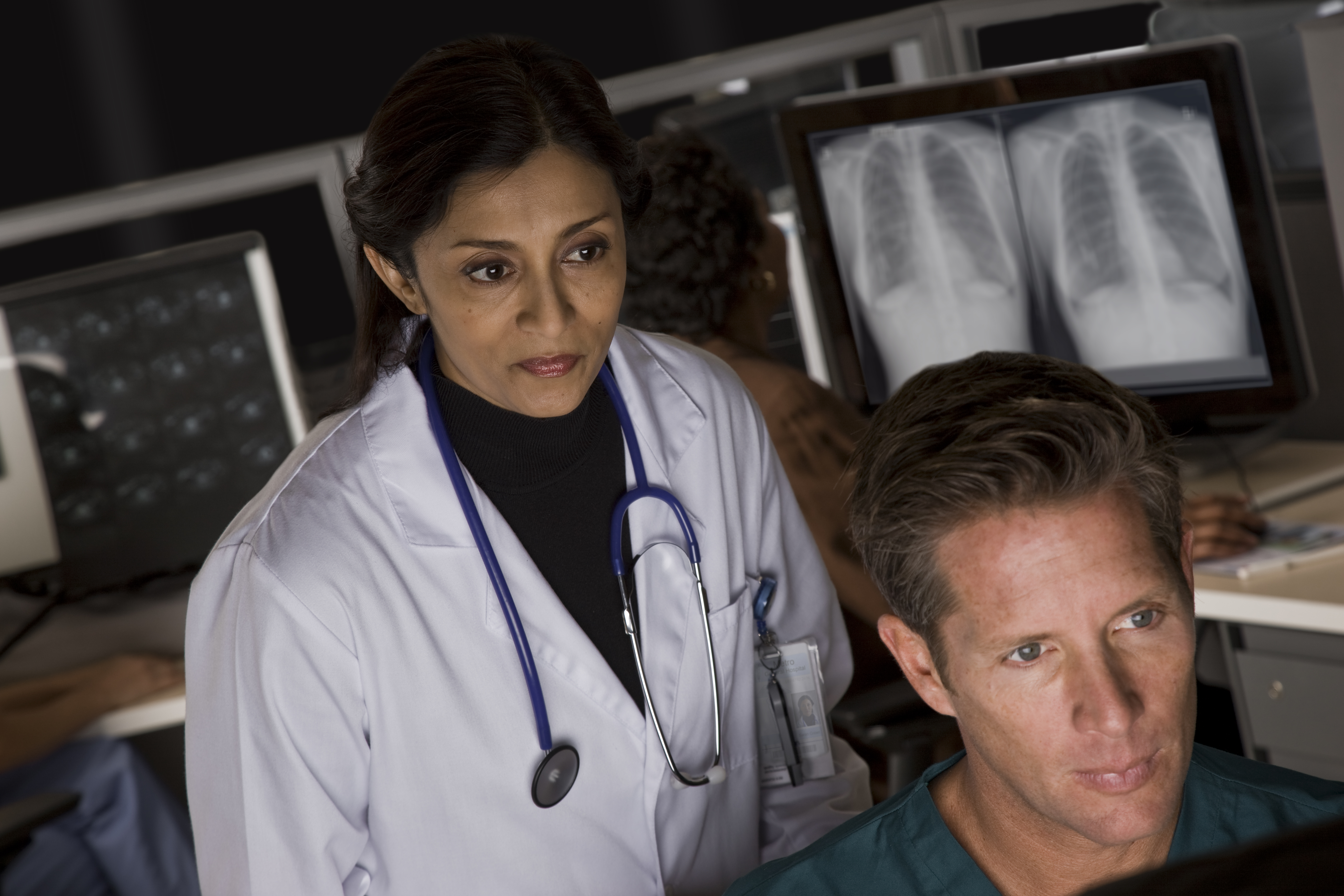 Image courtesy of Philips Healthcare
Healthcare providers will need to start preparing for the next big healthcare information technology (IT) implementation — clinical decision support (CDS) software. Under congressional legislation based on a compromise between numerous medical societies to accept required CDS documentation for Medicare reimbursements, large scheduled cuts in reimbursements were suspended in the 2014 Protecting Access to Medicare Act (PAMA). A deadline was originally set for providers to begin required use of CDS starting in 2017, but it is likely this will be pushed back to 2018 or later. 
The new Centers for Medicare and Medicaid Services (CMS) CDS requirements were the focus of a session at the Radiological Society of North America (RSNA) 2015 meeting in December. Joseph Hutter, M.D., lieutenant commander in the U.S. Public Health Service who is with the CMS Center for Clinical Standards and Quality, defined the major components of the planned requirement. This includes the need for appropriate use criteria (AUC) to be developed by provider-led entities (PLE) such as medical societies. Providers will need to implement a CMS-qualified CDS system. These systems will need to provide documentation on the Medicare claims. The systems also will require prior authorizations reserved for consistent claims outliers in the future. 
The PAMA included a timeline for CDS software development and implementation. It originally required the first sets of AUC to be specified by November 2015, but this has now been moved to June 30, 2016, Hutter said. These rules are supposed to be designated by PLEs, and the first round of applications to become a PLE started Jan. 1, 2016. PAMA also required the initial list of CDS mechanisms to be approved and available by April 2016, but this has now been moved to the more realistic time frame of June 30, 2017, he explained. 
However, Hutter said picture archiving and communication system (PACS) vendors told CMS it would take at least 12 to 18 months for them to program and deploy CDS solutions in their annual software updates. That timeline is based on when they received the final parameters for what AUC rules need to be included in such software.
Additionally, healthcare IT departments faced a major implementation of ICD-10 codes in 2015, with the codes going live nationwide Oct. 1 last year. The government realized it would be difficult for most health systems to immediately implement or budget for CDS software based on the original deadline. This is especially true since PACS vendors have not even created CDS software yet for providers to evaluate. 
Hutter said this would logically delay when physicians will be required to report AUC consultations on claim forms, which was originally set for Jan. 1, 2017. He said the new deadline for implementation has not yet been set and will likely depend on when AUC and rules for CDS software can be fully outlined. Based on the PACS vendor timelines to implement any new software, it is unlikely CDS will become a requirement until at least the summer of 2018.
(UPDATE June 2017: Watch the VIDEO "Clinical Decision Support Requirements for Cardiac Imaging," a discussion with Rami Doukky, M.D., system chair, Division of Cardiology, professor of medicine, Cook County Health and Hospitals System, Chicago, discusses the new CMS requirements for clinical decision support (CDS) appropriate use criteria (AUC) documentation in cardiac imaging starting on Jan. 1, 2018. He spoke at the 2017 American Society of Nuclear Cardiology (ASNC) Today meeting.)
Goal of Changing Physician Behavior
Once the CDS requirement is implemented, documentation will need to include the national provider identification, identify the CDS systems used and whether the CDS was consulted, said Curtis Langlotz, M.D., Ph.D., medical informatics director for radiology, Stanford Healthcare, Calif. He said based on the original implmentation date of Jan. 1, 2017, two years of this data would be collected as of Jan. 1, 2020. At that time, CMS would create a list of the 5 percent of outlier physicians. "There is no requirement that the physician needs to follow the CDS advice, but it needs to be available," Langlotz said. But, if they consistently do not follow AUC, that is when it will become a problem.
He said these outlier physicians who continually disregard AUC recommendations listed in their CDS would be required to get pre-authorization for their orders after 2020. However, this deadline will now likely be moved back along with the rest of the CDS timeline.  
"The goal is to change ordering behavior," Langlotz said, explaining CDS guidance and the threat of lower reimbursement will help providers make more economical decisions based on evidence-based medicine. He said the need for CDS in imaging and other tests is similar to the need for pharmaceutical computerized physician order entry (CPOE) systems that have been around for a decade. Pharma CPOE systems are now widely implemented in healthcare to eliminate the major patient safety concerns due to potential drug interactions, inappropriate or dangerous doses, wrong drugs, and to catch redundant or inappropriate drug prescriptions. CMS hopes similar CPOE for diagnostic tests and imaging will have a similar impact to reduce the number of inappropriate or high-cost tests when less expensive and more appropriate options are available based on AUC.
Defining CDS for CMS
CDS may be a burdensome regulatory exercise unless CMS puts in place rules and implementation processes, said Keith White, M.D., medical director of imaging services, Intermountain Health, Utah. This includes the need for local engagement with clinicians, which might include multidisciplinary team input on rules that are created. White said there needs to be a focus on evidence-based medicine, and one issue is that a lot of AUC is based on expert opinion, not clinical data. CDS also needs to offer a seamless workflow, otherwise clinicians will work around it. These CDS systems also should have a way to provide feedback so the system can be improved. 
"We need to get clarity on what AUC will need to be included on these systems," White explained. This will drive the creation guidelines for specific conditions instead of attempting to boil the ocean. He said CMS should periodically specify general clinical conditions for which ordering physicians need to consult CDS. These might include creation of pathways for specific conditions such as pulmonary embolism or chest pain. 
White said a primary group helping CMS determine what should be in guidance documents for CDS requirements is the High Value Healthcare Collaborative (HVHC). This consortium of 17 healthcare systems and The Dartmouth Institute for Health Policy and Clinical Practice is working to improve healthcare value by defining quality and outcomes over costs across time, in a sustainable manner, while serving as a model for national healthcare reform. The group has had meetings to hash out some of the details for CDS requirements and is passing these recommendations onto CMS. 
"The recommendations from PAMA and the HVHC will be baked into the final CMS rules," Hutter said. 
He said CMS wants the rules to be based on grassroot efforts from hospitals and the medical societies, not dictated by the government. "You are part of it and you can change it, but you need to speak up," Hutter said. "We will get some things wrong and we will need to fix them, but we need feedback from the providers. There is no secret sauce or black box to make everything work perfectly. If there is another protocol out there we are not aware of, let us know about it."
One question raised about the establishment of PLEs is that CMS needs to make sure competing technologies supported by various societies do not create rules that establish one as the preferred imaging modality over another. An example of this might be the use of computed tomography (CT) over magnetic resonance imaging (MRI), or use of MRI over nuclear imaging. However, the flipside of that argument is that providers should not use AUC rules that are written to favor what resources they have available if they do not have a nuclear imaging program or access to MRI at their facility.
"Transparency is very important," Hutter said, addressing these concerns. He said there is a need for a transparent process for how the evidence-based rules are created and agreed on. If an MRI is indicated by AUC, then a patient needs to be told by the facility where they can get access to an MRI. However, if MRI is indicated by AUC but is only available during daytime hours and imaging is needed immediately, then a CT might be the next best option depending on the situation, he explained.
The Evolution of Cost Controls Leading to Clinical Decision Support
The federal requirement for CDS software came from an evolution in federal efforts to reduce rapidly rising healthcare costs, explained Keith Dreyer, D.O., Ph.D., FACR, FSIIM, vice chairman of radiology at Massachusetts General Hospital and associate professor of radiology at the Harvard Medical School, Boston. He spoke at the RSNA 2015 meeting. In 2005, Congress passed the Deficit Reduction Act (DRA), which was designed to cut rapidly rising imaging costs in Medicare. To do this, the DRA established the sustainable growth rate (SGR) formula, which began yearly cuts in reimbursements across radiology. 
In 2008, Dreyer said the Medicare Improvements for Patients and Providers Act (MIPPA) required providers of high-ticket CT, MRI and nuclear imaging services to become accredited through the American College of Radiology (ACR), Joint Commission or other designated bodies. 
In 2010, Congress passed the Patient Protection and Affordable Care Act (ACA), which set criteria for healthcare reforms that are largely driven by information technology (IT) implementations needed to avoid CMS reimbursement cuts. Dreyer said this has led to an explosion in electronic health record (EHR) adoption in the past few years. The proliferation of EHRs now allows for the implementation of CDS software based on AUC. Between 2011 and 2012 the ACR Select AUC CDS integration was started to check the appropriateness of imaging exams for various patient presentations and conditions. 
In 2014, Dreyer said Congress adopted an AUC requirement in the SGR patch that was part of the PAMA. This act prevented a 24 percent reimbursement reduction originally schedule through the DRA. He explained the AUC requirement was accepted as a way to help cut imaging costs because of its overwhelming support by numerous medical societies. 
Dreyer said Massachusetts General Hospital has been an early adopter of CDS for imaging and has seen a noticeable decline in high-cost exams after implementation of its CDS program. 
---
If you enjoy this content, please share it with a colleague