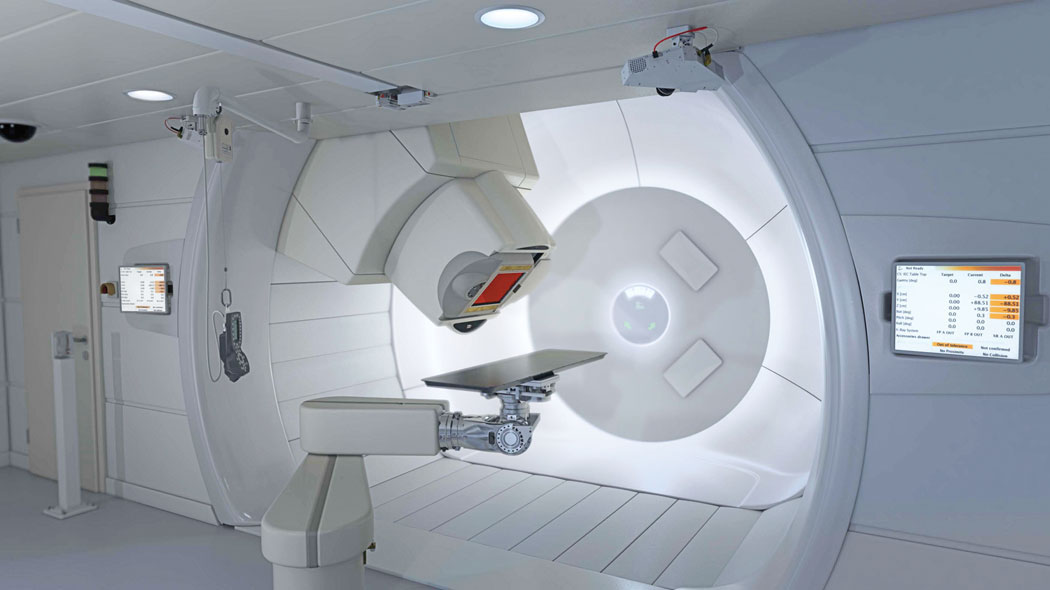 The IBA Proteus Plus.
As one of the more precise methods of delivering radiation therapy for cancer treatment, proton therapy has grown at a rapid pace the last several  years. Considered experimental not too long ago and used primarily in research settings, clinicians across the globe are rapidly coming to accept the utility of proton therapy for numerous indications — a list that many expect to continue to grow rapidly.
A February 2017 market survey of 1,200 hospitals by Robust Insight found 82 percent of respondents were aware that proton therapy has lower risk of treatment-induced disorders than conventional radiotherapy. Furthermore, survey results indicated that more people saw proton therapy as an effective option for treating pediatric cancers and those at the base-of-skull, lung and prostate than in a similar survey in 2009. Ultimately, 77 percent of respondents believed that more clinical evidence demonstrating the benefits of proton therapy will be forthcoming.
In one such example of expanding indications, a study presented at the 2017 Multidisciplinary Thoracic Cancers Symposium in March suggested proton therapy may be effective for patients with recurrent lung cancer. Among 27 patients studied (all treated between 2011 and 2016 at a single institution), 78 percent were free from local recurrence at one year following intensity-modulated proton therapy (IMPT). Fifty-one percent were free from disease progression, and overall survival rate was 54 percent. Even better, fewer than one in 10 patients experienced severe side effects.
Insurance Coverage Still Spotty
There have traditionally been two main barriers to greater adoption of proton therapy: limited insurance coverage and prohibitive costs of proton therapy centers. The combined efforts of clinicians and vendors have started making gains on both fronts.
At present, proton therapy is covered by Medicare and Medicaid, and preferred provider organizations (PPOs) are more likely to cover the advanced radiotherapy treatment than health maintenance organizations (HMOs), according to the National Association for Proton Therapy. However, many patients are still denied coverage for a variety of reasons.
In July, the American Society for Radiation Oncology (ASTRO) issued new recommendations for medical insurance coverage of proton therapy. Originally published in 2014, the Proton Beam Therapy Model Policy breaks the clinical indications for treatment into two categories: Group 1 features clinical scenarios that most frequently support use of proton therapy based on medical necessity and published clinical data; treatment is recommended for these scenarios. New Group 1 indications include:
•    Malignant and benign primary central nervous system (CNS) tumors;
•    Advanced and/or unresectable head and neck cancers;
•    Cancers of the paranasal sinuses and other accessory sinuses;
•    Nonmetastatic retroperitoneal sarcomas;
•    Re-irradiation cases where cumulative critical structure dose would exceed tolerance dose; and
•    Hepatocellular cancer (no longer required to be treated in a hypofractionated regimen).
Group 2 features clinical scenarios where proton therapy is recommended if the patient is enrolled in either an Institutional Research Board (IRB)-approved study or in a multi-institutional registry adhering to Medicare requirements for Coverage with Evidence Development (CED). Evidence is currently being accumulated for these disease sites, and they may be upgraded to Group 1 in the future. New additions to Group 2 include:
•    Non-T4 and resectable head and neck cancers (previously all head and neck malignancies);
•     Nonmetastatic prostate cancer (previously grouped with genitourinary carcinomas); and
•     Breast cancer.
Reducing Size and Cost
In the early days, proton therapy centers carried a price tag of nearly a quarter of a billion dollars or more, depending on how many treatment rooms were included. Most vendors are now working to bring those capital costs down by reducing the size of the systems themselves, without sacrificing treatment efficiency.
Mevion Medical Systems introduced the first compact proton therapy system to the U.S. in 2012 when it received U.S. Food and Drug Administration (FDA) approval for the S250. In April of this year, the company installed the first S250i with Hyperscan technology at MedStar Georgetown University Hospital. Hyperscan is Mevion's version of pencil beam scanning, which will allow the hospital to deliver intensity modulated proton therapy (IMPT) for even faster, more precise treatment. The S250i also features the Adaptive Aperture, a low-profile micro-multileaf collimator that achieves 1-3 mm collimated effective spot sizes for all energies. Like the S250, the S250i is designed as a single-room solution that can be expanded. Mevion also announced it is partnering with medPhoton GmbH to integrate the ImagingRing cone beam computed tomography (CBCT) system for volumetric image guidance into the S250i.
IBA announced in September 2016 that 50,000 patients worldwide have been treated with its systems. The company introduced its Proteus One compact proton therapy system in 2014. Proteus One is also a single-room system offering several different delivery methods, including IMPT and image-guided proton therapy. IBA has announced numerous installations for centers across the world in recent months, including the very first proton therapy center in its home country of Belgium as well as France, Japan and The United Kingdom.
Varian entered into the compact proton therapy market in 2014 by releasing a smaller version of its original ProBeam system. The ProBeam Compact offers many of the same benefits of its predecessor, including dynamic peak scanning (allowing the application of radiation from different angles simultaneously for intensity-modulated proton therapy), but its 250 MeV cyclotron is more space-efficient than traditional linear accelerators (linacs). Varian also offers a proton therapy-specific version of its Eclipse planning software, which is integrated with both ProBeam systems. The software employs numerous automation and standardization protocols to streamline workflow, including Smart Segmentation. Other features include Field Specific Target to help compensate for setup error, target motion and range uncertainty around the clinical target volume.
Comparison Chart of Proton Therapy Systems
This article servbed as an introduction to the Proton Therapy Systems comparison chart.
The chart can be viewed here.
It included the vendors Hitachi, IBA and Mevion Medical Systems.