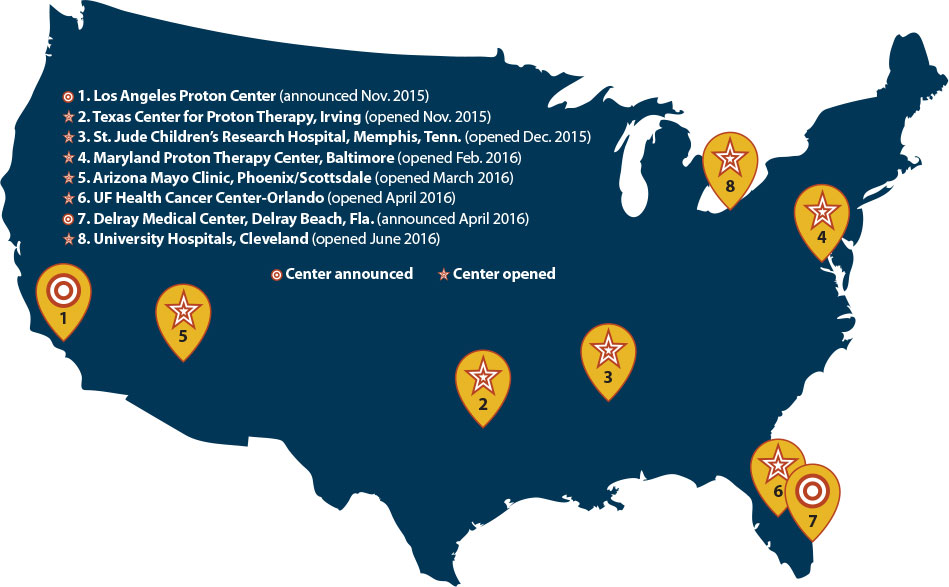 The global proton therapy market hit a major milestone in 2015, eclipsing the billion-dollar mark for sales orders and more than doubling the previous year's total, according to market intelligence firm Medraysintell. This boom was evidenced by new proton therapy centers springing up all over the world, including 11 just since November 2015 — eight in the United States and three abroad in Hong Kong, Belgium and the Netherlands. (See the map to view the newest U.S. centers.) The new centers represent numerous vendors, and systems both large and small, underscoring the continuing evolution and spread of the technology.
Compact Systems
Proton therapy's explosive sales growth has occurred while the price of the technology has been dropping. This is largely thanks to the introduction and proliferation of compact proton therapy systems. This has allowed the price of constructing a new center to drop from nearly a quarter of a billion dollars to around $25 million. 
Mevion Medical Systems brought the first compact proton therapy system to market when it received U.S. Food and Drug Administration (FDA) and CE mark approval for the S250 system in 2012. At the center of the compact system is a superconducting synchrocyclotron, which is significantly smaller than the traditional linear accelerator radiation source. The modular system is designed as a single-room solution, but can be adapted into a multi-room configuration. 
Varian entered into the compact proton therapy market in 2014 by releasing a smaller version of its original ProBeam system. The ProBeam Compact offers many of the same benefits of its predecessor, including dynamic peak scanning (allowing the application of radiation from different angles simultaneously for intensity-modulated proton therapy), but its 250 MeV cyclotron is more space-efficient than traditional radiation therapy linear accelerators (linacs). 
IBA (Ion Beam Applications S.A.)
introduced the Proteus One compact proton therapy system in 2014. Proteus One is also a single-room system offering several different delivery methods, including intensity-modulated proton therapy (IMPT) and image-guided proton therapy. In April 2016, IBA received CE mark for the next generation of the Proteus One accelerator, which the company said would further help the system gain acceptance in Europe. The continent's first Proteus One system is located at the Centre Antoine-Lacassagne in Nice, France, and IBA said that with the new CE mark, the center would be fully accepted with all necessary certifications by June. 
Pencil Beam Scanning
Proton therapy's primary advantage over traditional radiation therapy methods is its ability to more precisely target cancerous tissue and spare surrounding tissue and organs from radiation dose. In recent years, these treatments have become even more precise thanks to the emergence of pencil beam scanning (PBS), also known as spot scanning. This technique employs scanning magnets to direct thousands of ultra-fine proton streams ("pencil beams") at the target volume in a U-shaped pattern that deflects around healthy tissue. This advanced technique has, in turn, allowed the development of IMPT. Using these techniques allows oncology teams to refine treatment at some of the most difficult tumor sites, including the prostate, brain, base of the skull and eyes. The majority of proton therapy vendors now incorporate some form of pencil beam scanning into their systems. 
Treatment Planning
Another way that proton therapy differs from traditional radiation therapy is in the treatment planning process. For the former, anatomical definition is the primary factor when targeting the radiation beam, which passes straight through the target organ and comes out the other side. Proton streams, on the other hand, can be calculated to stop inside the designated tissue to deposit the full radiation dose exactly where it is needed. 
Computed tomography (CT) scans are utilized for proton treatment planning, but the key information they provide are the Hounsfield unit (HU) measurements of the anatomical structures in the target tissue. HU measurements directly correlate to tissue electron densities, and can be converted into proton relative stopping power ratio (SPR) calculations by the treatment planning software. 
Philips released a proton therapy-specific version of its Pinnacle 3 treatment planning software in August 2013 following FDA approval. The module offers automated contouring and re-planning to quickly adapt treatment on the fly, fast commissioning and even combined proton-photon planning if physicians want to combine proton therapy and conventional radiotherapy. In November 2014, Philips announced a partnership with Mevion that would extend Pinnacle support to the new Hyperscan pencil beam scanning capability of the S250.
RaySearch has included proton therapy and pencil beam scanning capabilities in its RayStation treatment planning software since version 4.0 was released in 2014. RayStation 5.0, released in February, features several enhancements that aid in proton therapy planning, including integration of 4-D CT datasets to accommodate treatment plans in areas with significant organ motion. 
Varian Medical Systems offers a proton-specific version of its Eclipse planning software, which is integrated with ProBeam and ProBeam Compact. The software employs numerous automation and standardization protocols to streamline workflow, including Smart Segmentation. Other features include Field Specific Target to help compensate for setup error, target motion and range uncertainty around the clinical target volume.
---
If you enjoy this content, please share it with a colleague