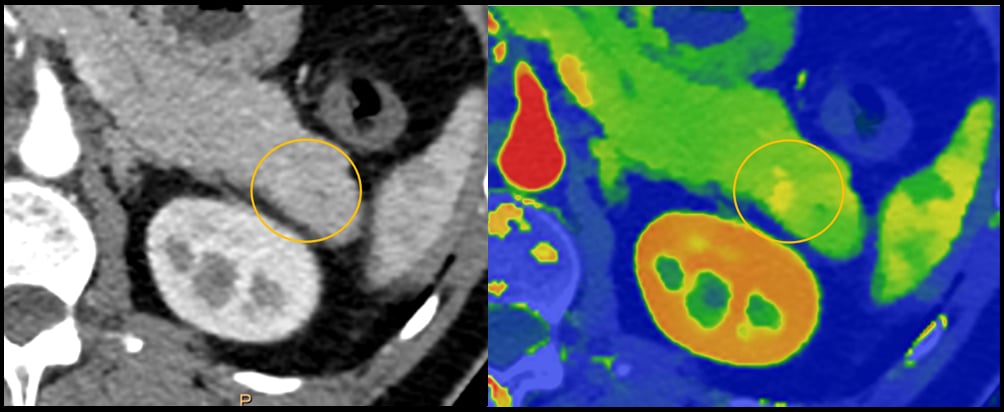 An example of how spectral CT can help aid diagnosis in a pancreatic CT which may have a small lesion, but it is difficult to see. The dual-energy imaging clearly shows a lesion. This is example is from the Philips Spectral CT 7500 system.
May 27, 2021 — Philips Healthcare released a workhorse computed tomography (CT) system, the Spectral CT 7500, which has regulatory clearance in Europe and from the U.S. FDA. It uses intelligent software to deliver high quality spectral images on every scan 100% of the time without the need for special protocols. Philips said the system aims to  improve disease characterization, reduce rescans and follow-ups while using the same dose levels as conventional CT scans. 
The time-saving spectral workflow is fully integrated, enabling the technologist to get the patient on and off the table quickly. Spectral chest scans and head scans take less than one second and a full upper body spectral scan can be completed in less than two seconds. Philips said the scanner can do this while still delivering high quality imaging.
Details on the New Philips Spectral CT 7500
The system features a fast scanning table that can accommodate patients up to 727 lbs. (330 kg.). The system offers an 80 cm bore to accommodate larger patients. Cardiac CT scans can be performed in the sub-millisievert range.  The system also offers larger anatomic scanning coverage per rotation of 8 cm. 
The new CT scanner's detector uses two different scintillator materials that can detect two different levels of X-ray energies. This enables the CT to perform dual-energy scanning with on tube and detector, which reduces cost, weight and imaging protocol requirements for create spectral scans. Since the spectral data is included in all scans, the radiologist can go back and retrospectively look at the scan at different energies. This may enable salvaging suboptimal scans or the ability to look at areas of interest in different ways to avoid the need for repeat scans or new imaging using a different modality.  
The vendor said this new system is an improvement over its IQon spectral CT system released seven years ago. The IQon has a 4 cm coverage area per rotation, while the new system has double this. It also simplifies protocols and ais faster than the IQon system. 
Philips said there are two U.S. installs of this new system so far. 
Human and Financial Cost of Misdiagnosis and Repeat CT Scans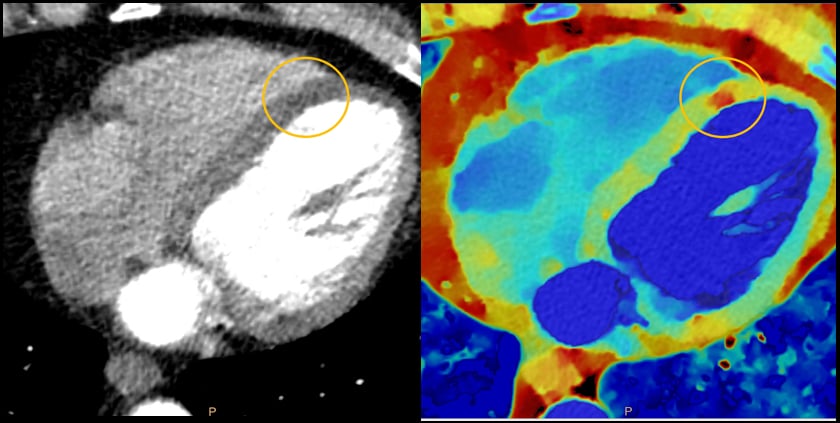 Missed and delayed diagnoses contribute to roughly 10% of patient deaths annually,[1] while an estimated 10-20% of all medical diagnoses are inaccurate.[2] The financial costs resulting from unnecessary, suboptimal and repeat imaging costs as much as $12 billion  annually.[3] The new Spectral CT 7500 was designed for first-time-right diagnosis and has demonstrated a 34% reduction in time to diagnosis, a 25% reduction in repeat scans and a 30% reduction in follow-up scans.[4] 
 
"With such great human and financial costs due to misdiagnosis, Spectral CT 7500 sets a new standard of care where image quality, dose and workflow come together to deliver valuable clinical insights. This latest intelligent system helps to bring clarity to defining moments in healthcare by delivering on certainty, simplicity and reliability in every clinical area from cardiac care, to emergency radiology, diagnostic oncology, intervention and radiation oncology," said Kees Wesdorp, chief business leader of precision diagnosis at Philips. "Our detector-based spectral technology ensures spectral data is always available and is seamlessly integrated into current workflows, meaning scans are fast, and clinicians are able to send patients on right treatment pathway with a more confident diagnosis." 
Spectral CT has demonstrated a higher sensitivity in detecting malignant findings and has improved readings of incidental findings. With Spectral detector CT, photons add more value by helping salvage sub-optimal injection scans without the need to re-scan the patients, shortening the time to diagnosis. 
"We rely on CT scans to provide us valuable insights. But conventional CT scanners are limited and can only show us where things are located – like lesions, cysts, bleeds, fractures and more. Philips spectral detector-based systems help to characterize what the finding is, not just where it is, providing us greater confidence in diagnoses," said Dr. Finn Rasmussen, Associate Professor, Consultant Radiologist, MD, DMSc at Aarhus University. "We have seen significant reductions in rescans and follow-ups by adopting spectral into our workflow for faster and more accurate diagnosis." 
Expanded Patient Populations and Optimized Workflows Offered by Spectral CT 7500
Philips is making a business case for this new scanner in that spectral-detector CT can reduce the need for follow-up scanning in patients with sub-optimal exams and incidental findings. It also increases the diagnostic confidence of radiologists.
Spectral CT 7500 expands on Philips proven spectral-detector benefits to now include additional patient populations that were not previously served. The spectral insights are available for all patients, from pediatric to bariatric, and for any clinical indication, including challenging cardiac scans with high and irregular heart rates, without compromising image quality, dose or workflow. The time-saving spectral workflow enables radiologists to optimize reading workflows with rich spectral results and AI-based smart tools from anywhere in the enterprise. 
Visit Philips advanced CT solutions for more information on the Spectral CT 7500, including access to an on-demand virtual round table discussion with Philips executives and industry leaders discussing this latest innovation. 
For more information: https://www.usa.philips.com/healthcare/sites/spectral-ct-learning-center
Related Spectral (dual-energy) CT Content:
VIDEO: Applications of Spectral CT — Interview with Suhny Abbara, M.D.
Spectral Imaging Brings New Light to CT
VIDEO: Applications of Spectral CT — Interview with Suhny Abbara, M.D.
Strategies to Lower CT Contrast Dose and Track Usage
VIDEO: Photon Counting Detectors Will be the Next Major Advance in CT — Interview with Todd Villines, M.D.
New Study Shows Value of Low-concentration Iodine When Paired with Dual-Energy CT and DL Technique
FDA Clears Philips IQon Spectral CT
Spectral CT Improves Detection of Early-stage Coronavirus Disease
Key Trends in Cardiac CT at the Society of Cardiovascular Computed Tomography 2020 Meeting
 
References:
1. Mark L Graber, Robert M Wachter, Christine K Cassel. Bringing diagnosis into the quality and safety equations. JAMA. 2012 Sep 26;308(12):1211-2. doi: 10.1001/2012.jama.11913.
2. $3 Million Effort to Improve Diagnostic Accuracy. Coverys. https://www.coverys.com/About-Us/Foundation/Grants-For-Improving-Diagnostic-Accuracy.
3. Reation Data. Unnecessary Imaging. 2019. https://www.reactiondata.com/report/unnecessary-imaging/
4. Analysis by CARTI Cancer Center in Little Rock Arkansas and University Hospitals of Cleveland - Results from case studies are not predictive of results in other cases. Results in other cases may vary.
---
If you enjoy this content, please share it with a colleague