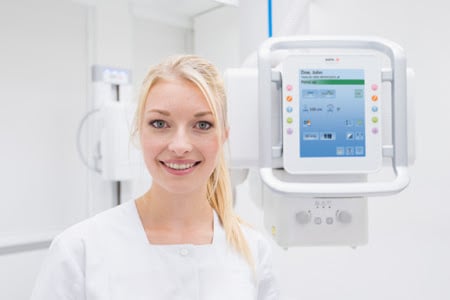 Now more than ever, hospitals and imaging clinics are trying to maximize the value of their imaging equipment, and digital radiography (DR) solutions in particular are proving to be a tremendous source of profit for many organizations. Doing more with less is the goal, and DR systems are providing beneficial reductions in the three most important areas — money, time and dose. 
Finding Value Through Fluoroscopy
One way that many DR manufacturers are enhancing the value of their systems is by adding radiographic fluoroscopy (RF) capabilities for interventional applications. Carestream was one manufacturer to introduce new RF systems in 2015, when it began shipping the DRX-Excel and DRX-Excel Plus worldwide in November. Both scanners are capable of performing radiographic or fluoroscopic exams individually, with contrast enhancement possible in all settings. Users can choose to integrate a Carestream DRX flat panel detector with either system, or they can stick with the image intensifiers. Only the DRX-Excel Plus is available to U.S. customers.
Toshiba also brought a multipurpose RF system to the market last year, launching the Ultimax-i FPD. What sets the system apart is its small footprint, allowing it to be installed adjacent to the back wall of the room to create more space for angiographic procedures in an existing RF space. At the same time, the wide, high-capacity table can support up to 500 pounds, making it possible to examine even the largest of patients. A large flat-panel detector helps minimize the areas of anatomy that are unnecessarily exposed to repeated radiation dose. 
Easing the Transition
While the number of hospitals going digital continues to rise every year, many institutions are still operating computed radiography (CR) systems for a variety of reasons. Several new solutions were introduced in 2015 to help radiology departments eventually make the transition from CR to DR at their own pace. 
Last September, Konica Minolta introduced the Sigma II CS-7s CR system, consisting of the Regius II Sigma reader, the CS-7s Control Station and two
14 x 17-inch plates. Konica Minolta marketed it as an enterprise imaging solution for community hospitals, clinics and private practices, and an easy, low-cost upgrade path to DR if so chosen. The key to making the switch lies in the control station, which is also compatible with the AeroDR wireless flat panel detector. Regardless of modality, the Control Station provides high image quality thanks to the proprietary hybrid premium image processing algorithm. Streamlining workflow is the other focus of the Sigma II CS-7s, thanks to standard features like modality worklist, multi-patient/trauma software and Web link capabilities.  
Flat-panel detectors themselves provide a lightweight, portable option for healthcare organizations looking to add digital capabilities without upgrading to a whole new system. Several new options have become available in the past year.
Carestream brought new additions to its digital DRX detector lineup when it introduced the DRX Plus 3543 (for general radiography) and DRX Plus 3543C (with cesium iodide detectors for pediatric and other dose-sensitive applications) in August. These third-generation detectors are lightweight and highly liquid-resistant, while streamlining workflow through faster calibration, boot, preview and display times. 
Fujifilm began shipping the FDR D-EVO II digital detectors, which feature re-engineered electronics to enhance efficiency and maximize image quality at low dose levels. The internal memory stores up to 100 images with or without a live connection to the workstation. This means exams can be completed uninterrupted even if the wireless signal is disturbed, making for faster acquisition times — especially beneficial in emergency department applications.
Konica Minolta introduced the 5.5-pound AeroDR LT smart wireless DR detector, which is compatible with most X-ray rooms and portable systems, extending their service life. The company claims the panels can generate an image preview in one second and fully processed images in six seconds. Other features include automatic exposure detection, grip strips and 4.1 hours of imaging time (equivalent to 150 images). 
Kubtec received U.S. Food and Drug Administration (FDA) approval for the new
17 x 14-inch Digiview 395 wireless flat panel detector in July, which boasts rapid, wireless image acquisition and display. 
Many of the new panels are placing a high value on water resistance, according to MD Buyline analyst Lori Webb, who added that the majority of surprise insurance and service claims have been related to water damage, as opposed to dropped panels as might be expected. 
Other New DR Introductions
Siemens made a major splash at RSNA 2015 when it announced FDA clearance for the Multitom Rax, the industry's first robotic X-ray system. The two independent, ceiling-mounted arms carrying the X-ray tube head and the flat panel detector can be positioned automatically or manually anywhere around the patient, offering static, dynamic and Real 3-D imaging sequences (with 3-D-capable post-processing software). This allows full 2-D and 3-D acquisition on one system, eliminating the need for a separate computed tomography (CT) exam. 
Agfa Healthcare brought the newest mobile DR unit to the market when it introduced the DXD-100 at AHRA 2015, the annual meeting of the Association for Medical Imaging Management. The system is distinguished by its collapsible telescoping column, made possible by the company's FreeView technology. Having a collapsible column gives technicians an unobstructed view as they maneuver the system around the hospital, helping them get to patients faster. The column contains no motors to enhance battery life, but can be repositioned by a single operator through secondary controls on the arm. 
On the stationary side, Agfa launched the DR 600 multi-detector system in early November. The system is fully automated, including auto-positioning and auto-tracking. This automation drives the system's Full Leg Full Spine (FLFS) scanning capabilities, with fully automated single focus technology — EasyStitch, in the company's parlance — minimizing distortions. Angular tracking is available for dedicated exams, and an optional table overlay allows FLFS scanning directly on the table. 
Fujifilm debuted its own long-length scan solution, the FDR D-EVO GL detector, at RSNA 2015. The plates sport a 17 x 49-inch field of view for single-exposure upright exams, which improves exam efficiency by eliminating the multiple exposures needed for stitching.
Digital Radiography Comparison Chart
To access the comparison chart of technical specifications for DR systems available in the United States, go to www.itnonline.com/content/digital-radiography-systems. The chart requires a login, which is free to create and only takes a minute. The chart offers an apples-to-apples comparison of digital X-ray systems.