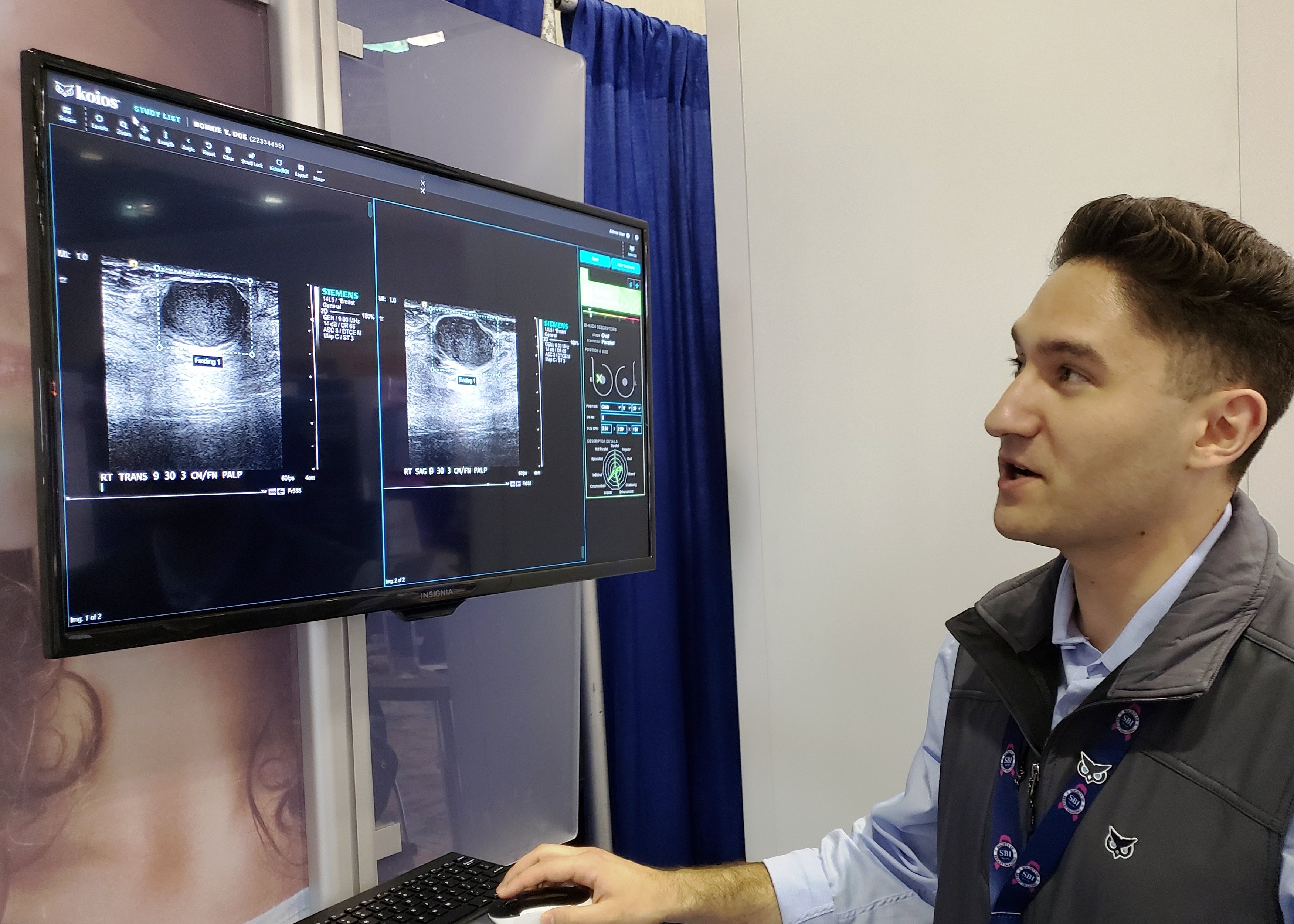 In a demonstration on the exhibit floor of the SBI symposium, Koios software identified suspicious lesions in ultrasound images. Photo by Greg Freiherr
Commercial efforts to develop artificial intelligence (AI) for women's health have tended toward smart algorithms that accelerate medical practices as they currently exist. At the Society for Breast Imaging (SBI)/American College of Radiology (ACR) Breast Imaging Symposium in early April, several companies, including iCAD, Lunit and Koios, showcased algorithms that embody this approach.
Profound AI from iCAD exemplifies how the current development of artificial intelligence can affect breast imaging. This software, which was cleared by the FDA in late 2018, helps physicians interpret digital breast tomosynthesis images. Its use aligns well with the goals of value-based medicine, which emphasizes increased efficiency, effectiveness and patient benefit.
In research that the company used to support its submission to the FDA, radiologists using Profound AI increased cancer detection rates, reduced false positive rates and reduced patient recalls. Using the software concurrently with physician interpretation also significantly decreased the time needed to interpret images, according to the research.
The software is designed specifically for 3-D tomo and, as such, does not address the prior and current 2-D mammograms that physicians often rely on to identify changes from previous screenings. ProFound AI for 2-D could be available, however, in the second quarter 2019, according to the company.
Typically the most current and prior screening mammograms are overlaid, when determining temporal changes. No algorithms are yet commercially available to help physicians spot these changes. Nor is there an AI algorithm that factors in patient risk characteristics, said Michael Klein, iCAD executive chairman and CEO. "So there is a long way to go," said Klein, who noted, however, that at least one near-term solution from iCAD is on the way.
Other Vendors Exhibit Similar Software
Vendors at the SBI symposium exhibited similar kinds of AI-based software. These included an algorithm being developed by Lunit to analyze 2-D mammograms and one by Koios that does the same for sonograms.
Seoul-based Lunit, whose name is an abbreviation of "learning unit," is developing AI for applications in mammography, both 2-D and tomo, as well as in CT of the chest and coronaries. The 2-D mammography software, now in review for FDA clearance and the CE mark from the European Union, detects breast cancer lesions with up to 97% accuracy in full field digital mammograms (FFDMs), according to the company. Lunit CEO Brandon B. Suh, M.D., described the software, called Lunit INSIGHT for Mammography, as a diagnostic support tool focused primarily on screening mammography.
"According to our clinical studies, the use of our product has been shown to significantly increase the cancer detection rate and (improve) the recall rate of radiologists," Suh told ITN on the exhibit floor of the SBI symposium.
The Koios software aims to provide decision support for physicians and technologists using breast ultrasound. The company frames its software as a "diagnostic assistant." There are two versions, according to Koios CEO and president Chad McClennan. One is compatible with major PACS, has cleared the FDA and is available commercially. The other is being tailored for use onboard GE Healthcare's Logiq E10 high-performance ultrasound scanner.
"Ultrasound is ubiquitously available worldwide," said McClennan, stating that this modality "is the standard of care for women with dense breasts tissue."
The Koios algorithm examines ultrasound images then analyzes features and characteristics of suspicious lesions, delivering a probability of malignancy aligned with BI-RADS (Breast Imaging Reporting And Data System).
Greg Freiherr is a contributing editor to Imaging Technology News (ITN). Over the past three decades, Freiherr has served as business and technology editor for publications in medical imaging, as well as consulted for vendors, professional organizations, academia, and financial institutions.
Related Content:
VIDEO: How iCad Uses AI to Speed Breast Tomosynthesis
FDA Clears iCAD's ProFound AI for Digital Breast Tomosynthesis
Lunit Unveiling AI-Based Mammography Solution at RSNA 2018
Technology to Watch in Breast Imaging