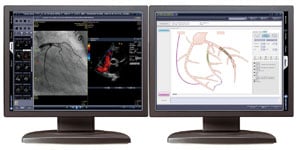 The Infinitt Cardiology PACS/CVIS is a Web-based suite of image visualization, clinical and reporting tools for cardiology, cardiovascular and vascular imaging, ECG and nuclear medicine.
Cardiology departments have hosted a variety of software solutions in the past to meet varying demands. A recent report from KLAS reveals that the cardiology IT market is moving toward consolidation. The report, "Cardiology 2012: Will the Complete Cardiovascular Information System (CVIS) Please Stand Up?" explains a result of this consolidation trend is that providers are looking for a technology leader to step up and meet their needs.  

"Many cardiology vendors are vulnerable to replacement," said Monique Rasband, cardiology IT research director and author of the report. "While some vendors have many of the necessary pieces in place to be considered a complete CVIS solution, providers report that no vendor is doing all of them. All of the solutions are missing something."

The recent study asked 442 providers to rate the completeness of their cardiology vendor solution on a 100-point scale. On average, providers reported their cardiology system to be only 65 percent complete. Of those providers reporting that their vendor solution was incomplete, 51 percent said the main missing piece was clinical reporting. And, for those vendors offering reporting as part of their system, functionality often was lacking and providers said they wanted more.

Twenty-nine percent of cardiology providers who are looking to leave their current vendor cite consolidation as the reason. Forty percent say lack of reporting functionality is one of the main issues driving replacement. This is causing almost all vendors in this market segment to be vulnerable.

The Cardiology IT Dilemma
Cardiology departments have long been hosting several different software solutions to meet varying demands. However, hospitals and cardiology departments are moving toward integration and consolidation, with IT being more and more involved in decision-making.

Providers who are leaving their current cardiology vendor (nearly 20 percent of the cardiology customer base on average) are doing so because they hope to have fewer vendors to deal with and want an integrated platform. Most providers also feel that their current vendor is missing some pieces. More than half of those providers that said something is missing mentioned a lack of reporting functionality, and 30 percent said they were missing integration. Providers may be disappointed to learn that the grass is not necessarily greener with a new vendor.

While some vendors have many of the pieces in place and some vendors are on an integrated platform, providers reported there is currently no vendor that is doing all of the necessary pieces well.

Providers who are trying to consolidate systems or are planning to leave their current vendor for greener pastures want to know the answers to the following questions: Which vendors offer an integrated solution? Who can offer all of the pieces for the cardiology department?

The most common five modules that make up the core of a complete CVIS solution are (1) cath picture archiving and communication system (PACS), (2) echo PACS, (3) cath reporting, (4) echo reporting, and (5) vascular PACS. Though pediatric functionality is essential for those facilities that focus on pediatrics, it is not a widespread necessity. Other peripheral modules, such as hemodynamics, electrocardiogram (ECG), magnetic resonance imaging (MRI), computed tomography (CT) and materials management, would be nice to have but are not considered as essential, in most cases. Users also said they wanted integration with point-of-care patient tracking; cardiac MRI; stress testing; cardiac CT; nuclear medicine; peripheral; vascular; Holter monitoring; other cardiovascular imaging modalities; disease management and billing.

The research indicated overall, providers are much happier with the cardiology PACS modules than with the reporting modules. All of the vendors rated in this study offer reporting modules, but only a couple of vendors met providers' expectations. Since most of the vendors in this study can currently offer the five core modules, two questions arise: Are providers actually adopting all of the modules being offered? How satisfied are providers with the functionality of these key pieces?

Integration is another area where providers report vendor solutions are missing the mark. The desire for integration combined with the need for more reporting functionality leaves the door open for enterprise and non-traditional cardiology vendors to garner new customers.
"Cardiology reporting solutions by enterprise vendors Epic and Cerner are still in development. However, with the current state of reporting functionality, there would be little to dissuade a provider from seriously looking at an enterprise vendor investigating the added benefit integration brings," Rasband said.

Other providers are exploring additional ways to integrate the department by consolidating their cardiology solution with another vendor's solution that is already used in the department, such as radiology. Some vendors that are typically seen as radiology vendors – such as Carestream, DR Systems, Infinitt and NovaRad – are entering the cardiology market.

Despite the churn and vulnerability of systems for replacement, not all of the changes in cardiology result in bad news. The report found that overall performance scores in cardiology are trending up for seven out of the 10 ranked vendors this year.  The vendors ranked in this years' cardiology IT study include Agfa, Digisonics, Fujifilm, GE Healthcare, Lumedx, McKesson, Merge, Philips, ScImage and Siemens.

Highlights of Some Vendors
McKesson has a large portfolio and shows adoption across the board. The system is rated the most complete CVIS in the study. Customers plan to stick with McKesson; only 7 percent say McKesson is not part of their long-term plans. McKesson has been very consistent and pleases both newer and older customers alike, and handles an average of nearly 19,000 cardiology studies per year per facility.

Digisonics continues to be a company that providers like to work with and takes the number one ranking in this report for the third year in a row. As Digisonics has worked toward being viewed as offering more than an echo system, some shortcomings in functionality have been exposed. Adoption of cath modules is very low, and satisfaction with the echo functionality has dropped. Providers view Digisonics as the least complete CVIS solution in the study.

GE has a widely adopted and broad CVIS offering and is rated the second-most complete system in the study. GE is strong where many vendors suffer, such as in hemodynamics and ECG management. GE also leads in volume of images, an average of 21,142 studies per year, and moved up six points this year from last.

Merge customers have widely adopted the hemodynamics system, and rate Merge as the third-most complete CVIS.

Siemens improved nearly 10 points from last year's report, moving from last place to tying for third place. Newer customers have better experiences than those who have been through struggles over four years. Siemens' cath reporting module has relatively low adoption but the highest satisfaction in the study. However, some older clients are looking to replace the system.

To learn more about the cardiology IT market, including the strengths and weaknesses of vendors' CVIS solutions, visit www.KLASresearch.com/reports.