Jesse Ehrenfeld, MD, MPh, FAMIA, FASA, FCPP, president of the American Medical Association (AMA), addressed the topic of broader digital health trends during the recent 2023 AIMed Global Summit, highlighting some of the ways the AMA is working to ensure physicians are actively and deeply involved in the development of new technologies in medicine.
"I really want to answer the essential question, which is what really matters for patients and doctors in this new era of digital health," he shared. "But more importantly, for this discussion, I think it's important to point out that I actually see patients. I'm an anesthesiologist, and usually on Tuesdays, I put on my scrubs and I go to the operating room. There is not a week that goes by where I don't see up close opportunities for things to work better, or opportunities for the technology to better support me and my colleagues as we continue to provide better care to keep my patients healthier," he added.
In addition to being AMA's current president and practicing anesthesiologist, Ehrenfeld is senior associate dean and tenured professor of anesthesiology at the Medical College of Wisconsin, an adjunct professor of anesthesiology and health policy at Vanderbilt University Medical Center, and adjunct professor of surgery at the Uniformed Services University of the Health Sciences in Bethesda, Md. He previously served in the United States military and was deployed to Afghanistan during Operation Enduring Freedom and Resolute Support Mission.
After giving an example of crucial patient data not being recorded in an electronic health record (EHR) of a recent patient which was only discovered through a pre-operative conversation, Ehrenfeld stressed the need for better tools for clinicians that provide the information needed to keep patients healthy. "Physicians understand the potential for new digital tools. We want to address health disparities. We want to streamline our workflows," he stressed, adding that the AMA does a lot of survey work that engages physicians across the country. "In our most recent survey, we found out that adoption continues to accelerate. It has grown significantly over the last three to four years. This is true amongst every physician; it doesn't matter your age, your gender or your specialty. In fact, physicians over 50 are the largest area of growth for adoption of these digital health tools."
He also warned of the horror stories about technology. "Unfortunately, there are lots of places where promises of technologies to help us have actually made things worse," he explained. "More than a decade ago, we had the widespread national rollout of electronic health records heavily subsidized by the federal government, meaning your taxpayers created the incentives for technology adopted. Unfortunately, it was a very clumsy effort, clumsy implementation, clumsy rollouts, and in a lot of places, those technologies have still not lived up to their potential." He alluded to his earlier example, adding, "I would say EHRs are a cautionary tale. Technology was created for the right reasons, but largely without the direct input of physicians."
Ehrenfeld believes that we are at a very critical juncture today, and states that he doesn't say this lightly. "When I look out at the current developments and implementation landscape for new digital tools, AI-enabled tools, it can be much more difficult to understand when something's working, and when it's not," Ehrenfeld continued. "There are real concerns about liability for these tools, technology simply becoming another obstacle that physicians have to bear the burden of, we as a community. And we are a community sitting here today of developers, innovators, clinicians, regulators and users; we've got to ensure that we do not allow the trust of the public to be lost or the confidence of people who use these tools to go away. We want to make sure that as tools come into the marketplace, they actually live up to their promise.
"We live in a fragile world," he continued. "I think everybody sitting in this audience knows that trust in science, trust in regulated products and advice from government agencies is increasingly at risk of being discounted, or in the worst of circumstances, being deliberately ignored. So, as I think about what it takes, we simply can't allow any opening in the regulatory framework, or the product development lifecycle, to exacerbate that global problem around skepticism."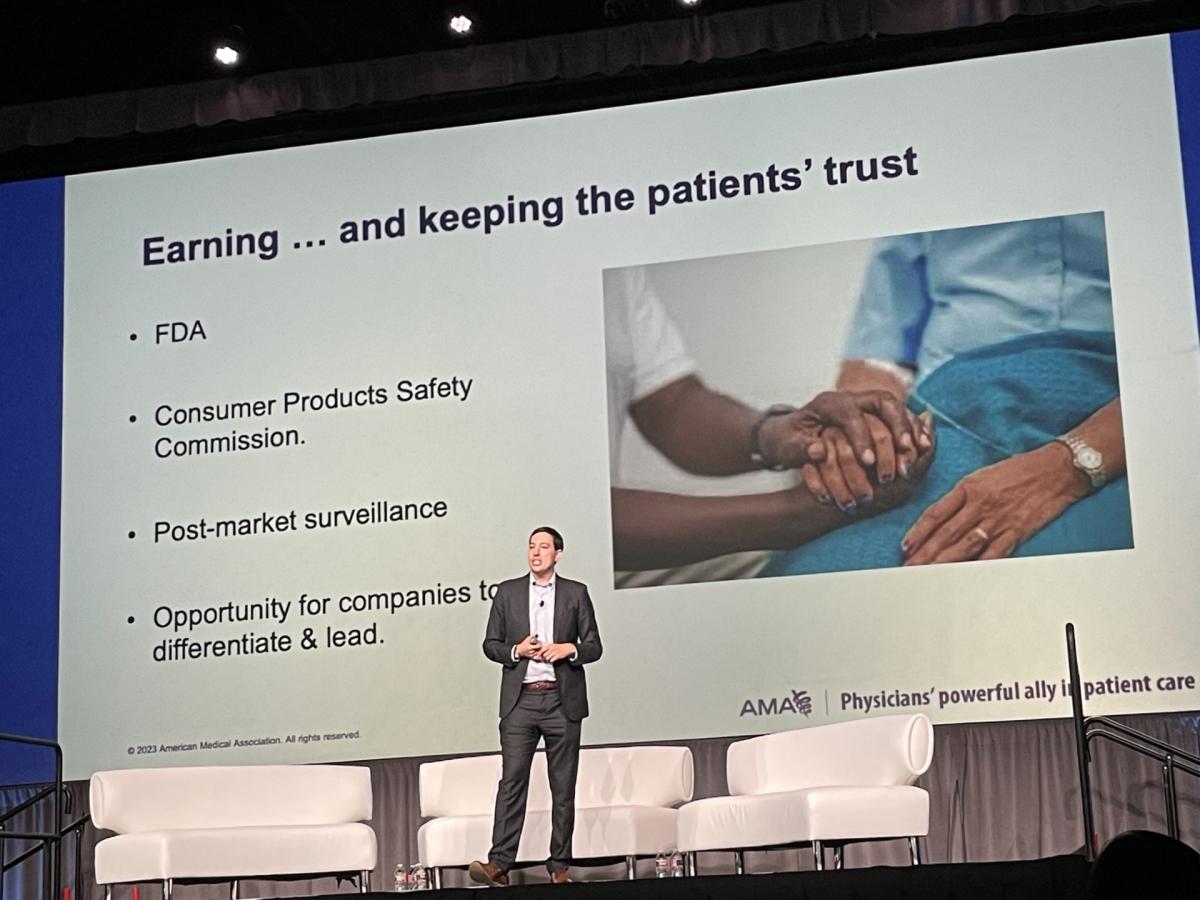 Jesse Ehrenfeld, MD, MPh, FAMIA, FASA, FCPP, discussed what is needed to earn and keep the trust of physicians during his presentation at the recent AIMed Summit.
What Physicians Need for Digital Health
Physicians' needs when it comes to digital health, according to Ehrenfeld, are actually quite simple, and can be summarized in
four questions:
1. Does it work?
2. Will insurance cover its use?
3. Who is accountable if something goes wrong?
4. Does this actually work in my practice?
Other questions that can be added to this list include: Does this new tool address something important? Is there a real need or a gap in care? Does it help improve outcomes? Does it help improve health equity?
"We've seen a lot of examples of systems found to have bias training datasets or a failure to imagine other design flaws. If not addressed, if those assets those can lead to systems that invisibly and unintentionally either reproduce or normalize racial bias or other biases that are baked into training sets, we've got to intentionally apply an equity lens to everything we do from the beginning of the development design stages," he said. "Are we including diverse patients in machine learning datasets in the testing? Are we deploying tools in diverse communities? Are we testing for biases? How does the AMA influence the creation of digital health products?"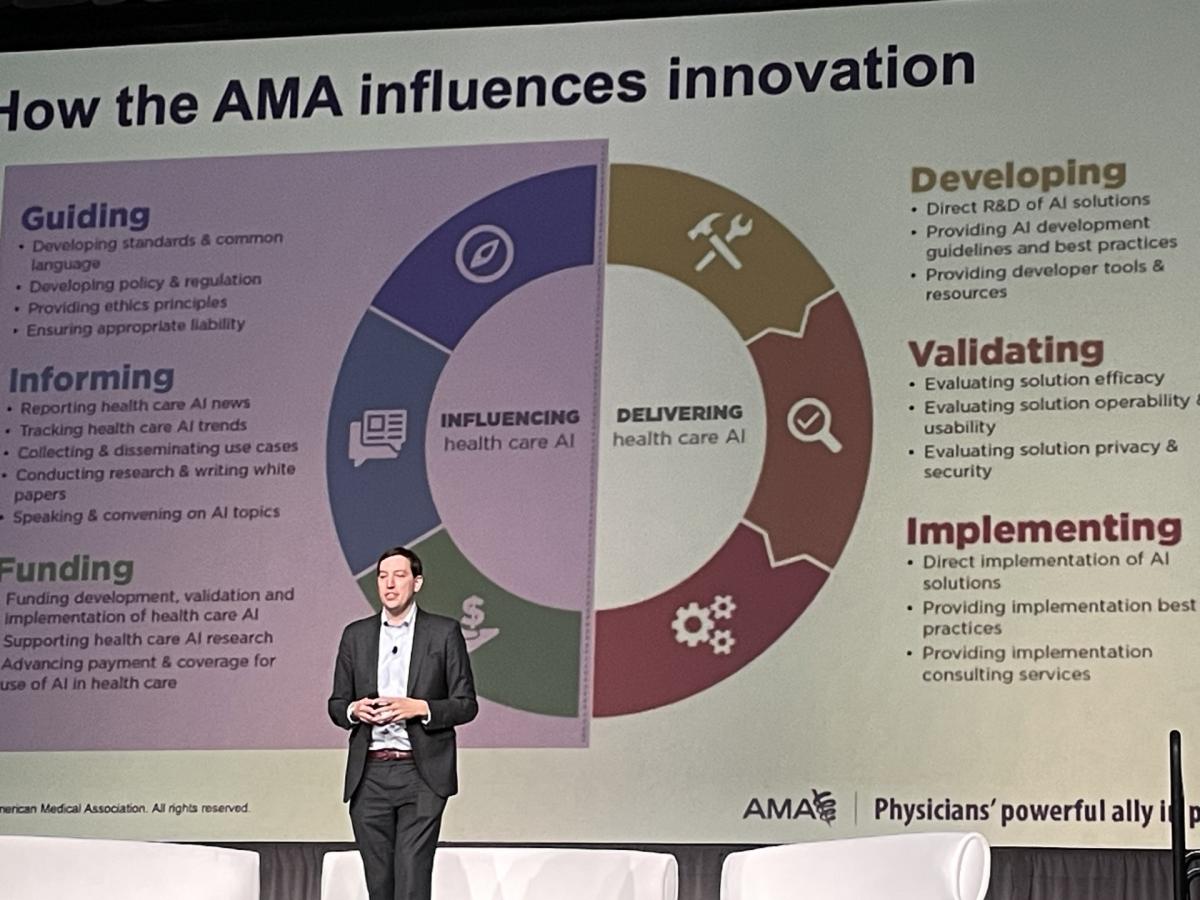 The American Medical Association works to ensure physicians are actively involved in the development of new technologies in medicine, including artificial intelligence.
The aim, said Ehrenfeld, is influencing AI development in many ways; by helping to develop the standards to have common language, by providing ethical principles underlying these technologies, and by informing physicians about trends and information that they need to know.
"We like to refer to augmented intelligence, not artificial intelligence, to emphasize that the human should always be at the center of the delivery of patient care," he stated. "And whatever the future of health looks like, patients need to know that there is a human who is on the other side, helping guide their course of care. That is essential."
Working Through the Uncertainties
When it comes to AI, which was top of mind for everybody attending the AIMed Summit, there are many uncertainties about the application of standards and the regulatory environment for what is happening today. "Through my role at the AMA, I've been part of a lot of conversations about what are the requirements for the implementation of AI in healthcare. And this past year, as I think about what's ahead, the work is really centered around trying to understand how we manage risk," he explained. "I worked very closely on the application of ISO 14971, which is a standard around artificial intelligence and machine learning. Very recently, the Association for the Advancement of Medical Instrumentation (AAMI) and the British Standards Institute (BSI) issued joint guidance documents around how do we understand risk management for machine learning and AI tools incorporated into a medical device. And so, that new technical information report, which you can find online, really comes out of consensus work, which the FDA recognized as the first consensus report guidance document appropriate for meeting the requirements for medical devices.
"This collaborative work was created to try and make sure that we have an understanding of how do we manage emerging risk with these technologies that are going through a lot of thoughtful discussion," he continued, adding that we all believe that AI can bring benefits to healthcare, can improve outcomes, create practice efficiencies and improve the management of healthcare itself. "However, we also know that the implementation of technologies such as AI can present real risks that could jeopardize patient health and increase in efficiencies."
In 2020, the Association for the Advancement of Medical Instrumentation and the British Standards Institute released a joint white paper that explored the safety and effectiveness of AI in medical devices, the framework of which is still relevant today. "The first issue is learning. These systems are learning, they are accumulating data," Ehrenfeld explained. "The second is that these are different systems because there's a level of autonomy, and that they have the potential to modify their outputs in response to what's happening without the oversight of clinician. And third is this issue of ethics applicability. Because of the sophisticated computations that are happening, the rationale for the output is often not easily understood, even by a well-trained clinician, or someone who was working in healthcare. All medical devices will come with inherent risks, whether they use AI or not."
Enthusiasm for New Disruptive Technology
There is great enthusiasm for artificial intelligence. "We hear loud and clear over and over that AI done right has enormous potential to improve health outcomes," Ehrenfeld said. "I hear this every place I go in America, and I travel every week — enthusiasm about this disruptive technology that is clinically validated. Where we hear  concerns is our lack of transparency that would interfere with trust and understanding how tools were validated. Physicians and our patients want validation, just as we want to know the risks and benefits for a new drug."
Ultimately, what is needed to earn and keep the trust of physicians? "Well, it's clear that we need guidance from lawmakers to make sure that we've got an appropriate regulatory framework. Clearly, there's got to be a process for getting payment for these tools as they come into the marketplace," Ehrenfeld concluded. "We've got to make sure that liability exposure is placed in the right place for patients and physicians. And ultimately, we've got to work together to make sure that we have trust in all of these products."
Related Artificial Intelligence Content:
AiMed Global Summit 2023 to Focus on "Changing Healthcare One Connection at a Time" in San Diego
AiMed Global Summit's Lineup Announced
Making AI an Integral Part of the Solution
AiMed 2023: Changing Healthcare One Connection at a Time
Find more AiMed23 conference coverage here
The Pros and Cons of Using ChatGPT in Clinical Radiology: An Open Discussion
ChatGPT Passes Radiology Board Exam
RamSoft Harnesses ChatGPT to Supercharge Their Medical Imaging Patient App, Blume - Launch at HIMSS 2023
JNM Explores Potential Applications for ChatGPT in Nuclear Medicine and Molecular Imaging
New Research Suggests AI Image Generation Using DALL-E 2 has Promising Future in Radiology
---
If you enjoy this content, please share it with a colleague