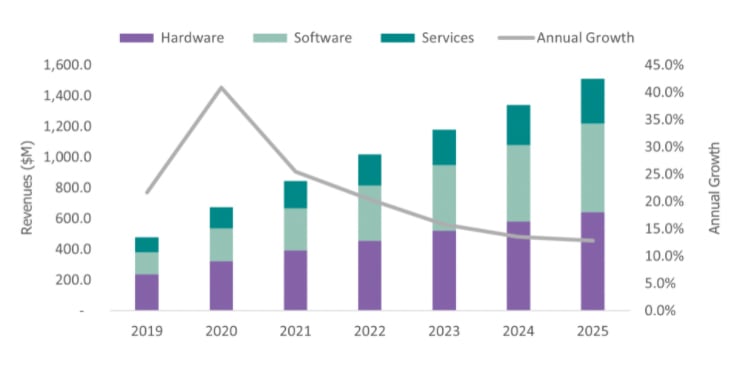 With digital pathology now being adopted by institutions around the globe, it is not surprising that we are seeing a growth in dedicated digital pathology conferences. What may be surprising to some is that we are seeing the topic of digital pathology being presented at traditionally radiology-focused events like the Society for Imaging Informatics in Medicine (SIIM) and the Radiological Society of North America (RSNA).
The Growth of Digital Pathology
A recent study by Signify Research shows the digital pathology market growth had a spike during the COVID-19 pandemic response and will continue to grow in excess of 20% per year for the next several years, significantly outpacing the growth rate of picture archiving and communication systems (PACS) and vendor neutral archives (VNA) which are reported as single digit percentages.
Pathology informatics thought leaders have been sharing their adoption practices and future visions at recent events such as the Global Engage Digital Pathology and AI Congress held in New York (June), as well as presenting dedicated sessions on the status of digital pathology at SIIM in Orlando (June).
Imaging Technology News (ITN) has been present at these events and is seeing the excitement in the community from both clinical attendees and industry vendors regarding the collaborative and diagnostic benefits that digital pathology is delivering, as well as the efficiencies to be found with the convergence of PACS/VNA and digital pathology solutions.
What is being discussed is how the adoption of a digital workflow in pathology, something we now take for granted in radiology, can enhance the collaboration among care providers and how the digital image data (aka whole slide images) can be leveraged for analytics to assist clinicians in their interpretations and care providers in optimizing their care protocols. The collaboration enhancement extends beyond just pathologists discussing a case remotely, something that today's microscope-based workflow is challenged to do, but includes the collaboration amongst multi-disciplinary teams, as is done in comprehensive cancer care today. This was the case with the presentations delivered at this year's SIIM meeting in Orlando, where there were three dedicated sessions on digital pathology, and several sessions where digital pathology was included in discussions surrounding enterprise imaging datasets.
The Current State of Digital Pathology
One notable presentation from the SIIM conference was delivered by luminary pathologists leading the way in digital adoption at Moffit Cancer Center and Research Institute in Florida, The Ohio State University Wexler Medical Center, Memorial Sloan-Kettering Cancer Center in New York, and the University of Colorado School of Medicine. The session helped the audience in understanding the current state of digital pathology and its foundational role in artificial/augmented intelligence. It outlined common use cases for digital pathology in both clinical practice and research. It also explained the current regulatory environment, and how pathology image characteristics differ from other areas of digital imaging. Common challenges seen when adopting digital pathology were outlined, and a future incorporating digital pathology and augmented intelligence as part of a complete enterprise imaging strategy was forecasted.
Various Phases
Like we saw in the advent of radiology PACS, adoption projects for digital pathology tend to be rolled out in phases, allowing clinicians to adjust slide preparation workflows, train users on digital viewing capabilities and establish new collaboration practices. Several years ago, initial phases were limited in scope and focused on proof-of-concept objectives. This appears to have changed. No longer are users starting with trial-sized deployments of just one slide scanner and limited integrations to other systems. Today, projects are bigger and in larger scale, with users committing to broad adoption of the technology and placing a focus on clinical productivity.
We are also seeing PACS/VNA vendors promoting the use of their solutions for pathology image management and archiving. While the capability has been supported for some time from a few vendors (usually leveraging the current DICOM protocol), the promotion is new, signaling that the market is asking for interoperability between these solutions.
Artificial Intelligence and Imaging
As significant as the shift from glass slides to digital images, digital pathology is also furthering the conversations around artificial intelligence (AI) in imaging. This includes leveraging analytic tools for clinical decision support and for building larger data sets of clinical information, including genomic sequences and radiologic data, to advance personalized medicine.
As we continue to see an increase in the prevalence of image-based diagnostics and the continued growth of imaging innovation, healthcare organizations are looking for image management methodologies that support an enterprise approach and address their needs for scalability, performance, interoperability, security and administrative ease. Moving away from data silos and departmental islands of information is clearly the right way to support this.
Digital pathology is transformative for the laboratory, but it does not stop there. Healthcare's journey to modernized data management involves the convergence of existing islands of information. Through this, increases in productivity, enhancements to collaboration between clinicians and expansions of multidisciplinary care are realized. Analytic and AI tools, coupled with this richer integrated diagnostic system, also advances precision medicine. When considering these many benefits, it's clear that radiology and pathology need to continue to work together in helping their organizations achieve their quadruple aim of improving health outcomes, enhancing the patient and clinician experience, and reducing the cost of care.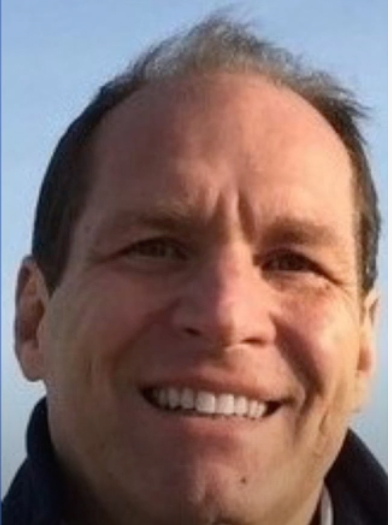 Michael Valante is the global business development leader-healthcare, chief technology officer-digital pathology at Dell Technologies. He is an experienced global sales and marketing executive with demonstrated successful history of working in the hospital and healthcare industry, focused on enterprise imaging and healthcare informatics. 
---
If you enjoy this content, please share it with a colleague