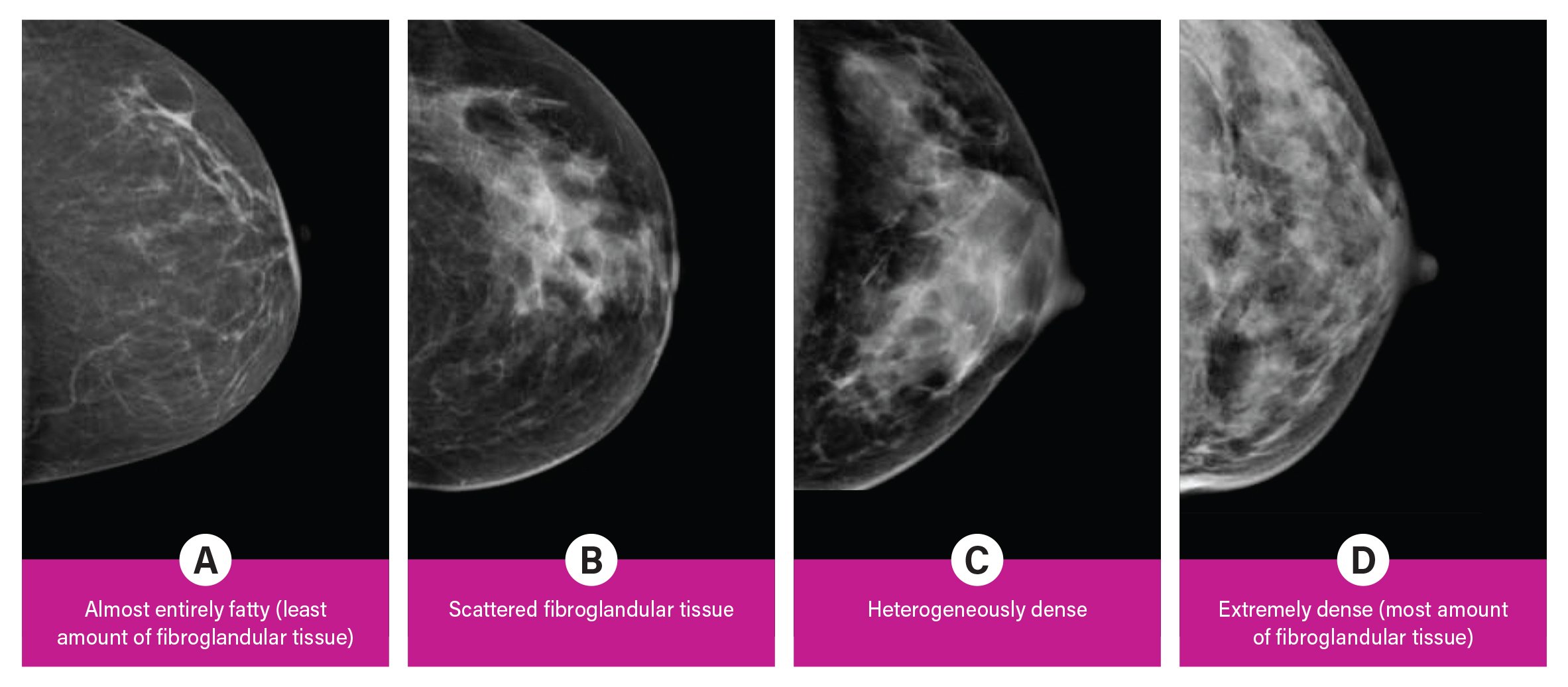 Category A
Category B
Category C
Category D
Breast cancer is the most common cancer in women, and, for women in their forties, the leading cause of premature death. It is the most common cause of death from cancer among Hispanic women, and the second most common cause of death from cancer among white, black, Asian/Pacific islander and American Indian/Alaska native women, according to the Centers for Disease Control and Prevention (excluding non-melanoma skin cancers).1
While there has been some recent controversy regarding mammography screening recommendations, the American College of Radiology (ACR), Society of Breast Imaging (SBI) and American Society of Breast Surgeons (ASBrS) recommend that women with an average risk of breast cancer begin getting annual screening mammograms at age 40,2,3 as this is the only test that has been shown to reduce breast cancer mortality. These are read by radiologists with specialized training in breast imaging. 
Viewing Dense Breast Tissue
Breast tissue is composed of a mixture of milk ducts, glands and supportive tissue, which is collectively called fibroglandular tissue and fat. The radiologist who reviews the mammogram analyzes overall breast density, which is the ratio of the amount of fibroglandular tissue to fatty tissue. Women with dense breasts have more fibroglandular tissue than fatty tissue. Fibroglandular tissue appears white on a mammogram and fat appears black. It becomes harder to detect a white cancer against a white background — imagine trying to find a polar bear in a blizzard. Dense tissue is harder to see through to detect abnormal findings. As breast density increases, cancer detection becomes more difficult. Additionally, breast cancer risk rises with increasing breast density. Multiple studies have indicated that there is a two- to six-fold increased risk of breast cancer for a woman who has an extremely dense breast versus a woman with an almost entirely fatty breast.4
Breast density is divided into four categories, from lowest to highest amounts of fibroglandular tissue composition:
Category A: Almost entirely fatty (least amount of fibroglandular tissue)
Category B: Scattered fibroglandular tissue
Category C: Heterogeneously dense
Category D: Extremely dense (most amount of fibroglandular tissue)
Mammography has an overall sensitivity of 70-90 percent, which is variable, ranging from as low as 30-48 percent in patients with dense breasts to as high as 80-98 percent in patients with fatty breasts.5 
Connecticut was the first state to mandate that radiologists inform all women undergoing screening mammography if they have dense breast tissue. Mammography facilities will soon be required by federal regulations to include breast density information in reports sent to patients and their physicians. 
The U.S. Food and Drug Administration (FDA) is creating standard reporting language; mammography reports and summaries must include, at a minimum, the following information:
1. How breast density may mask cancer on a mammogram.
2. A qualitative assessment of breast density as performed by the reader.
3. A reminder to individuals with dense breasts to talk with their provider if they
have questions.
Screening Ultrasound for Women at Risk
Screening breast ultrasound has been demonstrated to be an effective supplemental screening option, along with mammography, in women with dense breasts. Studies show that screening ultrasound can increase breast cancer detection rates.6 This is due to the fact that dense breast tissue appears whiter on ultrasound, but cancers generally appear darker (unlike mammography). Often, if a woman has heterogeneously dense or extremely dense breasts, the reporting radiologist will recommend supplemental screening with breast ultrasound. 
Digital breast tomosynthesis (DBT) has been shown to increase cancer detection rates compared to full field digital mammograms (FFDM) irrespective of tumor type, size or grade of cancer.7 Cancers that might have remained hidden on FFDM behind overlapping dense tissue are better seen on DBT.
Depending on a patient's lifetime risk for breast cancer, supplemental screening with breast magnetic resonance imaging (MRI) may be recommended. Recent research has indicated that screening with abbreviated breast MRI resulted in the detection of 15.2 cancers per 1,000 women versus 6.2 cancers per 1,000 women screened with digital breast tomosynthesis alone in women with dense breasts. In June 2016, New York became the first state to mandate full insurance coverage without co-pays for all screening breast imaging exams including supplemental imaging (such as breast MRI and ultrasound) for women with dense breasts.8
Best Tools of Detection
As breast imagers, our three most common tools of detection are mammography, breast ultrasound and breast MRI, which Mount Sinai Hospital uses in conjunction with the patient's clinical history and physical exam. Early detection and treatment are the most important ways to prevent deaths from breast cancer. It is easier to successfully treat breast cancer that is detected early, when it is at a smaller size and has not spread. Regular screening tests are the most reliable method for early detection and result in decreased cancer stage at diagnosis and less need for more extensive treatment.9 Equipping women with knowledge of their breast density and personal breast cancer lifetime risk allows them to make informed decisions regarding their own most effective personalized screening regimen.
Dayna Williams, M.D., is an assistant professor of radiology in breast imaging at Mount Sinai Hospital in New York, N.Y. She completed a fellowship in breast and body imaging at
Weill Cornell.
Shivani Chaudhry, M.D., is an assistant
professor of radiology in breast imaging at Mount Sinai Hospital in New York, N.Y. She completed fellowships in women's imaging at the University of Toronto and breast imaging
at Mount Sinai Hospital.
Laurie R Margolies, M.D., is the director of breast imaging at Mount Sinai Hospital in New York, N.Y. She is a fellow of the American College of Radiology, and was president of the New York Breast Imaging Society.
References:
1. https://www.cdc.gov/cancer/breast/statistics/index.htm. Accessed March 17, 2020.
2. https://www.acraccreditation.org/mammography-saves-lives/guidelines. Accessed March 17, 2020.
3. https://www.breastcancer.org/research-news/asbrs-issues-updated-screening-guidelines. Accessed March 17, 2020.
4. McCormack V, Silva I. Breast Density and Parencymal Patterns as Markers of Breast Cancer Risk: A Meta-analysis. Cancer Epidemiol Prev 2006; 15(6). June 2006.
5. Hooley RJ, Greenberg KL, Stackhouse RM, Geisel JL, Butler RS, Philpotts LE. Screening US in patients with mammographically dense breasts: initial experience with Connecticut Public Act 09-41. Radiology 2012 Oct;265(1): 59-69.
6. Berg WA, Zhang Z, Lehrer D, et al. Detection of breast cancer with addition of annual screening ultrasound or a single screening MRI to mammography in women with elevated breast cancer risk. JAMA. 2012;307(13):1394–1404. doi:10.1001/jama.2012.388.
7. https://www.sciencedaily.com/releases/2019/10/191016153705.htm
8. Comstock CE, Gatsonis C, Newstead GM, et al. Comparison of Abbreviated Breast MRI vs Digital Breast Tomosynthesis for Breast Cancer Detection Among Women With Dense Breasts Undergoing Screening. JAMA. 2020;323(8):746–756. doi:10.1001/jama.2020.0572.
9. Ahn, S., Wooster, M., Valente, C. et al. Impact of Screening Mammography on Treatment in Women Diagnosed with Breast Cancer. Ann Surg Oncol 25, 2979–2986 (2018). https://doi.org/10.1245/s10434-018-6646-8.