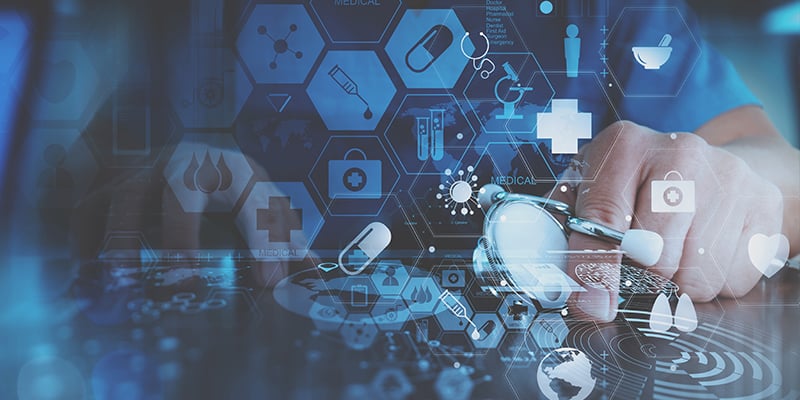 Getty Images
As healthcare providers aim to deliver high-quality, coordinated care and improve patient outcomes they must find ways to not only change and adapt to highly technical processes and advances in technologies but also work toward an open, seamless flow of data between departments, providers, organizations and patients.
Picture archiving communication systems, or PACS, have been the foundation of medical imaging for healthcare organizations. Introduced in the 1980s, organizations have used PACS to store and call up images for reading for departments such as cardiology, radiology and more. However, PACS is a vertical approach with each department managing its system silos. Because PACS vendors continue to use proprietary extensions, achieving interoperability within and outside the enterprise can be complicated and costly.
Clinicians and providers are typically required to search through multiple systems to get acquainted with a patient's medical history and profile. Crucial data that could help clinicians arrive at a more precise diagnosis could potentially be missed because the information was stored and buried across too many systems to be found and reconciled.
As healthcare imaging data continues to expand, there is a need for technologies that connect data silos and support the entire enterprise.
Enterprise Imaging Solution
From data sharing to interoperability, PACS faces challenges. When each department has its specialized solution, this can lead to data silos limiting the ability to combine images in one viewer and analyze clinical and performance data as a whole. Organizations that are looking to replace or change their PACS have an opportunity to expand their capabilities with a new solution — enterprise imaging — rather than continuing to replace PACS with PACS.
According to Larry Sitka, vice president and CSIO, Enterprise Applications, for Vital, when it comes to unlocking data silos through implementing innovative solutions, indecision is one of the key setbacks for every healthcare organization. 
"You have the typical healthcare organizations that simply choose to do nothing. What ends up happening is they buy another application, and their costs tend to double. Other organizations replace one vendor application with another and try to stay neutral. Usually, this adds additional costs going forward," he explained.
Instead, Sitka suggests that healthcare organizations need to start thinking differently. "Don't think about service lines and silo-based businesses, think about trying to take your service lines, whatever '-ology' that may be, and turn it horizontal. What I mean by that is remove the silo, take a piece of software, create it at the enterprise, turn it horizontally, and start to leverage it across every service line. So now, rather than repurchase infrastructure and pieces of software for every single department, organizations can reuse that software across those departments," he said.
Jonathan Shoemaker, healthcare IT expert, added: "When you are isolated to a department silo, your interoperability becomes very complex, and the ability to support the organization becomes minimal. You only have certain subject matter experts within your support organization that know that specific product to the level that is required to support it in these advanced times."
In contrast, vendor-agnostic enterprise imaging solutions that take patient data from images, reports and more, and merge it into one place do not have these limitations. Enterprise imaging, such as the Vitrea Enterprise Imaging solution from Vital, helps healthcare systems leverage the image data they have already collected, allowing them to unlock, analyze and share information while reducing IT expenses, maintaining security, and increasing physician and patient satisfaction.
Enterprise Imaging: A Three-legged Stool
According to Sitka, enterprise imaging is a three-legged stool comprising diagnostic imaging, healthcare IT and the biology side of the business. 
"We are all used to the traditional diagnostic imaging leg of the three-legged stool — the viewing components, the applications that are used. However, enterprise imaging introduces two other pieces of this three-legged stool: healthcare IT and the biology side of the business — the genetics, the genomics, the liquid biopsies. All three of these work in unison from an enterprise approach to assist in diagnostic. Most importantly, there's this new user, called AI [artificial intelligence], that is keen to what's becoming known inside of enterprise imaging," Sitka said. 
However, Sitka also explained that if an organization lacks interoperability and data normalization standardization, there is no way for the AI algorithms to be lifted and leveraged.
Shoemaker agreed, "The normalization of the data is almost more important than the solution itself. You see that in the behavior when you're utilizing multiple viewers. With AI, it becomes even more important for that type of normalization, so that you don't have some of the biases that are introduced when pushing that volume of data through."
As AI advances in medical imaging, there is a need to process, manage and store large amounts of data. Enterprise imaging can handle the data loads required to take advantage of AI and its possibilities in supporting diagnoses and workflows.
Enterprise Imaging Solution Applications
According to Sitka, there is a breakdown of three viewing technologies that traditionally exist on the diagnostics side of the imaging services business that is composed inside of Vital's enterprise imaging solution. 
There is a clinical, or enterprise-class viewer, which is typically used by clinicians and referring physicians. Next is the primary PACS replacement viewing solution that is used for viewing the images as well as workflow. The advanced visualization or high-end viewer allows for these solutions to collapse into one common solution.
"We also see another section that I would classify as the image orchestration or the data between departments, organizations and orchestration layer," Sitka said. "[This] is the ability to take data orchestrated in unison, and then be able to return results based on the collective of all those messages. This gives the ability to not just archive image data, but archive any data inside the solution going forward, and then be able to not only save it but share it. And when I say share it, I mean also share it with other applications like those such as AI."
Enterprise imaging also has an analytics viewer that is traditionally used by department heads who typically want to see the same information but in a different context — standardized and available in the format required by the user who is making the request.
"We have these different domains, one is used by humans, and the next one is used by AI-based algorithms. This is where we are seeing what I would call a collision between human and clinical-driven workflows into these data and analytics-driven workflows," Sitka added.
Among other applications, image sharing is another example where enterprise imaging can improve the flow of data. It essentially eliminates the need to generate CDs or DVDs to share images with affiliated and unaffiliated organizations.
Organization Readiness
Enterprise imaging can make data accessible across all organizational sizes, multi-facility and provider networks, at any time and in any standardized form. It connects disparate PACS and provides data and image management tools that will help reduce unnecessary costs, promote efficiency, streamline collaboration, and can increase physician and patient satisfaction. However, there is still a lot of work to be done to ready organizations to implement enterprise imaging solutions.
"Some organizations have adopted VNA-based technology, some are still stuck in what I would call the PACS world, trying to become VNAs," Sitka said. "This traditionally makes for too many silos, too many isolated applications, and it is very expensive to integrate."
By implementing leading-edge technologies, such as Vital's enterprise imaging solution, there is great potential for healthcare organizations to integrate data silos between departments, providers and organizations. Implementations like this may help to reduce unnecessary costs and maximize interoperability, and, in turn, can help organizations meet and exceed their goals for better patient care and satisfaction.
"It is time to make the shift to the enterprise-based environments that we are seeing," Sitka said.
If you're not sure where to start on connecting your data silos, we've compiled a checklist of considerations when looking for a solution. Whether you are here to evaluate your current PACS or wanting to better understand the different technical capabilities, this guide will help you get started to think differently today.
Read the PACS eplacement Checklist at https://bit.ly/3w6bKom.
For more information: www.vitalimages.com
Related PACS Content:
WEBINAR: Help Increase Your Organization's Access to Data Through PACS Integration
---
If you enjoy this content, please share it with a colleague