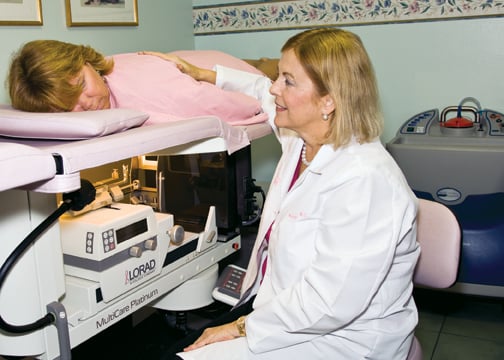 The sign outside the Women's Center for Radiology in Orlando, Florida, announces the arrival of 3D mammography. Susan Curry, M.D., founder and medical director, wants to get the message out to women in Central Florida about 3D mammography and the difference it can make in the early detection of breast cancer.
In April of this year, the Women's Center became the first imaging facility in Orlando and one of only a handful of centers in the country to offer 3D mammograms. "Saving lives involves remaining cutting edge," explains Dr. Curry. "We installed Hologic's Selenia Dimensions digital tomosynthesis system because we believe it will help us to find cancer early, so we can make a significant difference in our patients' lives. We felt the technology was so superior, we purchased a second Dimensions system in July."
Leading the way with innovative and effective imaging technology isn't new for the Women's Center.  When Dr. Curry founded the Women's Center for Radiology 30 years ago, its mission was to improve the survival rates for women with breast cancer. The Center brought together dedicated women's imagers with the most advanced imaging technology available and set the standard for care in breast imaging.  
In 2004, the Women's Center was the first imaging center in Central Florida to transition from analog to digital mammography with the installation of five Hologic Selenia digital mammography systems. "We were years ahead of other facilities implementing digital mammography," explains Dr. Curry. "Digital technology is a better way to read mammograms. We can see more and find cancers in an earlier state."
Dr. Curry believes tomosynthesis is enabling her staff to find smaller cancers at earlier stages. "The goal is to find cancer early, when it can be cured," states Dr. Curry. "We're trying to find really small cancers to improve the outcome. With tomosynthesis, we found a 7 millimeter cancer and, as a result, that patient may not need chemotherapy."
Three radiologists and seven technicians focus solely on breast mammography, performing more than 35,000 mammograms annually. Additional staff provides breast MRI and ultrasound, DEXA scans, ductograms and biopsies, including stereotactic breast biopsies using Hologic's ATEC breast biopsy and excision system and the MultiCare Platinum stereotactic breast biopsy guidance system.
Several times a month, the Women's Center's mobile imaging van, outfitted with a Selenia 2D digital mammography system and Hologic's Sahara clinical bone sonometer, travels to local businesses, including Disney World and Universal Studios, to bring life-saving imaging services to women who can't travel to the Center.
Making a Difference for Dense Breasts and High Risk Women
Dr. Curry had been following the progress of tomosynthesis technology through papers and conferences, and when she had an opportunity last year to experience the technology firsthand, she was excited about the chance. "I observed Hologic's tomosynthesis system at work in the University Hospital in Turin, Italy," states Dr. Curry. "The images were just remarkable and that pretty much answered any questions we had about implementing this technology. "
Dr. Curry reports that tomosynthesis will make a real difference in the Center's ability to diagnosis patients with dense breasts or other high-risk factors. "With a two-dimensional mammogram, dense tissue can obscure breast cancer," explains Dr. Curry. "If you can't find the architectural distortions, which may be the only finding you have with an invasive tumor, then you can miss the tumor.
"One analogy I like is mammography is like a book," adds Dr. Curry.  "With two-dimensional digital mammography, you can see the front and back cover and you learn a little bit about what is in the book, but everything in-between is obscured, as in a dense breast. With tomosynthesis you can see what's inside, page by page. It's not just a better image. It's a more complete image."
Dr. Curry continues, "The 3D tomosynthesis images are incredible and give us confidence in our diagnosis. We feel really confident we haven't missed anything that will cause a problem next year or that the patient will discover later. I think there's less stress when you read tomosynthesis mammograms."
Improving the Outcomes
With only two tomosynthesis systems and approximately 150 patients a day, the Women's Center uses a breast cancer risk assessment tool known as the "Gail model" to estimate a woman's risk of developing invasive breast cancer over specific periods. Named after Dr. Mitchell Gail, Senior Investigator in the Biostatistics Branch of NCI's Division of Cancer Epidemiology and Genetics, the model uses a woman's own personal medical history (number of previous breast biopsies and the presence of atypical hyperplasia in any previous breast biopsy specimen), her own reproductive history (age at the start of menstruation and age at the first live birth of a child) and the history of breast cancer among her first-degree relatives (mother, sisters, daughters).
If a woman has an elevated Gail Model or high risk factors, she has a 2D + 3D mammogram. Plus, Dr. Curry reports, "Women come to our center because we have the most advanced technology available, and if they ask for the 3D exam, they get it.
"We're here to take care of the patient, which is why our technicians like the Selenia Dimensions system," Dr. Curry continues. "It's easy to position the patient, and the Hologic FAST Paddle tilting paddle system makes the compression more comfortable for the patient. But, the greatest reason our technicians like tomosynthesis is because they do not have to take additional views. Recalls are difficult for the patient and time-consuming for the technician."
Dr. Curry would like all Orlando women to know that tomosynthesis can help distinguish harmless abnormalities from real tumors – that means fewer callbacks and less anxiety. "If women know more about tomosynthesis, more women will request the three-dimensional exam.
"Today, with smaller cancers found earlier, women may not need chemotherapy or radiation treatment, which is a much better outcome for the patient," Dr. Curry concludes.
The comments in this article are the opinions and personal stories of the individuals quoted and not necessarily those of Hologic. Hologic, ATEC, Dimensions, FAST Paddle, MultiCare, Sahara and Selenia are trademarks and/or registered trademarks of Hologic Inc. and/or its subsidiaries in the United States and/or other countries.
Case study supplied by Hologic.