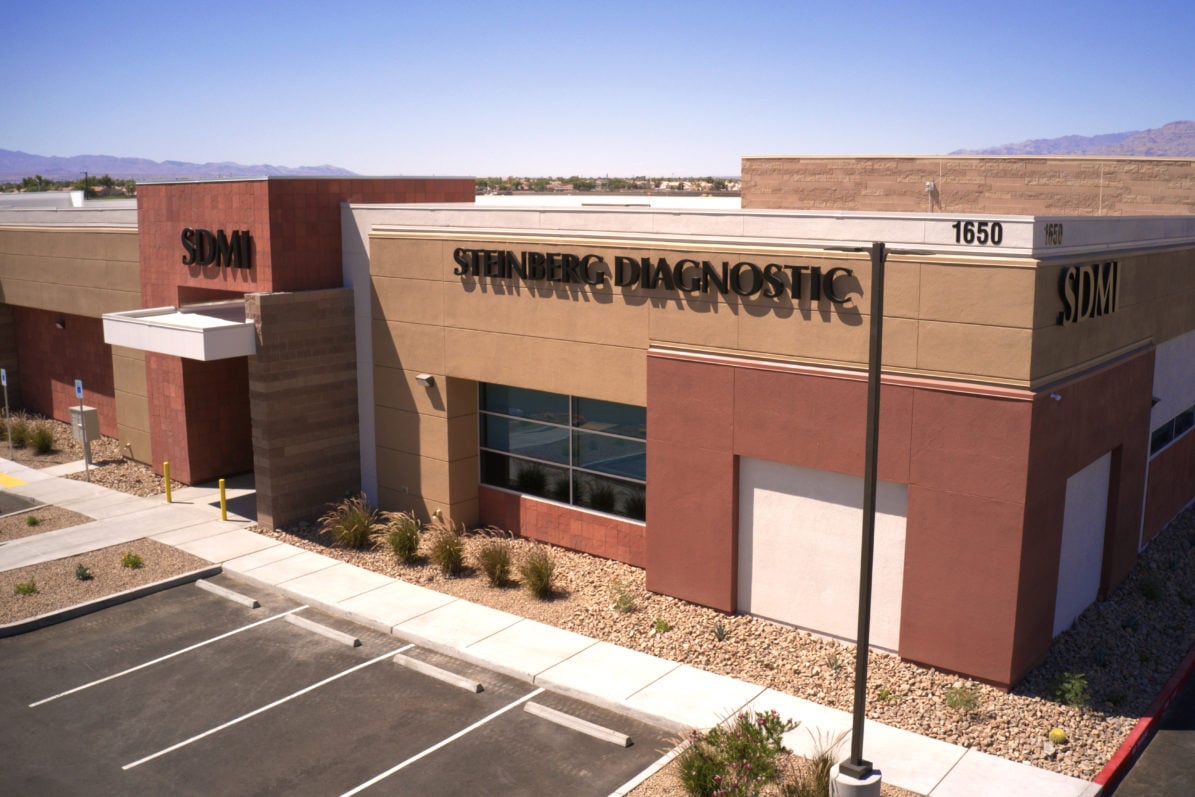 Steinberg Diagnostic Medical Imaging headquarters.
Steinberg Diagnostic Medical Imaging (SDMI) was founded 30 years ago and has grown to be one of the largest outpatient radiology practices in the United States. During that time, SDMI has performed approximately half a million contrast-enhanced magnetic resonance imaging (MRI) examinations. "The use of gadolinium-based contrast agents during magnetic resonance imaging has steadily grown in our practice because it often allows us to detect lesions that we might very well miss during an unenhanced examination," reported Mark L. Winkler, M.D., president of Steinberg Diagnostic Medical Imaging (SDMI). While Las Vegas is a city that built its fortunes on risk — legalized gambling — SDMI is risk-averse and has built their practice on diagnostic excellence and optimizing patient safety.
Winkler oversees MRI at SDMI. The practice has 17 MR scanners and performs more than 90,000 MRI examinations each year; approximately 37 percent of these examinations are contrast-enhanced. Winkler is proud of the fact that SDMI had the first two American College of Radiology (ACR) accredited MRI scanners in the United States.
SDMI encompasses nine freestanding facilities, and has a team of more than 500 radiologists, radiologic technologists (RTs) and support staff who are specially trained to perform more than 2,000 different procedures. All of SDMI's radiologists are board certified and members of the ACR.
Winkler noted that "all examinations are subspecialty-based, providing the highest standards of diagnostic imaging." SDMI provides a wide array of services, including X-ray, fluoroscopy, dual X-ray absorptiometry, 3-D mammography, CT, analogue and digital PET/CT, MRI, ultrasound, nuclear medicine and even interventional radiology, which is not a common service offered at independent outpatient practices. SDMI serves Clark County, Nev., which has a population of more than 2.2 million, representing the entire Las Vegas metropolitan area.
In the early 2000s when nephrogenic systemic fibrosis (NSF) was linked to the administration of gadolinium-based contrast agents (GBCAs) in patients with end-stage renal disease, SDMI was at the forefront. Not only did the practice implement rigorous screening protocols for patients who might need to undergo contrast-enhanced MRI examinations, they set up a task force to review the current guidelines and literature.
SDMI wanted to adopt an ACR Group II GBCA to help minimize the risk of patients developing NSF. SDMI's goal was to adopt a GBCA that was associated with few, if any, unconfounded cases of NSF and had a good tolerability profile. SDMI found it with Dotarem (gadoterate meglumine) Injection. The practice chose Dotarem because of its ionic, macrocyclic profile. Its high thermodynamic and kinetic stability makes Dotarem the most stable GBCA molecule.2,3 In 2015, SDMI transitioned to Dotarem. "We have been using Dotarem as our GBCA for four years now. We have encountered a few mild reactions after more than 100,000 administrations," said Winkler. Switching to Dotarem has allowed SDMI to achieve three very important goals in contrast-enhanced MRI: patient safety, improving patient satisfaction, and building RT confidence in using gadolinium contrast.
Winkler concluded, "For my large practice, Dotarem is a diagnostically effective agent that offers stability and a favorable acute adverse event profile. Dotarem allows us to perform contrast- enhanced MRIs with great confidence, while providing the acceptable levels of patient safety and satisfaction. Our patients are satisfied, and our RTs are very comfortable using Dotarem."
---
If you enjoy this content, please share it with a colleague