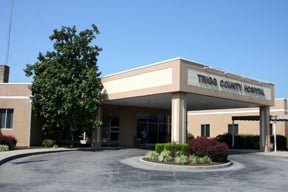 Trigg County Hospital
Watch the interview with Alisa Coleman, CEO of Trigg County Hospital, "The InteleOne Ripple Effect:  Kentucky's Trigg County Hospital." 
A small, 25-bed hospital in rural Kentucky is able to provide an extraordinary level of service, thanks in large part to Intelerad's InteleOne distributed radiology solution.
About Trigg County Hospital
Trigg County Hospital is a critical access facility serving Western Kentucky's Trigg County, home to a large recreational area surrounding the region's popular Lake Barkley. Most of the year, the population of this hospital's service area is a modest 20,000, but that number can triple in the summer months. This creates unique operational challenges for the hospital.
On-Site Radiology Model Impractical
The mission at Trigg County Hospital is to continuously improve care. A recent overhaul of the hospital's approach to radiology has vastly increased the level of patient care year-round, streamlining radiology operations while providing premium access to radiology specialists.
The facility's close proximity to an outdoor recreational area yields a higher proportion of fracture and head trauma cases in the 24-hour emergency department. However, the rural location means there are very few radiologists in the region, making an on-site radiology model impractical. Until recently, most emergency cases were outsourced; a local radiologist performed on-site readings for non-emergency cases. Outpatient readings typically required a 24- to 48-hour wait.
InteleOne Enables Premium Access to Specialists
The addition of digital mammography services in 2010 prompted the radiological service overhaul. Today, a relationship with Chicago-based Radiology Imaging Consultants, SC (RIC) gives Trigg County Hospital patients access to highly specialized radiologists, around the clock. Readings are typically provided in less than an hour; emergency cases are read in a matter of minutes.
This extraordinary increase in service level is possible due to RIC's use of InteleOne, a distributed radiology solution from Intelerad that provides seamless access to studies, priors and reports, regardless of where the radiologists – or patients – are located. InteleOne provides a single, highly productive environment in which RIC radiologists efficiently and collaboratively perform real-time professional readings.
The RIC practice includes more than 75 radiologists with extensive clinical expertise in a broad range of subspecialty areas. They use InteleOne to provide final interpretations for a wide range of client facilities, 24/7. RIC radiologists offer clients valuable services, such as real-time remote mammography readings and image review, while a patient is being scanned.
Minimal Turnaround Time Vastly Improves Patient Care
While patients in rural communities are often accustomed to long waits for medical results, at Trigg County Hospital the goal is a higher standard of care. "The patients have noticed a definite improvement in the quality of care we are able to provide by having results available nearly instantaneously," says Alisa Coleman, CEO of Trigg County Hospital.
For example, outpatient breast imaging patients at Trigg County Hospital now receive and discuss mammography results during their imaging visit, rather than days later. On average, emergency room cases are read in less than 30 minutes – and sometimes in as little as 5 minutes – around the clock.
In addition to improved patient care and satisfaction, Coleman also attributes new cost savings and administrative conveniences to the radiology overhaul. By providing a seamless, secure flow of information between patient systems, InteleOne eliminates many paper-based processes, reducing the need for repeated data entry and transcription, and minimizing opportunity for human error.
InteleOne Facilitates Physician and Radiologist Collaboration
Collaboration between radiologists and physicians further enhances patient care. With all patient studies, priors and reports centrally and securely accessible through InteleOne, physicians and radiologists in disparate locations can collaborate with colleagues, simultaneously viewing the same images and data.
High Service Levels Create Beneficial Ripple Effect
By empowering RIC to provide high levels of service to clients, InteleOne creates a ripple effect of benefits for Trigg County Hospital patients. Similarly, Leah McCarty, physician services coordinator for RIC, describes another ripple effect. "Intelerad's robust solution and excellent support lets RIC stay focused on delivering the highest quality service and support to our clients," she says.
As a result of these ripple effects, visitors to Trigg County's small, community hospital have unprecedented access to some of the best healthcare providers in the world. In addition, they receive high levels of service – even during the busiest months – with turnaround times typically seen only in major urban centers.
---
If you enjoy this content, please share it with a colleague