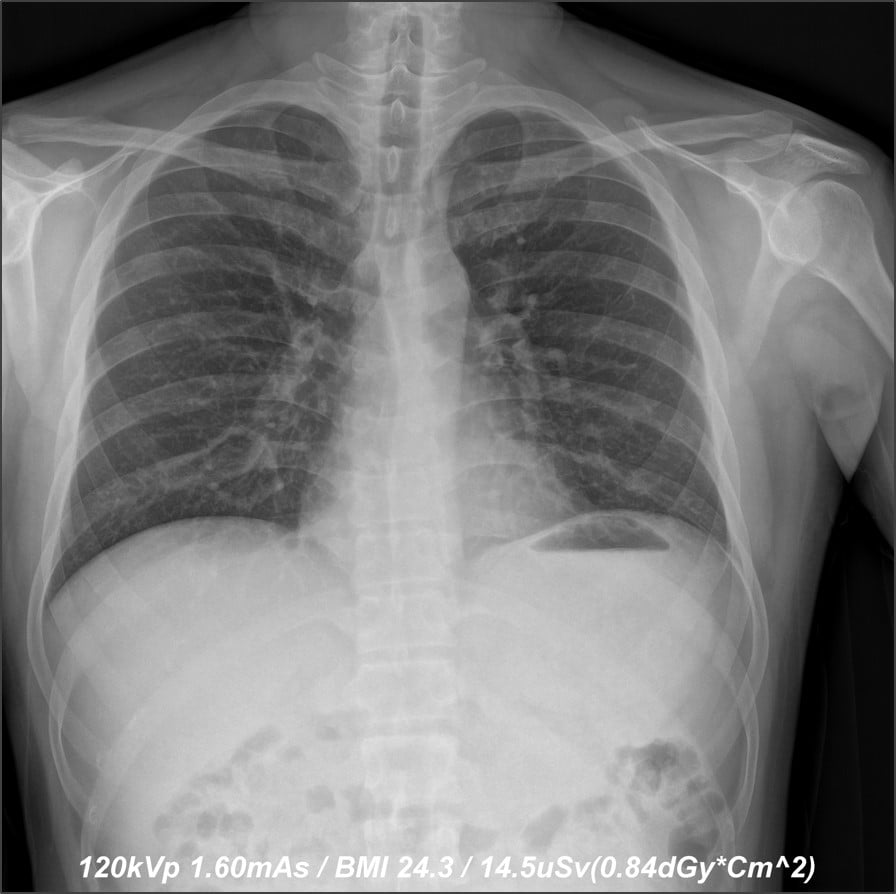 The images (before) depict a 50 percent dose reduction in chest X-ray without compromising
image quality.
There are a handful of priorities for radiologists: lowest radiation dosage, highest image quality, optimal workflow, patient satisfaction and software usability. Part of the Cone Health System, Alamance Regional Medical Center's (ARMC) partnership with Samsung has made possible a host of positive outcomes for ARMC's radiology teams and their patients. A recent study revealed that Samsung's technology was effective in performing reduced-dose X-ray examinations without compromising image quality.
Cone Health is an integrated not-for-profit network of more than 100 healthcare providers. Its Alamance Regional Medical Center, located in Burlington, N.C., is a 238-bed medical and surgical hospital, offering advanced imaging services in a modern facility utilizing state-of-the-art equipment. The medical center switched radiography vendors in 2016 as a result of normal equipment replacement.
According to Chris DeAngelo, B.S., R.T. (R)(CT), CIIP, CRA, director of imaging services at ARMC, the department was replacing two analog X-ray systems that were end of life, for which parts for repairs could not be found. In explaining the selection process, DeAngelo said a group of supervisors, directors, radiologists and staff members were assembled to evaluate several diagnostic radiology vendors, and ultimately selected Samsung.
"Unanimously, the group selected Samsung, due to the ease of use, efficiency with the automation, high image quality and low dose," reported DeAngelo, adding that the stitching feature was extremely fast and efficient. "We were immediately impressed with the new equipment and processes. We knew from day one we had something special."
When an opportunity to conduct a reduced-dose study with Samsung arose, DeAngelo and his team accepted. The 2017 study was aimed at reducing the radiation dose of adult chest X-rays by 50 percent utilizing Samsung's GC85A digital radiography (DR) system.
"The goal in radiology, especially in diagnostic radiology, is to produce quality images with the lowest radiation dose possible," said Hetal Patel, M.D., Greensboro Radiology PA, Chief of Radiology at Cone Health-ARMC. He noted that when applying the new Samsung algorithm, they were able to reduce the dose by 50 percent and maintain the same image quality as previous doses — or in some instances better. This approach could be applied to other areas, he explained, noting, "We are very excited about opening the possibilities for all types of diagnostic radiology."
During the reduced-dose study, Patel evaluated 10 posterior anterior (PA) chest X-rays. Each X-ray was evaluated under three settings: H++ (sharp), M++ (medium sharpness) and S++ (soft, or similar to computed radiography [CR]). "I felt that the M++ displayed the PA chest best," concluded Patel. "The overall image quality was excellent in all 10 instances. No X-ray had to be repeated to improve image quality.
"The degree of penetration was excellent, which was best delineated by the improved visualization of the retro-cardiac region on the PA view," Patel continued. "The remainder of the anatomic structures was also clearly demarcated on all 10 X-rays, [as well as] the boney structures."
Prior patient X-rays were also used in the study to compare quality. The reduced-dose X-rays were judged to be of either comparable quality or improved quality over the previously captured images. Patel believes the reduced-dose algorithm would be applicable to all types of X-ray exams, and would accomplish many radiologists' goals of reducing radiation dose for all patients.
"From a technical standpoint, I have been very impressed with the way Samsung handled this trial," said DeAngelo. "They essentially were able to make a software modification, so it was relatively seamless for the technologist." The study required no additional steps, nor additional processing on the radiologic technologist's part, as it was incorporated into the normal workflow. "This is really a testament to the research and development efforts that Samsung has put into this equipment. It is really impressive how the company has handled diagnostic radiology in this context," said DeAngelo.
In addition to achieving 50 percent dose reduction, the study found that Samsung's technology achieved an increase in outpatient satisfaction by nearly 80 percent; reduction of in-room scan time from 11 minutes to 5; and, for radiology technologists, increases in satisfaction and staff engagement as a result of the efficiencies the process offered. ARMC uses Press Gainey to survey all of its patients. After the installation of the new Samsung equipment, DeAngelo reported that they noticed a dramatic increase in the patient satisfaction scores for diagnostic radiology. He attributed the increase to three key elements: a redesign of the rooms for Samsung created more comfortable changing rooms; equipment automation with pre-programmed protocols that decreased the in-room time for patients; and automation of equipment, which enabled the technologist to focus more on the patient instead of the equipment.
"Samsung's GC85A is a very efficient piece of imaging equipment that has enabled us to decrease turnaround times in our department to produce extreme efficiencies for the staff, all while increasing patient satisfaction," said DeAngelo. "Being able to now lower the dose, while maintaining, if not improving image quality, is the icing on the cake."
For Heather Walters, diagnostic imaging supervisor and clinical imaging specialist with Cone Health, these win-win advantages make the technologist's life easier and more enjoyable. "Techs can spend more time with the patients while obtaining high-quality images, and the patients are happier when the technologist is focused on them and not the equipment," said Walters.
The ARMC radiology team has found the Samsung Low Dose study's validation so strong that they are eager to do more. Said DeAngelo: "We have confidence in the software algorithms that we can achieve lower dose with the same image quality, and want to expand into pediatrics and across a wider range of protocols." For the imaging community and patients alike, achieving high-quality diagnostic images with lower doses can now be a priority realized.
For more information: www.samsunghealthcare.com/en/lowdose
---
If you enjoy this content, please share it with a colleague