Effective Radiation Dose Management Improves Imaging Practices, Patient Safety and Ensures Compliance
NEXO[DOSE] is a fully automated system that provides clients enterprise-wide radiation data in just a few clicks.
Early-stage detection is key to the prevention of life-threatening diseases; however, limited access to data hinders the ability of radiology healthcare professionals to identify excess exposure to radiation in patients, which could result in both short and long-term health effects. Understanding the effects of radiation on patients' health and implementing effective radiation dose management through the adaption of innovative technologies can improve imaging practices and overall patient safety.
One such technology is the NEXO[DOSE] multi-modality radiation informatics system from Bracco Diagnostics.
Access to Enterprise-wide Data
Part of Bracco's portfolio of injector and informatics solutions for radiology, NEXO[DOSE] is a fully-automated vendor-neutral system that tracks patient radiation exposure. The system enables multi-modality, enterprise-wide radiation dose data aggregation and reporting by capturing and recording the real-time information physicists and clinicians need to monitor, analyze, and track trends, create customizable reports, and improve operational efficiency. This includes communication between facilities, streamlined reporting and documentation for complete standardization, and real-time radiation dose data aggregation and storage in one place.
"NEXO[DOSE] is the complement product to NEXO, Bracco's centralized, server-based system for standardized contrast delivery management," explained Pete Nardell, senior manager, informatics marketing for Bracco Diagnostics. "NEXO[DOSE] is a fully automated system that provides clients enterprise-wide radiation data in just a few clicks. It gives unlimited access to data, making dosing comparisons quick and easy, and takes care of all ionizing radiation for all modalities, including CT, X-ray, cath lab, mammography and MR."
The system also offers a validated method for organ dose estimation and allows a standardized approach to calculating peak skin dose across multiple vendors' systems. NEXO[DOSE] monitoring also covers non-ionizing radiation, including MRI. Other features and analytics include tracking of SAR (Specific Absorption Rate, SAR Max W/kg), slew rates (dB/dt Max T/s), operating modes (normal, first level, etc.) and all other MR parameters.
Notification System and Compliance
"NEXO[DOSE] provides the end users an intuitive way to look at dose details from the patient level or study level, as well as the modality level at either the macro level across the entire health system or the micro level, such as a particular study within a specific CT suite at a specific time and date. Through the NEXO[DOSE] Global Dose Registry clients may apply the software to analyze and benchmark their facilities by comparing dose level thresholds within the health system versus hospitals across the country, which may provide insight and best practices to other university and regional hospitals within the NEXO[DOSE] Global Dose Registry database," Nardell said.
A single data source access to patient dose records can decrease the risk of reporting and compliance errors. It allows for easy dose data comparisons across multiple facilities with automated patient radiation dose tracking and ultimately helps increase patient safety by tracking radiation exposure history. By aggregating radiation data in a single server, NEXO[DOSE] aids imaging departments by putting protocols in place to minimize errors, reduce excess radiation exposure and help them meet Joint Commission standards and state regulations.
NEXO[DOSE] has a fully flexible notification system that responds to "rules-based alerts" on more than 70 parameters—including series, exam, patient, modality, and facility—and it can send alerts to multiple groups simultaneously.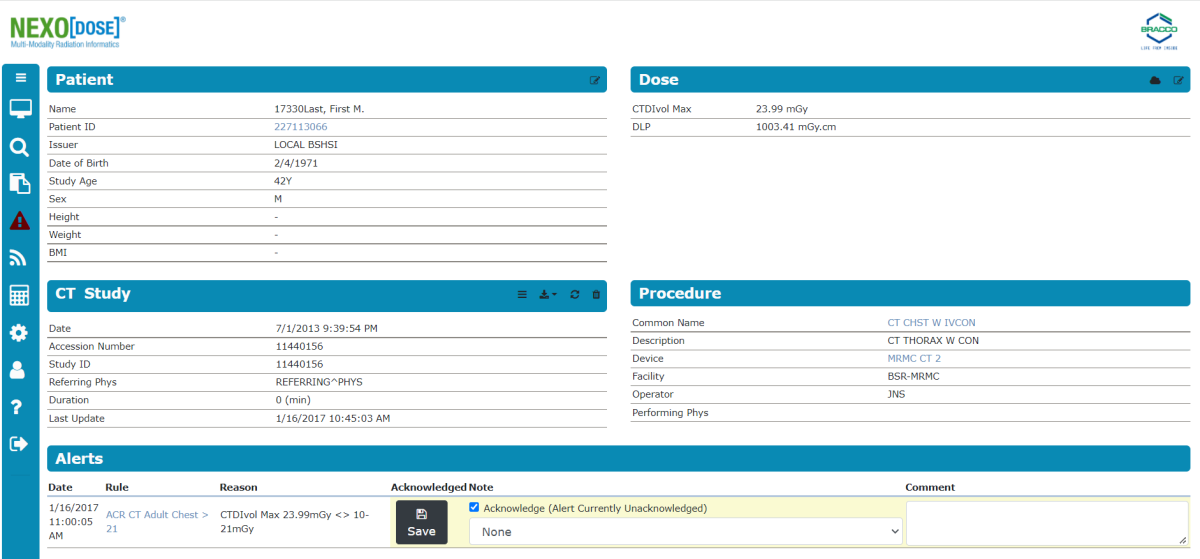 "Acting on alerts and acknowledgement is another great feature of NEXO[DOSE]," Nardell said. "If a study or patient dose threshold is set in the system and the technologist exceeds that level, NEXO[DOSE] automatically alerts the Radiation Safety Committee on the exceeded threshold. An email is sent out to the designated team member of the safety committee with a link to review the notification and acknowledge and document the alert. Reminders will be sent out until acknowledgment is recorded. Furthermore, say that the member of the team didn't respond and may not be available, the notification automatically goes to a succession report for another team member to review, acknowledge and document. From a safety perspective, dose outliers will be recognized and the alert generation serves as a defense for future high dose studies; while also meeting the Joint Commission Guidelines."
Ease of Implementation and Effectiveness
According to Nardell, the NEXO[DOSE] system is easy to install, implement and use.
"Deployment of NEXO[DOSE] is minimal uplift and a seamless plan between the PACSHealth Installation team and the customer IT team," he said. "It is a full-turnkey plan from project plan, timelines, implementation, and training. What is unique about this system is the fact that it's vendor agnostic and interoperable. Customers have the option to send data captured by NEXO[DOSE] and document this information within and EMR or Voice Dictation system. This minimizes the efforts required of hospital IT departments while allowing radiology healthcare professionals to gain general procedure awareness and to identify any malpractices, thus facilitating the implementation of training programs and optimization policies."
As hospitals continue to capture, document, and streamline data to improve patient safety and meet regulatory standards and compliance requirements, they must leverage innovative solutions such as the NEXO[DOSE] system to ensure a holistic view of their radiology departments. This in turn will equip their facilities with an expanded range of tools and data handling to stay ahead of the curve in radiation reduction standards.
Editor's note: This blog is the fourth of a four-part series on smart injection technology. The first blog, Smart Injector Technology Delivers Effective and Efficient Patient Care, can be found here. The second blog, Patient-centric Injector Solutions Help CT Departments Take Control, Improve Safety, can be found here. The third blog, Advanced Injector System Provides Greater Control and Accelerates Patient Care, can be found here.
Subscribe Now