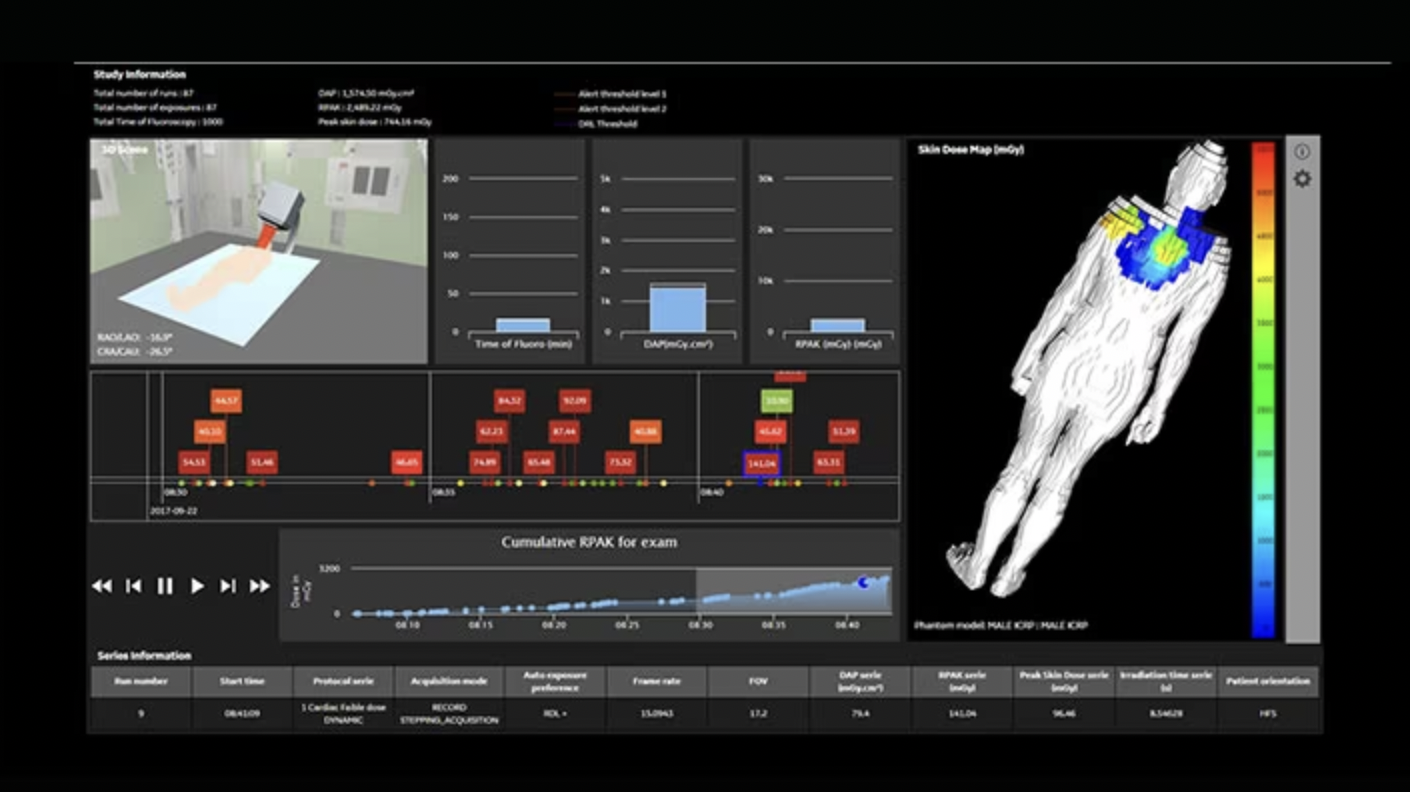 GE Healthcare's DoseWatch Enterprise
Early-stage detection is key to the prevention of life-threatening diseases; however, limited access to data hinders the ability of radiology healthcare professionals to identify excess exposure to radiation in patients, which could result in both short- and long-term health effects. Understanding the effects of radiation on patients' health and implementing effective radiation dose management through the adoption of innovative technologies can improve imaging practices and overall patient safety.
The global radiation dose management market size reached close to $270 million in 2022, and is expected to reach just under $600 million by 2028, exhibiting a CAGR of 14.12% during 2022-2028, according to the "Radiation Dose Management Market by Component, Modality, Application, End User, and Region 2023-2028" report recently released from ResearchAndMarkets.com.
Radiation dose management is used to optimize, regulate or block doses through barriers or computed tomography (CT) reduction technologies. It provides tools for monitoring patient exposure, optimization, quality assurance, dose management and real-time staff dose monitoring.
Dose tracking software allows hospitals and imaging centers to track levels of radiation used by exam type protocol. It can flag technologists who are using higher than required doses, who may benefit from additional As Low As Reasonably Achievable (ALARA) training. Radiation dose tracking systems also can help track the amount of radiation a patient has received over time.
Several trends continue to emerge in radiation dose management for radiologists to improve patient safety and optimize imaging practices. These trends continue to evolve as new advancements in technology and trends in imaging develop and come to the forefront.
Trend 1: Awareness and Education
The guidelines and recommendations for radiation dose are constantly evolving, keeping consistent with the ALARA principle, the guiding principle for radiation safety. ALARA is at the core of radiation dose management, emphasizing the importance of minimizing radiation exposure to patients and healthcare professionals while maintaining image quality. Radiologists are increasingly adopting techniques and technologies to ensure that radiation doses are kept as low as possible while still obtaining the necessary diagnostic information. These guidelines were outlined jointly by numerous medical societies.
Trend 2: Dose Monitoring and Reporting
Implementation of dose monitoring and reporting systems has become more widespread. These systems allow radiologists to track the radiation doses delivered to patients over time and identify areas for improvement. The data collected from these systems help radiologists adjust their practices and ensure compliance with recommended dose guidelines.
In fact, some medical physicists and radiology experts have called for wider use of radiation dose monitoring software, because hospitals and imaging centers need to establish a baseline for its use of dose before they can measure the impact of any dose lowering efforts, changes in protocols, use of newer imaging equipment or use of dose lowering techniques. Some hospitals adopted dose recording software to improve their imaging protocols to improve safety for their patients and staff, however new recording requirements by The Joint Commission and some states helped push many other facilities to adopt the technology.
Trend 3: Image Optimization Techniques
Advancements in technology have led to the development of imaging equipment and software that can optimize image quality while minimizing radiation exposure. Radiologists are increasingly using iterative reconstruction algorithms and other image enhancement techniques to reduce the amount of radiation required to produce diagnostic-quality images.
Trend 4: Protocol Standardization
Standardizing imaging protocols across healthcare facilities and within departments helps ensure consistent and appropriate use of radiation. This approach helps avoid unnecessary variations in radiation doses and ensures that the best practices are followed for specific clinical indications.
Trend 5: Artificial Intelligence Applications
Artificial Intelligence (AI) technologies are being progressively integrated into radiology practices and can play a significant role in radiation dose management. AI algorithms can assist in optimizing imaging protocols, predicting patient-specific radiation doses and improving image reconstruction techniques. For example, AI can use data from low-dose CT scans of the lungs to improve risk prediction for death from lung cancer, cardiovascular disease and other causes, as detailed in a recent study published in Radiology, a journal of the Radiological Society of North America (RSNA).
As medical imaging technology continues to evolve, ongoing research and innovation will drive improvements in radiation dose management, which will undoubtedly lead to new techniques, tools and methodologies for measuring, monitoring and minimizing radiation dose exposure.
View the ITN Radiation Dose Management Comparison Chart here
Related Radiation Dose Tracking Systems:
VIDEO: Radiation Dose Tracking Software for CT Imaging
Disputed EHR Dose Levels Could Keep Patients From Necessary Imaging Exams
Medical Imaging Radiation Exposure in U.S. Dropped Over Past Decade
VIDEO: Radiation From Medical Imaging in U.S. Dropped Over Past Decade
The Basics of Radiation Dose Monitoring in Medical Imaging
VIDEO: Radiation Dose Monitoring in Medical Imaging — Interview with Mahadevappa Mahesh, Ph.D.
---
If you enjoy this content, please share it with a colleague