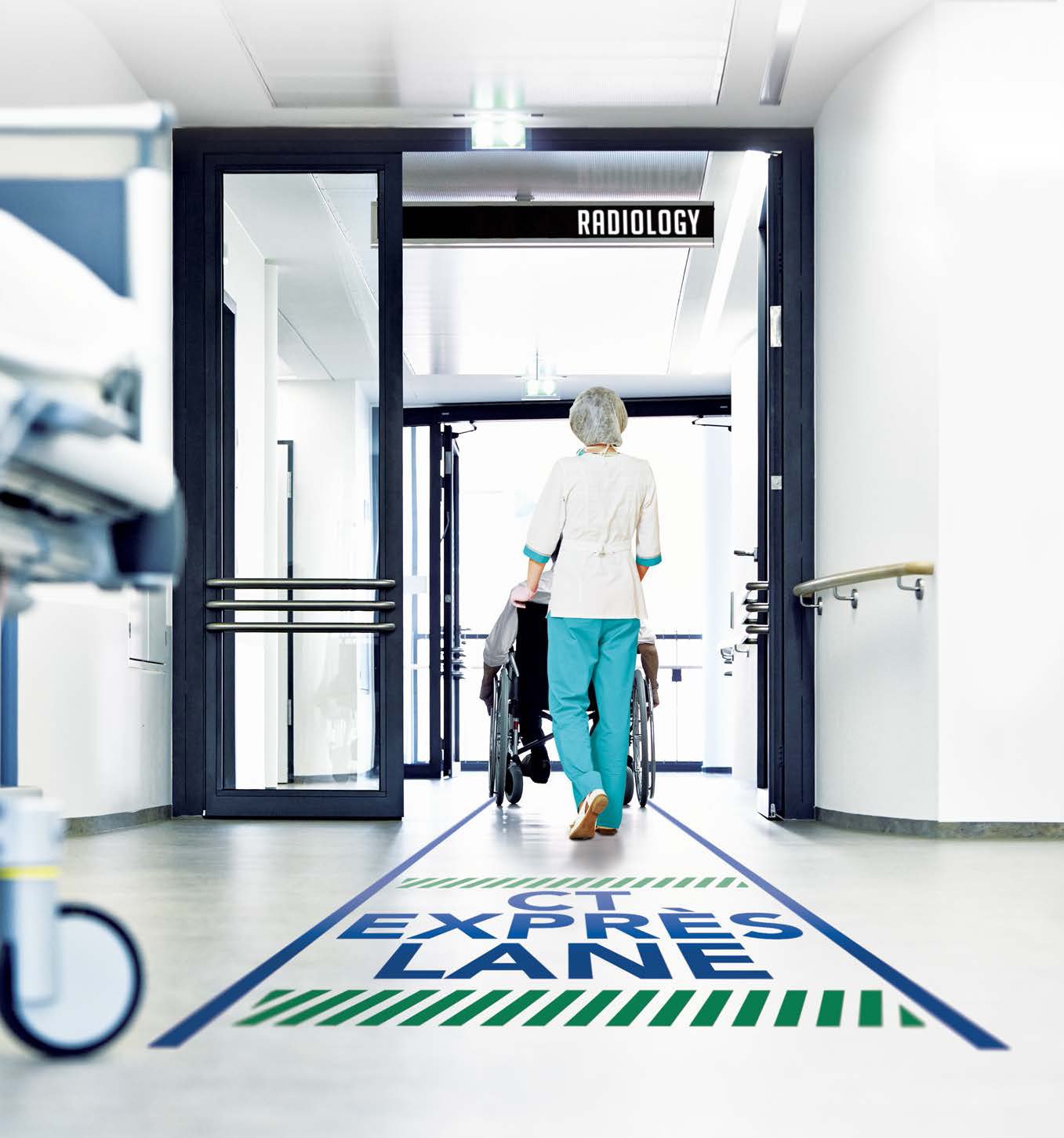 Improving Efficiency and Reducing Waste
The volume of computed tomography (CT) imaging exams continues to grow in the United States,[2] adding pressure to hospitals and radiology departments to control costs while meeting demand. In the CT suite, productivity and workflow can be impacted in several ways, but a new syringe-less, multi-dose multi-patient power injector is making waves at healthcare facilities with its efficiency-improving performance.
The new CT Exprès Contrast Management System®, for use with ISOVUE® (iopamidol injection) Imaging Bulk Package, cleared by the U.S. Food and Drug Administration (FDA), delivers contrast media to imaging patients much differently than traditional dual-syringe systems. With the ability to spend less time on syringe preparation and the opportunity to reduce contrast and saline waste, technologists can increase their daily patient throughput while still maintaining high CT imaging quality.[3]
Goshen Hospital
Goshen Hospital is part of the Goshen Health system in northern Indiana and offers comprehensive inpatient and emergency services to the surrounding community. Its radiology department has 72 people on staff, with around 10 people working in CT. "We see a lot of emergency room patients, as we are the main scanner that's open 24/7 for the hospital," says Lindsay Johnson, CT technologist at Goshen Hospital. "Our other scanners are in PET (positron emission tomography) and off-site."
Goshen's CT techs had been using Bracco's ISOVUE  contrast imaging agent for years when it decided to switch to a competitor's contrast, a decision that ended up being temporary. "They [the competitor] had offered us a deal that was supposed to be better, but that ended up not working out," says Johnson. "While returning back to ISOVUE, our Bracco representative introduced us to the new CT  Exprès injector."
The hospital came on board and started using CT Exprès injectors early in 2016. Its key benefit, says Johnson, is the rapid turnaround time in scanning patients.
"You can have the machine set up so that it's ready for the whole day," she explains. "You just put in a patient's data set, and if you need to change your contrast amounts—even if you already have the patient set up in it—it doesn't matter, you can change what those contrast amounts are."
Johnson also adds that the CT Exprès injector improves scanning efficiencies by avoiding the need to draw contrast and use new syringes each time. "If we have to redo a timing bolus and the IV needs to be adjusted, then we can do that without having to unhook the patient completely and re-adding contrast to the injector," she says.
Johnson credits Bracco with also taking the time to train the CT technologists at Goshen on the new injectors. There was an initial period of two weeks where Bracco was on-site helping with the implementation of the CT Exprès injector, and Johnson says they were quick to return when questions arose. "They actually came back to do some additional training with us for another week, which was helpful for answering the questions we did have after we'd started using it," she says.
As the CT department at Goshen continues to get busier year after year, says Johnson, the faster turnaround times offered by Bracco's CT Exprès injector has benefited immensely. "Just being able to scan the patients more efficiently and being able to get the scans going quicker, it helps," she says.
Mercy West Hospital
Mercy West Hospital in Cincinnati, Ohio, was the first hospital in the country to use the new CT Exprès injectors from Bracco in April 2016. The 200-bed community hospital is fairly new, having been open for about three years. Its modernity has allowed it to easily keep up with the latest technologies, and when a Bracco representative introduced the new injector system to Mercy West, it signed on.
Mike Busken, lead CT technologist at the hospital, notes that the CT Exprès injector is more efficient than prior systems due to the ability to decide how much contrast a tech wants to use per patient. "In the past, if you wanted to use 75 mL of contrast, you would have to draw it from a 100 mL bottle—in turn wasting 25 mL," Busken explains.
With the CT Exprès injector, machines are prepped daily each morning, and techs are able to dial in exactly how much contrast is needed to be used for each patient. Paired with the fact that this injector is a multi-dose, multi-patient system, techs are saving time and contrast with each patient. According to Busken, it used to take about 60 seconds to prep for the next patient, but with the new injectors, techs are only spending about 10 seconds in between patients.
Busken also recalls the inefficiencies of previous systems, where contrast had to be drawn from a glass bottle into an empty syringe. CT Exprès draws contrast automatically from the bottle through the injector.
"The advantage of CT Exprès is once you load the system initially, the only thing the tech has to replace in between patients is the tubing that goes from the injector to the patient," Busken says. "[Techs] are not putting on a whole new syringe, [nor] are you drawing up contrast in a syringe. That is how time is saved from traditional contrast injectors."
The hospital has three CT units, two of which have the CT Exprès Contrast Management System. Busken says the techs continue to appreciate the time and cost savings that come with the new injector system, along with the ability to not waste as much contrast per patient.
Mount Sinai Queens
Located in the historic Astoria neighborhood in New York, Mount Sinai Queens is a community hospital offering inpatient, outpatient and emergency care in numerous medical specialties and subspecialties. It recently opened a new $175 million, 140,000-square-foot Ambulatory Pavilion building and is currently undergoing renovations to the existing facility complex. There are three CT machines spread across its campus, with about 10 technologists on staff, according to Jesse Co, X-ray and CT technologist at Mount Sinai Queens.
Among the imaging department's tools is CT Exprès Contrast Management System, which was recently installed in 2016. "For most of the techs that have started using CT Exprès, it's really about the efficiency of the system," Co says. "This is particularly true if you have a lot of patients to image."
The CT Exprès injector has been making a difference in their department. "With CT Exprès, we don't need syringes. Typically you have to fill the syringe and inject, and then put the new empty one in and fill it. That takes time—about five minutes," he explains.
While prepping for patients in the morning, technologists take about a minute to change the contrast bottles and are then set for the next 10 hours, says Co. Patients are then brought in successively for imaging without wasting time in-between to fill syringes. Another benefit is the closed system's cleanliness, according to Co. The CT Exprès injector prevents contrast drips from happening, which is a big change from syringe-based systems that may leave floors sticky and dirty from contrast media dripping.
The system is also useful in tracking contrast usage and reducing waste. "Let's say you put the 500 mL bottle in. If you want to only use 25 mL for one patient, 50 mL for another, or 75 mL, you would have to worry about filling up only that much," says Co. Now that worry is removed, as they can draw the exact amount they need for each patient. 
Co adds that the CT Exprès injector has checks in place to ensure techs are properly trained and staying safe. "The machine itself has an onscreen tutorial, and if there's something that you are not supposed to be doing the machine will not inject," he says. "Overall, it has been a very positive experience for us at Mount Sinai Queens."
You can click here to view the full publication.
References:
1.  ISOVUE® (iopamidol injection) Imaging Bulk Package Full Prescribing Information. Monroe Township, NJ:Bracco Diagnostics, Inc.; JAN 2017.
2.  Medicare Enrollment, 1970-2035. 2013 Annual Report of the Boards of Trustees of the Federal Hospital Insurance and Federal Supplementary Medical Insurance Trust Funds.
3.  Ma X, Singh A, Fay J, Boland G, Sahani DV. Comparison of Dual-Syringe and Syringeless Power Injectors in Outpatient MDCT Practice: Impact on the Operator's Performance, CT  Workflow, and Operation Cost. Journal of the American College of Radiology. 2012;9(8):578–582.
Indications and Usage for ISOVUE®-300 (Iopamidol Injection 61%) Imaging Bulk Package* and ISOVUE®-370 (Iopamidol Injection 76%) Imaging Bulk Package*:
Isovue (Iopamidol Injection) Imaging Bulk Package (IBP) is indicated for intravenous contrast enhancement of computed tomographic (CECT) imaging of the head and body in adult and pediatric patients.
IMPORTANT SAFETY INFORMATION:
Isovue IS NOT FOR INTRATHECAL USE. Iopamidol Injection is available as Isovue-M® for intrathecal administration. 
Caution must be exercised in patients with severely impaired renal function, those with combined renal and hepatic disease, or anuria, particularly when larger and repeat doses are administered.  Radiopaque diagnostic contrast agents are potentially hazardous in patients with multiple myeloma or other paraproteinemia, particularly in those with therapeutically resistant anuria.  Caution should be exercised in hydrating patients with underlying conditions that may be worsened by fluid overload, such as congestive heart failure.  Diabetic nephropathy may predispose to acute renal impairment following intravascular contrast media administration.  Acute renal impairment following contrast media administration may precipitate lactic acidosis in patients who are taking biguanides.  Preparatory dehydration is dangerous and may contribute to acute renal failure in patients with advanced vascular disease, diabetic patients, and in susceptible nondiabetic patients (often elderly with preexisting renal disease).  Patients should be well hydrated prior to and following iopamidol administration.
The possibility of a reaction, including serious, life-threatening, fatal, anaphylactoid or cardiovascular reactions, should always be considered.  Patients at increased risk include those with a history of a previous reaction to a contrast medium, patients with a known sensitivity to iodine per se, and patients with a known clinical hypersensitivity (bronchial asthma, hay fever, and food allergies).
*The Isovue Imaging Bulk Package is for use with an automated contrast injector or a contrast management system approved or cleared for use with it.
Please see full Prescribing Information. You are encouraged to report negative side effects of prescription drugs to the FDA.
Visit www.fda.gov/medwatch or call 1-800-FDA-1088.
Isovue and Isovue-M are currently manufactured for Bracco Diagnostics Inc. at two locations: BIPSO GmbH, Singen (Germany) and Patheon Italia S.p.A., Ferentino (Italy).
Isovue and Isovue-M are registered trademarks of Bracco Diagnostics Inc.
INDICATIONS:
The CT Exprès 3D Contrast Media Delivery System is indicated for controlled automatic administration, on the venous side, of contrast media and saline, to human subjects while undergoing examination by means of a computed tomography (CT) scanner.
The CT Exprès 3D Contrast Media Delivery System is specifically indicated for use in CT procedures for the delivery of ISOVUE® (Iopamidol Injection) contrast media as supplied in an Imaging Bulk Package (IBP), for a maximum of 20 bottles of contrast media or a maximum of ten (10) hours, whichever comes first, per Day Set III HP disposable. The Bottle Spike disposable is for single-bottle use only and must be discarded with the contrast media bottle. The Patient Set must be discarded after each patient procedure.
The CT Exprès 3D Contrast Media Delivery System is to be used only by and under quasi-continuous supervision of trained health care professionals in an appropriate licensed health care facility, in a room designated for radiological procedures that involve intravascular administration of a contrast agent.
CONTRAINDICATIONS:
This device is not intended for injection of contrast media for coronary arteriography, or for any other use for which the device is not indicated.
Bracco Injeneering S.A. reserves the right at any time and without notice, to change the specifications and features described herein, or to change the production or adjust the product described.
Not all products are available in all global markets.
CT Exprès is distributed by Bracco Diagnostics Inc.; 259 Prospect Plains Road, Bldg. H; Monroe Township, NJ 08831 USA; Phone:  (800) 631-5245; Fax:  (609) 514-2424; Customer Service:  1-877-BRACCO 9 (1-877-272-2269); CT Exprès Email: [email protected]
CT Exprès is manufactured for Bracco Injeneering S.A., Avenue de Sévelin 46, CH-1004 Lausanne, Switzerland. http://imaging.bracco.com
About Bracco Injeneering S.A.
Bracco Injeneering S.A., located in Lausanne, Switzerland, is the most recently added Business Unit of Bracco Imaging. Bracco Injeneering is committed to develop the best-in-class integrated injection solutions with a strong heritage in research and innovation. It provides quality solutions for state-of-the-art radiology centers, offering proven injection technology, built on Bracco Imaging's expertise.
Thanks to this strengthened product portfolio, including the CT Exprès 3D Contrast Media Delivery System, EmpowerCTA®+ Injector System, EmpowerMR® Injector System, NEXO® Contrast Management System and NEXO [DOSE]® Multi-Modality Radiation Informatics, Bracco Imaging will be able to focus on constant innovation, not only for devices, but also for software development and data management.
CT Exprès, EmpowerCTA, EmpowerMR, NEXO and NEXO [DOSE] are registered trademarks of Bracco Injeneering S.A.
---
If you enjoy this content, please share it with a colleague