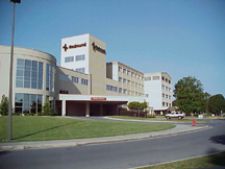 A nationally recognized top cardiac care center, Redmond Regional Medical Center is located in Rome, GA.
Tucked away in the northwest corner of Georgia is the town of Rome, home to four colleges, friendly locals and Redmond Regional Medical Center, a distinguished 230-bed hospital with one of the busiest cardiovascular programs in the region.
While Rome itself has only about 36,000 residents, the town is situated in the center of a triangle formed by Atlanta to the south, Birmingham, AL, to the west, and Chattanooga, TN, to the north. As a result, Redmond Regional Medical Center, an HCA facility, serves a six-county area that encompasses nearly 300,000 people.
Solid Case for Change
The hospital's cath team handled approximately 5,900 patients and performed roughly 5,075 diagnostic caths, 1,850 interventions and 1,085 pacemaker and electrophysiology cases in 2005, according to Marsha Colwell, Redmond Regional's Cardiovascular Service Line director. A large base of physicians daily refers patients to Redmond Regional for interventional cardiac care.
"During 2004, we had a growing population of patients, but our technology was no longer growing with us," explained Colwell. "Our physicians had to complete 13-page manual documents, which we called 'bubble sheets' and then our staff had to scan them. While that system eliminated dictation, it gave the physicians no flexibility in terms of reporting. Plus, because the forms were laborious, we remained significantly backlogged, which affected coding and billing. Simultaneously, our physiomonitoring was antiquated. So, when the decision was made to build a new lab, the door opened to upgrade to meet our long-term needs."
The cardiology team focused on three technology goals. First, the hospital needed a physiomonitoring system that could easily transition into the four existing labs, while strengthening the entire cardiovascular program and improving workflow. Second, the new system had to provide user-friendly physician reporting tools. Third, the system had to provide quick, reliable quality measurement data to support quality improvement initiatives. This enhancement was also  needed to bolster communications across the large base of referring physicians.
After an intensive vendor selection process, Redmond Regional chose the Series IV Physiomonitoring and Information Systems by Witt Biomedical (recently acquired by Philips Medical Systems).
"When you use this system, you get the sense that a bunch of cath lab people, who worked in the lab for years, got together and built this technology," Colwell explained.
Impressive Results
In January 2005, the new systems went live. Thanks to the joint project management efforts and user-friendly technology, the transition was smooth.
"In all my years, I've never seen technology so easily implemented and adopted. Physician satisfaction rates for the cardiovascular product line climbed higher than ever," Colwell stated.
Dr. J. Michael Ware, Harbin Clinic cardiologist and medical director of the Cath Lab and Cardiac Care Unit (CCU), agrees.
"I didn't have much computer experience prior to the adoption of this technology, so initially I was concerned that it would take time away from my patients. But instead, the exact opposite occurred. Before the installation, I had to come in on Saturdays to catch up on reports. Now, I'm generally done with the report before the patient leaves the lab. Workflow and communications with nurses on the floor and referring physicians have improved dramatically. With the report in hand, they no longer have to guess what we found and did."
Today, referring physicians receive final cath reports within 24 hours of procedures. The expedited communication is part of a larger marketing strategy. Atlanta's urban sprawl is starting to creep into Redmond Regional's customer base. To sustain long-term growth, referring physicians must be included in the patient care process.
Most recently, the hospital installed Witt Biomedical's (now Philips Medical System's) Image IV Image and Information Management Systems, as well as WEBDV, which gives authorized users secure access to imaging, data and reports via the Internet. Image IV is seamlessly integrated with the physiomonitoring and reporting technology. Redmond Regional also expects these systems to further enhance communications and allow physicians at different locations to simultaneously review electronic cardiac images.
Benefits Beyond Cardiology
Because the majority of cath reports are now charted and completed before patients leave the lab, the hospital's revenue cycle has improved substantially. By the time most patients are discharged, the report is ready for coding and billing. Redmond Regional's CFO and CEO were so impressed with the financial results that they made a point to visit the cath lab to learn why the systems were so effective.
In the emergency department, the ED physicians and on-call cardiac interventionalists now have easy access to the reports of patients who've had previous caths at the hospital. Also, the Cardiology Clinical Team uses the "Witt (now Philips) clock" as the basis for all time stamps in regards to the STEMI process, making documentation more consistent and improving door-to-balloon time.
"Having concurrent data available enhances overall quality and our ability to treat patients," Colwell concluded. "The bottom line is that we trust this technology because they delivered the technology benefits that were promised. Our workflow has improved dramatically. The system is user friendly, which made implementation smooth. And our physicians love it."
---
If you enjoy this content, please share it with a colleague