Full Metal Jacket Bullets (left) vs. Semi-Jacketed Bullets (right): Left: AP radiography of cervical spine demonstrates single-density well-defined bullet within right posterolateral soft tissues of neck at C4 level—consistent with full metal jacket bullet Right: Two different densities of ballistic material. Lower-density fragment in left upper lobe is copper jacket and high-density metal fragment is lead score—consistent with semi-jacketed bullet.
May 4, 2022 — Understanding the most recent mechanisms of ballistic trauma and injury patterns aids to guide radiologists' interpretation, an award-winning Electronic Exhibit noted this morning during the 2022 ARRS Annual Meeting in New Orleans, LA.
Both direct and indirect injury is caused by the bullet and the shockwave created around its path.
"When interpreting imaging, one should use a mechanistic approach to establish bullet trajectory followed by assessment for injuries along the established path. Retained bullet fragments should be considered MRI conditional, and with the appropriate preceding workup patients, may be safely imaged," wrote Jaykumar Nair, Submitting and First Author, from St. Michael's Hospital and University of Toronto in Ontario, Canada.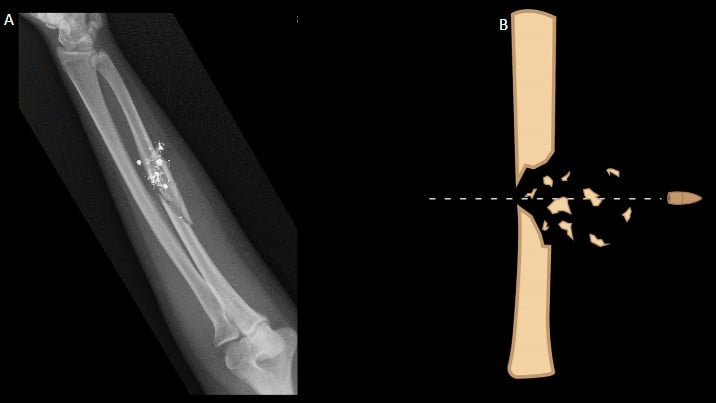 Radiographs of Left Forearm in Gun Shot Injury: A. Comminuted, mild displaced spiral fracture of mid-shaft left radius with surrounding metallic and small displaced osseous fragments in surround soft tissue. B. Graphic demonstration fracture fragments and classical beveled appearance of fractured bone edges.
Moreover, these updates point out key anatomic and pathophysiologic issues, as well as imaging findings and techniques, of firearms and ballistics tissue injuries.
For more information: www.arrs.org
---
If you enjoy this content, please share it with a colleague