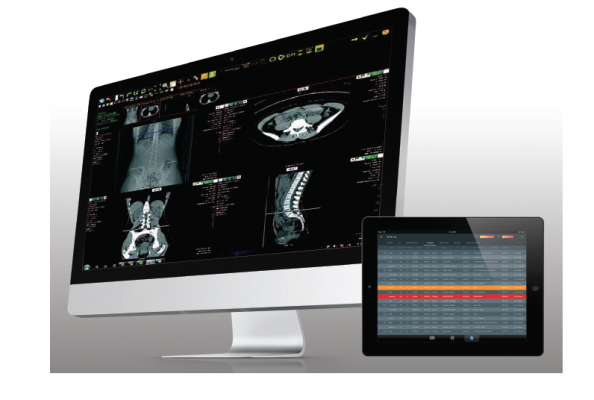 According to a new report, "Global Picture Archiving and Communication System (PACS) Market Report and Forecast 2022-2027," from Research and Markets, the global picture archiving and communication system (PACS) had a market value of $4,783 million in 2021. The report states that with the integration of advanced technologies in the healthcare sector, the market is projected to grow at a CAGR of 5.7% between 2022 and 2027.
Picture archiving and communication systems are defined as a medical imaging technology used in multiple departments such as radiology, nuclear medicine imaging, cardiology, pathology and oncology. PACS servers offer faster image retrieval and enable access to the images remotely, which helps clinicians in different departments work at faster speed, resulting in fewer complications and reduced treatment costs. Hospitals use PACS to improve the efficiency and management of data storage. Some of the key advantages include easier integration with EMR systems, scalability and security.
According to the market forecast, increasing incidences of chronic diseases and ailments are leading to the rising demand for clinical imaging diagnostics, which is supporting the PACS market growth. "The emerging need to enhance workflow efficiency and accelerate diagnostics procedures, coupled with improved connectivity across healthcare organizations, is resulting in the adoption of PACS software," according to the report, which continues to state, "There is a rising inclination toward hybrid cloud models owing to their data security features, such as they save images offsite in data warehouses and on local servers, which enables the practitioner to view the images even if the server fails. The rising shortages of radiologists globally and the offering of remote interpretation of the images for primary interpretation or consultation are benefitting the market."
Following are a few industry examples of how technological innovations and the integration of advanced technologies in the PACS interface, such as artificial intelligence (AI) and machine learning (ML), are helping with market growth in addition to enhancing staff productivity.
AUC Automation
At the annual meeting of the Healthcare Information and Management Systems Society (HIMSS) in March, Konica Minolta highlighted new features of its Exa Platform that automate common clinical and administrative tasks, enabling radiology departments and practices to enhance staff productivity, improve reimbursement and capture non-covered costs. The platform is comprised of multiple modules including RIS, PACS, billing and specialty viewers across a shared database that can be used individually or together.
The Centers for Medicaid and Medicare Services (CMS) will mandate the use of a Clinical Decision Support Mechanism (CDSM), a tool that communicates Appropriate Use Criteria (AUC) for advanced diagnostic imaging, beginning January 1, 2023. Integrated into the Exa Platform, the new tool provides AUC information to the ordering clinician and assists them in making the most appropriate treatment decision for a patient's specific clinical condition. Orders placed through the Exa Physician Portal will automatically be validated electronically.
"Reducing inefficiencies in common administrative tasks delivers the value-added solutions providers are seeking to help reduce the need for collections, improve billing performance and free up resources so they can realize more productivity and profitability," Tim Kearns, Strategic Marketing Manager, Healthcare IT, recently told ITN. "As a cloud-based, zero-footprint PACS, RIS and Billing solution, Exa Platform drives clinical efficiency from scheduling to delivery of the report. Now, these new features automate other key tasks tied to ordering, reimbursement and billing, further elevating staff productivity and reducing inefficiencies with the Exa Platform so they can spend more time focused on patient care."
Enhanced Flexibility
At the Society for Imaging Informatics in Medicine's (SIIM) annual meeting in June, Candelis, Inc. announced the release of ImageGrid VM, an enhancement of the ImageGrid DICOM router for virtualized environments. "The recently launched ImageGrid VM will allow customers greater flexibility in how they deploy ImageGrid. The best-in-class functionality of ImageGrid will now be available within customer's existing virtual environments providing benefits to many larger, high-volume healthcare facilities," said Robert Van Uitert, Vice President of Marketing, in a written statement.
Building Efficiencies
An acute shortage of radiologists and growing demand for imaging scans has put radiology departments under increased strain, and GE Healthcare developed a next-generation, cloud-based PACS designed to help overcome such barriers. Last year, GE introduced Edison True PACS, a diagnostic imaging and workflow solution designed to help enable radiologists ­who are experiencing high rates of staff burnout and retirements to be more efficient and precise, while keeping capital and IT resources under control.
"Radiologists are desperate for the latest tools to most effectively do their jobs. But organizations often lack the financial and IT resources required to access and implement them," said Girish Muralidharan, Senior Vice President & General Manager, Enterprise Imaging Solutions for GE, in a written statement. "With the launch of Edison True PACS, we have taken the first steps to provide cloud-based enterprise imaging solutions that can help transform patient care through accessible, sharable, and secure imaging data while simultaneously improving clinical and operational efficiencies." 
---
If you enjoy this content, please share it with a colleague