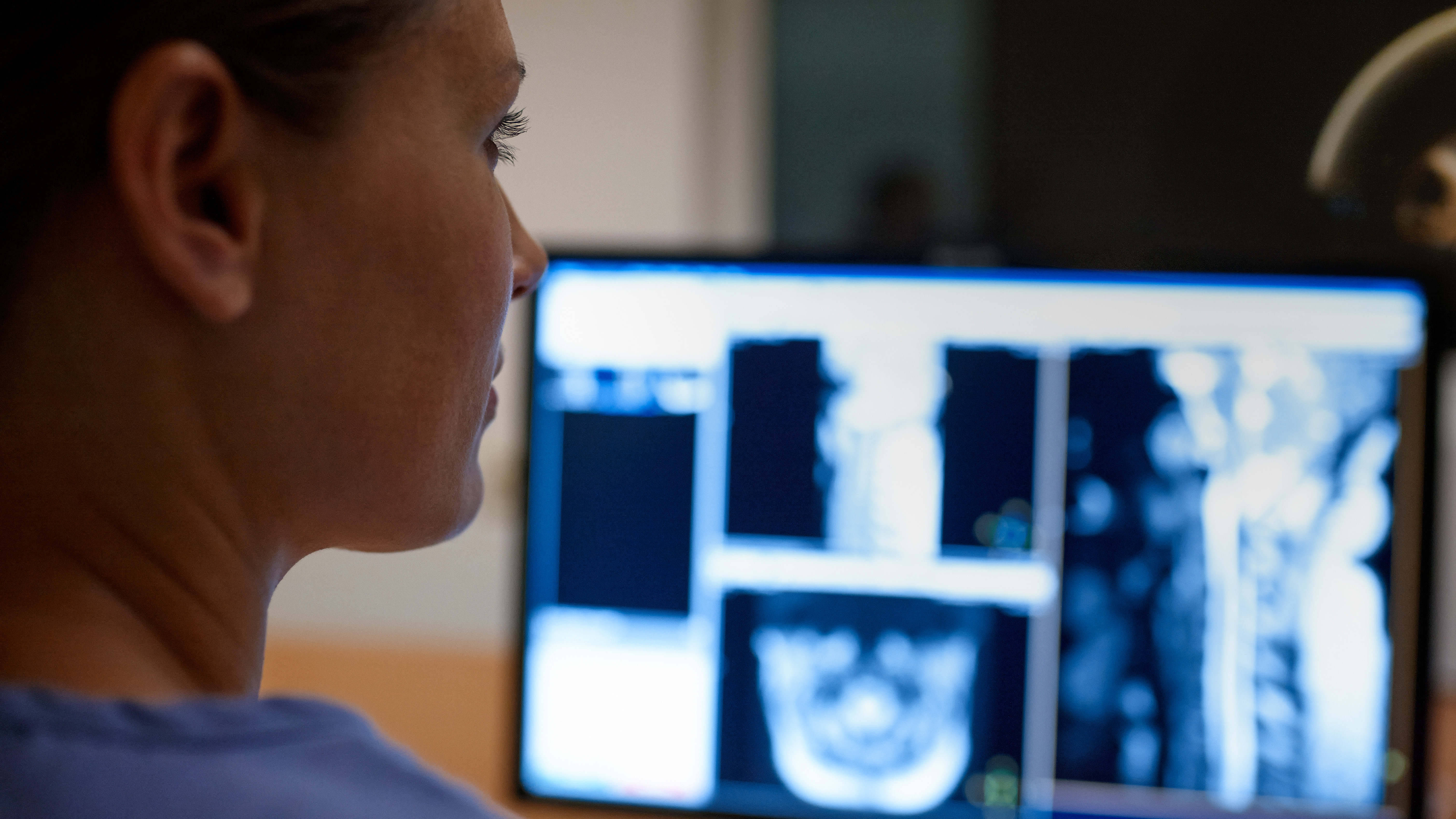 Image courtesy of Philips 
You could feel the energy and excitement at the 2022 HIMSS Global Health Conference & Exhibition (HIMSS22) held this March in Orlando. Just weeks before the conference began, Florida lifted its mask mandate, so it almost felt — dare we say — like pre-COVID days. HIMSS22 did have a health and safety protocol in place, which was developed with due consideration for prevailing public health guidance, legal guidelines and industry practices.
The conference brought together nearly 29,000 attendees in Orlando and on HIMSS22 Digital, for the latest in education, offering around 300 general education sessions, as well as plenty of innovation and collaboration, all in keeping with the theme of "Reimagine Health." More than 1,000 exhibiting companies filled the exhibit hall of the Orange County Convention Center, where they showcased cutting-edge technology, presented innovative products and services, and held more than 250 education sessions on the show floor. In addition, the global health conference helped generate $102 million in economic impact for greater Orlando, according to the show's producers. 
Key themes at this year's conference centered around staff shortages and related burnout, digital transformation, subscription models, efficiency, streamlined workflow, disruption, imaging convergence and doing more with less. Here is a recap of how some of the top exhibitors in the imaging technology space addressed these trends at HIMSS22. 
Digital Transformation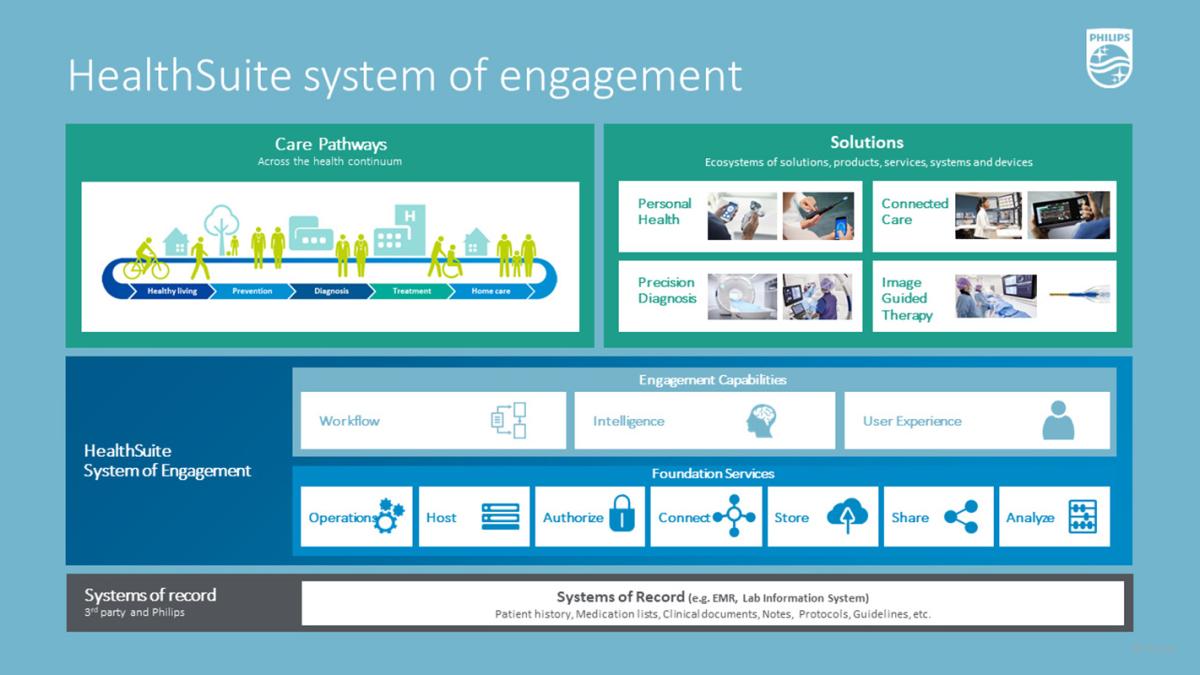 Philips HealthSuite Interoperability is a fully integrated cloud-enabled health IT platform to meet diverse workflow needs across the imaging enterprise.
During an international media roundtable at HIMSS22, Roy Jakobs, chief business leader of connected care at Philips, stressed the fact that healthcare informatics is deeply embedded into every service or solution that Philips provides. To help organize the needed deliverables, Jakobs bucketed the solutions into three major themes:
• Greater insights. Leveraging the power of AI and analytics to connect multiple data sources to provide clinical and operational decision support, turning disparate data into actionable insights.
• Greater coordination. Extending care delivery by integrating innovative solutions into a connected, collaborative care ecosystem for better coordination inside and outside the hospital.
• Greater optimization. Enabling new ways of working and optimizing existing workflows to drive continuous improvements that lead to greater operational efficiency and quality care delivery.
Jakobs explained how Philips Healthcare Informatics pulls these together, and provides support throughout the care continuum through its cloud, platforms and SaaS; AI, analytics and intelligence; cybersecurity and data privacy; and interoperability.
"The first is how can we, through our informatics solutions, provide greater insights, leveraging the power of AI, bringing data sets together from multiple resources, and then providing clinical and operational decision support, turning disparate data into actionable insights," Jakobs explained. "The second big bucket is then if you have these data sets, how can you use these data in a meaningful manner to actually get to greater coordination; extending care delivery by integrating innovative solutions into connected and collaborative care ecosystems. In other words use the data to actually make the people in the ecosystem work more seamlessly."
The third bucket harnesses these actionable insights and enhanced coordination to optimize the system. "So, great optimizations are all about how you have new ways of working and optimizing existing workflows, right continuous improvements that lead to greater operational efficiency and quality care delivery," stated Jakobs, adding that Philips delivers these solutions through its Philips Health Suite, which was featured at HIMSS22. 
"What we're hearing across our customer set is that they need a secure data repository that is actually built for a healthcare environment, can deal with the legal and regulatory requirements, and is flexible to work with," Jakobs explained. "That is built out of multiple components. We have cloud platforms and SaaS that is actually attached to it and enables the data to flow seamlessly. If you have the data that are unlocked, you can actually put AI analytics and intelligence on that. We do that for specific domain solutions, like graph and radiology, or like we have in ICU management, but you can also put it over a suite of solutions to actually optimize for operations management."
Jakobs shared that one of the biggest themes being discussed at HIMSS22 is system security: "There's an increasing level of attacks that our systems have to deal with, and they feel exposed," he said. "So how can we make sure that the whole environment is secure? That actually puts a next level of requirements through systems and solutions that we provide."
Interoperability also played a key role in conversation at HIMSS22. "You are not operating in your silo. You need to make sure that your solution is part of the ecosystem of the customer, of the provider, and that it seamlessly integrates data from other devices from other players. And actually, together, the system can operate these data in a most meaningful manner," Jakobs stressed.
Transforming Products with Subscription Models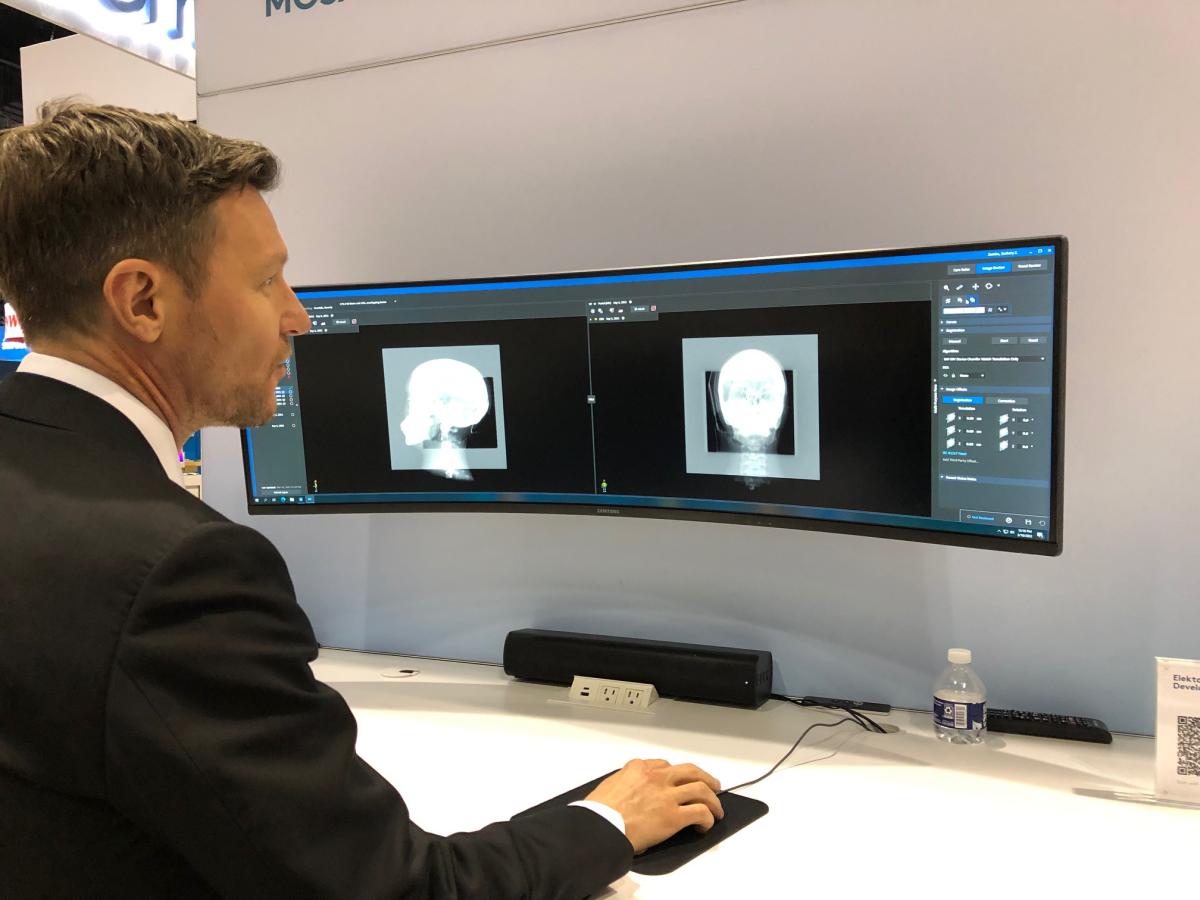 Matt Vigar, vice president of marketing and sales at Elekta, discussed how the company is moving into a more cloud based platform, as well as subscription services.
Elekta also talked about digital transformation at HIMSS22. "In the last four months, we've really started to focus a lot on how we are changing the way of what we are doing. We will be undergoing a digital transformation," said Matt Vigar, vice president of marketing and sales at Elekta. "So, moving toward cloud-based services, we partnered with Microsoft. We chose Azure Cloud when we moved toward really focusing on this concept, and the fact that we've started to build an ecosystem. We've also started to partner with some external companies."
Vigar said that Elekta is also trying to group together its different informatics into more of a software as a service subscription model, away from the kind of traditional software, so that it can provide more tools to its customers. "We've moved into this kind of software as a service. It's really all about how we can transform the way that we present the products and groups," he explained. "What we've done is basically build four different products, with a focus around functionality. So, what our customers would like and kind of stepping up in complexity what we can do, but moving from sort of a basic setup where everything is getting changed. They still get all of the great features that we have in Mosaiq, but then they can also build off all of these new applications."
Elekta is not alone, as many healthcare providers are moving from traditional software licenses to subscription-based models when procuring IT solutions. According to Sectra, the main reasons are often an increased need for flexibility mapping costs to production volumes, to get easier access to a broader set of functionalities and to facilitate the move to enterprise imaging to include more "ologies" outside of radiology.
Sectra One provides an enterprise imaging offering as a subscription, or as the company puts it, an "all-you-can-eat" business model that gives full access to the complete Sectra enterprise imaging portfolio, the latest releases, and all future developed features and functionalities within the contract length. It also maps costs to the level of utilization of the system, providing increased flexibility as volumes change.
"For any new feature, you get it and it's very easy to add other ologies, and that's really why we did it because some people still want to start with radiology, but then maybe also add cardiology, and it's very easy to incorporate," explained Andrea Sowitch, vice president of marketing at Sectra. "Because we do everything on the same platform, it's really easy for us. It's all on the same platform, and that makes sense."
Sectra One is available on four separate tiers to fit organizational needs, and includes different bundles of suitable collections of software and functionality. The tiers can easily be switched when needs change.
Efficiency through Automation
At HIMSS22, Konica Minolta focused on how to build efficiency into systems through automation. "What can you do with software, not even through automation, but how can you reduce the amount of time it takes to do something to make that task more efficient? You can do it by adding in automation for the end user or the software to become more efficient, which in turn benefits the practice or facility by becoming more efficient," said Kevin Borden, vice president of product, healthcare IT at Konica Minolta.
Integrated into the Exa Platform is a new tool that provides Appropriate Use Criteria (AUC) information to the ordering clinician and assists in making the most appropriate treatment decision for a patient's specific clinical condition. The tool is part of a Clinical Decision Support Mechanism (CDSM) that fulfills the Centers for Medicaid and Medicare Services (CMS) mandated use of it beginning Jan. 1, 2023. Orders placed through the Exa Physician Portal will automatically be validated electronically.
"We're really moving forward to get ahead of the game with CDSM," said Borden. "We've looked at many partners out there, and chosen those that really fit with our integration, and want to give that natural feel as a part of our application. So seamless integration is critical to be able to hit appropriate use criteria by ordering exams appropriately."
Borden explained why it is so important to implement a CDSM solution with appropriate use criteria now. "CDSM is going to become mandatory in January 2023. And we're giving customers the advantage of being ahead of that mandate so we can start implementing now," explained Borden. "They don't want to dip in volumes. They want to make sure once the mandate is there, that they can run smooth without any hiccups in their practice."
The Exa Platform now includes a real-time medical insurance and billing submission processing solution that seamlessly verifies patient eligibility for an imaging procedure. It also provides the patient with an estimate for their out-of-pocket costs during appointment scheduling to capture these payments more efficiently and accurately. The platform is comprised of multiple modules including RIS, PACS, billing and specialty viewers across a shared database that can be used individually or together for a complete enterprise imaging experience.
Streamlined Workflow and App Integration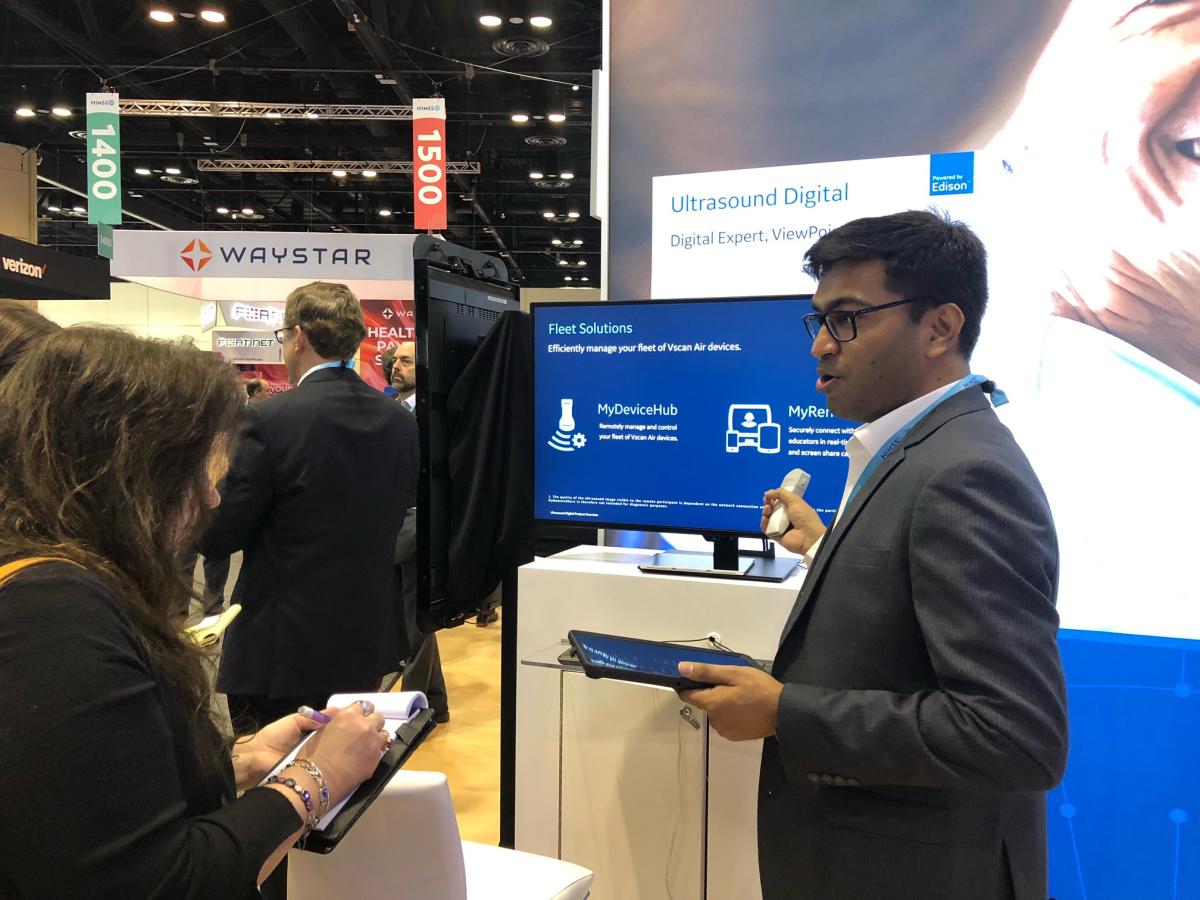 GE Healthcare's Vscan Air Fleet Solutions help take the handheld ultrasound experience one step further with a suite of user-centric digital tools, as showcased at HIMSS22.
At HIMSS22, GE Healthcare introduced Edison Digital Health Platform, a vendor-agnostic hosting and data aggregation platform with an integrated artificial intelligence (AI) engine. According to GE, the platform is being developed to enable hospitals and healthcare systems to effectively deploy the clinical, workflow, analytics and AI tools that would support the improvement of care delivery, the promotion of high-efficiency operations and the increase of revenue growth, while also supporting reduction in the IT burden that typically comes with installing and integrating apps across the enterprise.
Edison is designed to accelerate app integration by connecting devices and other data sources into an aggregated clinical data layer, said GE during the Edison Digital Health Platform launch on the HIMSS22 show floor. A collection of data transformation services is expected to be available on the platform to support data analytic applications, and to enable the training and deployment of AI models using the aggregated data. Through open and published interfaces, healthcare providers and third-party developers are expected to be able to seamlessly deploy their applications, with the platform supporting integration of the apps into existing workflows. 
"Edison Digital Health Platform is being designed to enable healthcare systems to have a single platform on which to host and integrate apps into clinical workflows," said Amit Phadnis, chief digital officer, GE Healthcare. "With easy access to the workflow, analytics, and clinical apps specific to care across the care continuum, clinicians will have actionable insights at their fingertips to help better serve their patients."
Leading the Disruption
Lead the Disruption was Canon Medical's theme this year at HIMSS22. "By lead the disruption, we mean there's a lot of things within the enterprise imaging space and the PACS space, and we kind of were lucky enough to start with a new clean sheet of paper," Jack Oblein, director of sales enablement, explained. 
Oblein explained that Canon Medical doesn't have a huge install base that it has to migrate and transition, so the overall design philosophy was roughly based along the ONC guidelines. "What you are driving is the interoperability," he said. "So, one of the primary themes with lead the disruption is just one of the premises of data neutrality, and making sure that you're not doing things to data that might limit access to data, or limit the interoperability."
He went on to say that cybersecurity is also a big issue. "For us, we're very much into the zero-trust architecture, or ZTA," he said. "Basically, it says once you're in, we always still verify. Once you get in one portal, and now that you are through the firewall, you are free to go anywhere. Zero-trust architecture always verifies, so that helps you navigate. When we write data to disk, we write it in a way that's resistant to a ransomware attack. The simple version of that is they can only see one case at a time. Also, you can't delete the previous version. You can encrypt it, but you can't get rid of the unencrypted. So there is no ransomware because you have access to that data."
Image Convergence
Agfa released a Harvard Business Review Briefing Paper, The Business Case for a Fully Converged Medical Imaging Platform. "We've sponsored research by Harvard Business Review Analytic Services to examine how technology and clinical leaders create business value by transforming their imaging IT and processes," explained Miriam Ladin, director, marketing and communication, North America, for Agfa HealthCare. "Through in-depth interviews, this paper shares these leaders' motivations and ongoing results as they endeavor to creative tangible business, clinical and operational impacts and help their systems grow and thrive." 
At HIMSS22, Agfa was encouraging attendees to view the report and "consider how technology might be a key to align the healthcare enterprise with pressing initiatives, such as increasing high-impact, data-driven care; moving away from the complexity of maintaining multiple and redundant systems; and creating secure, universal access to care documentation," according to Ladin. 
Doing More with Less
Diagnostics, imaging, therapy. According to Peter Shen, head of digital health at Siemens Healthineers, digital connects all these pieces together. 
"The providers today are really under pressure, and they are feeling challenged. They are asked to do more with less. There are staff shortages. There's a lack of expertise in certain areas, there's particular imaging, and there is still a growing volume to look at as well. So, there's really a lot of challenges that the provider has today," said Shen.
Siemens believes it has a portfolio that offers clinicians the tools needed to address those challenges. For example, being able to monitor the efficiency of a radiology or imaging department, or the ability to utilize technologies to offer remote scanning capabilities. "Being able to operate complex pieces of equipment like a CT or MRI from a central location to a remote facility or outpatient facility without having staff with expertise in that remote location, these are some of the things that obviously took off for us during the pandemic, where people were really trying to help with staffing pressures," said Shen.
Shen noted that radiology departments have been adopting these technologies and tools to address challenges facing providers and to increase the value they're delivering back to the organization.
"So how do they increase the overall value of the diagnostic report that they are outputting, and stress the clinical meaning behind that work to other clinicians, to the patient, and to the organization as a whole? With this, we see an opportunity to really change that teaching value, and promote change through this smart imaging value chain — smart in the sense of being able to take advantage of all these new technologies and concepts that are out there," Shen said.
Shen sees a sea change coming around this region in enterprise, which provides a good opportunity to enhance the value of radiology.
"The point to all that is we also see it as it goes beyond radiology imaging. Radiologists want this capability, but cardiologists want to have a more educated, more confident type of diagnosis coming from traditional clinical data. And then we're also potentially looking in the area of qualitative 'ology,' which is, I think, where radiology was maybe several decades ago with the concept of digitalization. It's more than just digitizing the slide now. Now it is actually leveraging tools like artificial intelligence, and analyzing that new digital image on the drive, maybe to help make more of a diagnostic decision. Maybe to be more confident to try to figure out the particular patient.
"So the future, in our view, is actually now, and we've got the tools," Shen continued. "The future is actually the present in terms of these concepts. And I predict that more and more, there is going to be more remote working in rural areas with experts." 
---
If you enjoy this content, please share it with a colleague