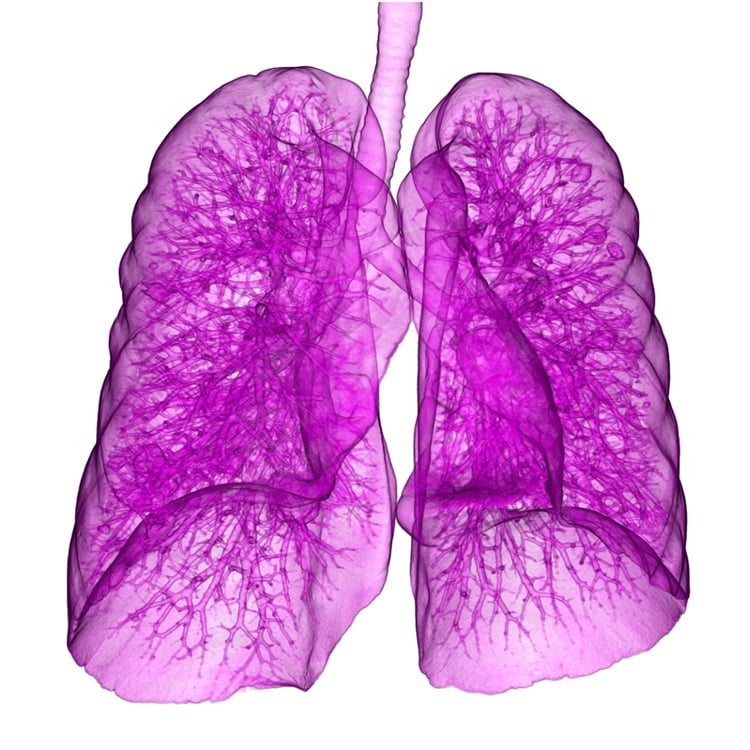 While surgery is still the gold standard for lung cancer treatment, radiation therapy can offer a less invasive approach with quicker recovery times.
Lung cancer is the second most common cancer for both men and women in the United States, according to the American Cancer Society, and 80-85 percent of lung cancer cases are non-small cell lung cancer (NSCLC).1 As with most cancer cases, catching the disease in its earliest stages provides the most options for treatment. Surgery and radiation therapy have both demonstrated significant success in attacking NSCLC, but the ideal approach can vary from patient to patient. Deciding between one or the other, or employing a combination of the two, must be carefully considered by the patient and a multidisciplinary team of physicians.
Defining An Operable Patient
Surgery has long been considered the gold standard of lung cancer treatments. It is the quickest way to remove a tumor, and it is easier for surgeons to assess the extent of disease when the lymph nodes are taken into consideration.
"Our surgical techniques have become less invasive over the last 20 years, which has opened up possibilities for patients we might not have otherwise considered," said David Johnstone, M.D., professor of surgery at the Medical College of Wisconsin.
There are three main considerations when assessing a patient's eligibility for surgery:
•    The location of the tumor;
•    The patient's pulmonary reserve, or the additional volume of air the lungs can inhale and exhale when breathing to the limit of capacity in times of stress; and
•    The presence of any comorbid conditions.
Depending on the extent of the tumor, there are four common surgical approaches:
•    Pneumonectomy (removal of an entire lung);
•    Lobectomy (removal of the entire lobe containing the tumor);
•    Segmentectomy or wedge resection (partial removal of a lobe); and
•    Sleeve resection (cutting out the areas above and below a tumor during removal and reconnecting the shortened lung portions).
Surgical removal of a tumor also allows improved staging of the cancer, as the surgeon can physically see the state of the patient and whether the cancer has metastasized. "The risk always with lung cancer isn't what we see, it's what we don't see," acknowledged Gregory Videtic, M.D., a staff physician in radiation oncology at the Cleveland Clinic. "When I'm treating a patient, I don't treat the lymph nodes and I don't know what may or may not be there, even with all of the extremely excellent technologies I have to characterize them."
While surgical techniques have improved as noted by Johnstone, it is still without question the more invasive approach, requiring weeks to months of recovery time. It is also more difficult for surgeons to address deep and central lesions, as the more complex operation would pose a much greater risk to the patient. The potential risks and side effects of lung cancer surgery are well-documented, including reactions to anesthesia, excessive bleeding, blood clots forming in the legs or lungs, wound infections and pneumonia.
Ultimately, just because a patient is a candidate for surgery does not mean, however, that they and their physician will opt to do it. Johnstone said the decision often comes down to patient preference. "They don't want the short-term pain for the gain, they don't like short-term risk and they're willing to accept the longer-term risk," he said. "Radiation these days can offer them a much more user-friendly path to treating their tumor in the short term than some of our surgical options. So even when objectively a patient might neatly fall into a group that would be at great risk for surgery, patients do turn that down sometimes because we do have an alternative for them that we think is roughly equivalent."
Radiation Challenging The Gold Standard
In light of the risks associated with surgery, radiation therapy has emerged as an alternative, offering some options precluded by a surgical approach. Radiation can be employed in numerous ways to aid lung cancer patients:
•    As a mainline treatment if the tumor cannot be removed due to its size or location, and if the person's overall health makes surgical risk too great;
•    As a secondary treatment following surgery to kill any small areas of cancer that were missed;
•    As a way to shrink a tumor prior to surgery to make it easier to remove;
•    As treatment for one area of metastasis; and
•    As a way to treat symptoms of more advanced NSCLC.
"We treat what we see," said Videtic. "In other words, the shadow in the lung is the target, that's what we aim to destroy, and we can do that very effectively."
Several different types of radiotherapy have been used successfully for marginally operable or early-stage lung cancer patients.
Stereotactic radiosurgery/stereotactic ablative radiotherapy. Stereotactic radiosurgery (SRS), also known as stereotactic body radiotherapy (SBRT) or stereotactic ablative radiotherapy (SABR), has been the focus of numerous clinical and research efforts in the field of lung cancer. This technique shoots high-dose, focused beams at the tumor target in one to five treatment sessions.
One of the questions with stereotactic radiation has centered on cancer recurrence rates. A 2014 study compared 458 patients who underwent lung cancer surgery with 151 patients treated with SBRT. Overall local recurrence for the surgical group was 2.6 percent and 10.7 percent for the SBRT cohort. At three years, local recurrence-free survival was 90 percent for SBRT versus 92 percent for surgery.2
Proton therapy. Proton therapy has been gaining prominence in recent years as one of the most highly targeted forms of radiation therapy. This is because the proton beam can be programmed to stop precisely in the target tissue without passing through, unlike traditional photon radiation therapy.
Researchers at Beaumont Hospital in Michigan recently presented their study using a new method of proton therapy called continuous proton arc treatment or a spot scanning proton arc (SPArc) plan. The technique uses pencil beam scanning (PBS) technology, which sculpts the proton beam to the width of a pencil for high-precision dose delivery. The SPArc plan takes this a step further by enhancing the dose conformity at the tumor level while reducing the total dose received by the patient. "A continuous proton arc treatment can significantly reduce the adverse effects of respiration-induced motion on lung cancer treatments. This advancement will also result in a better and lower dose of radiation to adjacent organs," said Peyman Kabolizadeh, Ph.D., clinical director of the Beaumont Proton Therapy Center.
Future Clinical Trials
While radiation therapy continues to gain traction among oncology practitioners, Johnstone said it is far from replacing surgery. "I think the literature for high-risk patients is muddy right now," he said. "We don't have a lot of direct, prospective trials to prove one way or the other. In the past, surgery has certainly been a gold standard but it excluded certain high-risk patients who could not be operated on. Radiation in the past was far less technologically advanced than it is now. So both surgery and radiation have matured into highly technically accurate procedures."
There are several active clinical trials exploring the effectiveness of radiation therapy in treating non-small cell lung cancer. Some compare radiotherapy to a surgical approach, while others compare the effectiveness of different types of radiation treatment.
One trial, led by Robert D. Timmerman, M.D., professor and vice chair of the Department of Radiation Oncology at UT Southwestern and former president of the American Society of Radiation Oncology (ASTRO), is looking at sublobar resection or stereotactic ablative radiotherapy for stage I NSCLC patients. The Stage III, two-arm trial will enroll patients at 33 locations in the U.S., Canada and Australia. The surgical arm will undergo sublobar resection, a less invasive approach that removes a smaller section of the lung and may have fewer side effects. SABR patients will undergo 60 minutes of therapy in three fractions over 16 days.3
A second trial will compare photon therapy to proton therapy for treating patients with lung cancer. The Stage III, two-arm trial will enroll patients at 28 sites across the United States. Investigators — led by Zhongxing Liao of  NRG Oncology — will assess overall survival for patients with stage II-IIIB NSCLC, as well as cardiac toxicity and lymphocyte reduction. Secondary endpoints include two-year progression-free survival, development of grade 3 or higher adverse events, quality of life, cost effectiveness of both therapies and any changes in pulmonary function. Each arm of the trial will receive therapy five days a week for a total of 35 fractions.4
The U.S. Department of Veterans Affairs (VA) is conducting its own trial comparing surgery to radiotherapy treatment for patients with stage I non-small cell lung cancer. The VALOR (Veterans Affairs Lung Cancer Or Stereotactic Radiotherapy) study is designed to interrogate previous trials showing a 15 percent overall survival advantage with stereotactic radiotherapy compared to surgery at three years. Investigators say the prior trials were underpowered, the follow-up period was short, and that the findings contradicted numerous retrospective trials showing surgical outcomes were equal or superior to radiotherapy. The prospective, randomized VALOR trial hopes to enroll 670 patients at six VA medical centers across the country.5 
References
1.     Non-Small Cell Lung Cancer, American Cancer Society. https://www.cancer.org/cancer/non-small-cell-lung-cancer.html
2.     Crabtree T.D., Puri V., Robinson C., et al. Analysis of first recurrence and survival in patients with stage I non–small cell lung cancer treated with surgical resection or stereotactic radiation therapy. Journal of Thoracic and Cardiovascular Surgery, published online Jan. 6, 2014. https://doi.org/10.1016/j.jtcvs.2013.11.057
3.     Sublobar Resection or Stereotactic Ablative Radiotherapy in Treating Patients with Stage I Non-small Cell Lung Cancer. National Cancer Institute. https://www.cancer.gov/about-cancer/treatment/clinical-trials/search/v?id=NCI-2015-01676&r=1
4.     Comparing Photon Therapy To Proton Therapy To Treat Patients with Lung Cancer. National Cancer Institute. https://www.cancer.gov/about-cancer/treatment/clinical-trials/search/v?id=NCI-2013-01850&r=1
5.     Veterans Affairs Lung Cancer Or Stereotactic Radiotherapy (VALOR). Clinical Trials.gov. https://clinicaltrials.gov/ct2/show/NCT02984761
Related Content:
VIDEO: Radiation Versus Surgery for Non-Small Cell Lung Cancer
VIDEO: Proton Therapy Treatment at Northwestern Medicine