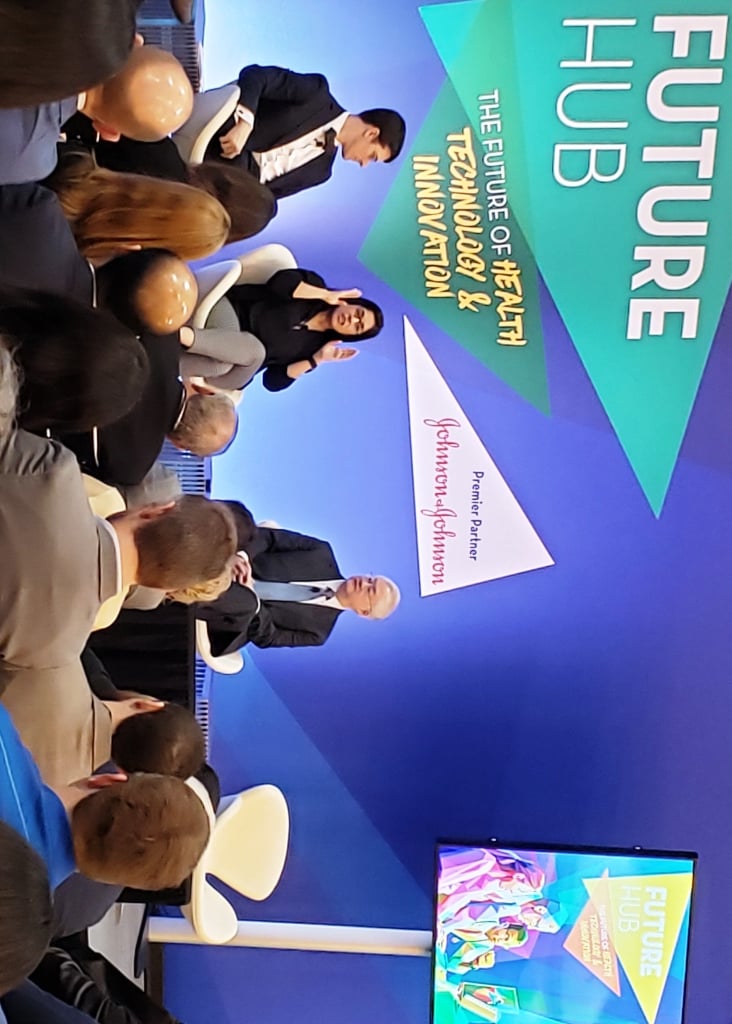 Jennifer N. A. Silva, M.D., a pediatric cardiologist at Washington University School of Medicine in Saint Louis, Mo., describes "mixed reality" at ACC19 Future Hub.
Virtual reality (VR) and its less immersive kin, augmented reality (AR), are gaining traction in some medical applications. But a new entrant, "mixed reality," may have the inside track in the interventional suite or operating room.
Mixed reality allows the user to interact with both the real world and digital data, according to Jennifer N. A. Silva, M.D., a pediatric cardiologist at Washington University School of Medicine in Saint Louis, Mo., who spoke during Future Hub at this year's annual meeting (#ACC19) of the American College of Cardiology.
With ready access to both digital and physical reality, a surgeon or interventionalist can simulate a procedure on a digitally created model that is updated in real time – then perform the actual procedure on the patient.
"Mixed reality affords the ability to remain in your natural environment," Silva told Imaging Technology News (ITN) and Diagnostic and Interventional Cardiology (DAIC). Yet the users of mixed reality can take advantage of a digital world otherwise found only in VR.
Mixed reality is somewhere in the middle of what Silva described as a spectrum of "extended realities." At one end is virtual reality (VR), which completely immerses the user in a digital world. Because VR is a completely separate and alternative reality, it "does not allow you to have a meaningful interaction with your natural environment," she said.
At the other end of the spectrum is reality, characterized by what we sense with our eyes.  In between these two ends are augmented reality (to which mixed reality is closely related). In AR, the user cannot interact with but rather only look at digital data imported into the natural environment, Silva said.
"Mixed reality allows you to have a meaningful interaction with digital data and with your natural environment," she said. "So instead of just looking at a hologram, you can do something to it -- you can touch it; rotate it; turn it upside down."
Fitting Round Pegs Into Round Holes
The technology – and the type of reality it harnesses – "has to fit what you are trying to do," she told ITN and DAIC. "There has to be a match between the technology and the need."
Different types of reality may be useful in one or more of the four major application areas: education, pre-procedural planning, rehabilitation and intraprocedural visualization. VR offers little value during procedures, because it immerses the user in a completely digital world and, therefore, blocks out the natural environment. For this same reason, however, VR may be useful in rehabilitation, as it may replace the user's perception of the real world with a digital one.
VR may also be useful when practicing a surgical or interventional procedure. Augmented reality has proven useful in actual interventions, presenting data that a surgeon or interventionalist can use during the actual procedure. But mixed reality offers the ability to interact with digital data and with the real world in the same context and time frame.
"If I'm doing a procedure, I can't fully remove myself from that environment (to interact in VR). I need something that will allow me to interact with my natural environment and with the digital data," said Silva, who was one of the moderators during March 16 ACC Future Hub session titled "Are Clinical Virtual Reality and Augmented Reality Ready for Prime Time?"
"The ability to manipulate and control your data is perhaps the single greatest value add of the extended realities," she told ITN and DAIC. Theoretically, mixed reality allows this manipulation and control.
"We are on the first step of what I think will be a long road," said Silva, who is one of the founders of a mixed reality company, called SentiAR.
Silva and her colleagues right now are struggling to achieve connectivity among the different pieces of equipment found in an EP interventional lab. Examples of this equipment are fluoroscopy systems, vital signs monitors and cardiac mapping systems. "A lot of them are made by different vendors, so it lends itself to poor interoperability," she said. The goal is to integrate the data from the equipment, as well as their workflows.
"I want to make the platform the glue that starts to allow me to interact with all my pieces of equipment," she said. 
How Mixed Reality Might Impact EP
Mixed reality may prove particularly useful during electrophysiological procedures, when interventionalists map electrical activity inside the patient's heart, then ablate tissues associated with electrical signals that cause arrhythmia. The device being developed by SentiAR creates a 3-D model of the patient's heart that shows the map of electrical signals in real-time, said Silva who specializes in pediatric cardiology. The mixed reality platform being developed at SentiAR can be used on patients of any age, she noted.
The user can see 3-D images and other digital data, as well as the physical world, by looking through a head-mounted technology called HoloLens, which is made by Microsoft.  Silva described it as "a computer on your head" that allows the user to see digitally created structures superimposed on a view of the natural environment.  Simultaneously, sensors built into the head-mounted technology record head movements that allow the user to click through digital menus projected onto the user's field of vision or to control different pieces of equipment in the interventional lab.
Although HoloLens has proven useful, the company is not inextricably tied to the Microsoft technology. Instead, the SentiAR is keeping its options open to take advantage of new technologies that may come along. "There are many mixed reality headsets out there, and there are many more in development," she said. 
Silva said the product being developed by SentiAR is a long way from finalization. "As good technology does, it will continue to evolve," she said, noting that future technologies may harness new types of reality that represent different points on the "extended realities" spectrum.
"This (spectrum) is where innovation is going to happen."
Greg Freiherr is a contributing editor to Imaging Technology News (ITN). Over the past three decades, Freiherr has served as business and technology editor for publications in medical imaging, as well as consulted for vendors, professional organizations, academia, and financial institutions.
Additional Content:
Two Technologies That Offer a Paradigm Shift in Medicine at HIMSS 2017 
VIDEO: Augmented Reality for Surgical Planning
VIDEO: Users Can Touch This Virtual Reality Heart
A 40,000 Foot View of Trends in Cardiology
Applications for Artificial Intelligence in Cardiovascular Imaging
Machine Learning Approaches in Cardiovascular Imaging
Technology Report: Artificial Intelligence (Video report published January 2019) 
PODCAST: Shortcomings of CTA in Cardiology
PODCAST: How Technology Is Changing Cardiology
ACC.19 Future Hub Hosts "Shark Tank" of Emerging Technologies In Cardiology
---
If you enjoy this content, please share it with a colleague