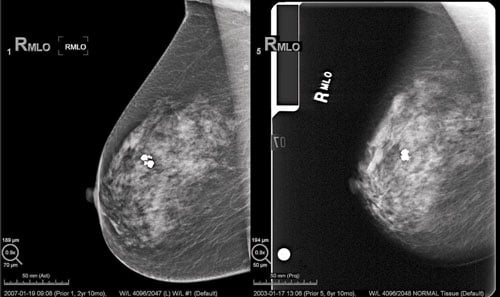 A comparison between a digital mammography image and a screen-film image. (Photo courtesy of Hologic)
The U.S. Food and Drug Administration (FDA) reports digital mammography systems have largely replaced screen-film mammography systems in the United States and that they will likely be phased out at the remaining facilities over the next few years.
In July 2015, 15 years after full-field digital mammography (FFDM) first came into clinical use, the number of FFDM units in use as a percentage of all mammography units in operation exceeded 97 percent. For the first several years after their introduction, the uptake of FFDM units was relatively slow — not until 2008 did the number of FFDM units reach 50 percent of the total number of units in use — and it has accelerated in recent years. 
At the present time, according to statistics in the FDA's Mammography Quality Standards Act and Program (MQSA), the FDA said there are less than 400 screen-film units currently in use in MQSA-certified facilities. This is out of a total of 15,153 mammography units registered in the MQSA database.
Issues of Screen-film Image Quality
Yet despite the recent rapid drop in the number of screen-film units since 2008, the FDA said screen-film facilities have been over-represented in facilities with image quality issues, evidenced by requests from FDA or accreditation bodies for additional mammography reviews (AMR) and the ordering of patient and provider notifications (PPN) by the FDA. When an accreditation body receives or discovers information that suggests inadequate image quality, or if the FDA believes that mammography quality at a facility has been compromised and may present a serious risk to human health, the accreditation body will review a facility's clinical images or other aspects of a facility's practice to assist the FDA in determining whether the facility's practice poses a serious risk to human health. The AMR can help the agency determine whether a facility is in compliance with the quality standards. Based on an evaluation of the results of the AMR, the FDA may determine that mammograms performed by a facility were so inconsistent with established quality standards as to pose a significant risk to an individual or the public health, and direct a facility to conduct a PPN, notifying all at-risk patients and their referring healthcare providers.
Between 2005 and 2014, the FDA reports facilities using screen-film mammography accounted for 61.5 percent of all AMRs and 62.6 percent of all PPNs.
Between 2009, the first year that screen-film accounted for less than 50 percent of certified facilities, and 2014 when the use of screen-film had decreased to less than 5 percent of facilities, screen-film facilities still accounted for 38 percent of all AMRs and 42 percent of all PPNs.
In 2014, even with their greatly reduced numbers, the FDA said facilities using screen-film units nevertheless accounted for one-quarter of all AMRs and two-thirds of all PPNs. The FDA said that with the very small number of screen-film units left, and if the current trend continues, it seems that screen-film mammography might go the way of xeromammography in the not too distant future. The overrepresentation of this technology in compliance issues serves as food for thought about the appropriateness of the declining use of screen-film mammography in the United States, the FDA said in a statement. 
The Extinction of an Imaging Modality
Prior to use of screen-film mammography, xeromammography was the standard of breast imaging. Developed in the late 1960s and considered the standard of care by the early 1980s, the technology used a photoelectric method of recording an X-ray image on a coated metal plate, using low-energy photon beams, long exposure time and dry chemical developers. The image transfer technique was based on the fact that X-rays partially dissipate a uniform electrical charge applied to a selenium alloy plate that creates a latent static electric charge used to create a photographic image. The process is similar to how a copy machine transfers images. 
The transition to screen-film technology took place 30 years ago because the use of a radiographic screen that transfers X-rays into visible light to expose traditional film was more efficient and created better quality images at a lower X-ray dose. The xeromammography systems used energy beams of between 40-50 kVp, while the screen-film mammo systems only used energies of 25 to 28 kVp.1 
MQSA Statistics
The FDA maintains national mammography statistics based on its MQSA reporting program. As of Oct. 1, 2015, the total number of mammography procedures performed in the United States in the past year was 39.02 million. This is based on reports from 8,720 MQSA-certified facilities. This number is an aggregate of the total number of procedures performed annually as reported by facilities to their accreditation bodies. Facilities are asked to disclose this information at their initial accreditation, and then at the time of their re-accreditation, which takes place once every three years. FDA began collecting this data in 1998. The aggregate does not reflect the current number of procedures performed at these facilities, but only the numbers reported by them during the three-year period prior to the current date. 
The program includes FDA inspections to show compliance with accepted image quality standards. The FDA reports 85.8 percent of the facilities inspected had no violations.
For more information on the MQSA program, visit www.fda.gov/Radiation-EmittingProducts/MammographyQualityStandardsActandProgram/FacilityScorecard/ucm113858.htm.
Watch the video "Advances and Trends in Breast Imaging."  ITN discusses the recent trends and advances in breast imaging at RSNA 2014 with Laurie Fajardo, M.D., MBA chief of breast imaging, University of Iowa.  Read the following related articles on breast imaging…
Reference: 
1. Sickles EA. "Xeromammography Versus Screen-Fim Mammography: Pros and Cons of the Two Technologies." West J Med. 134:273-274, March 1981.