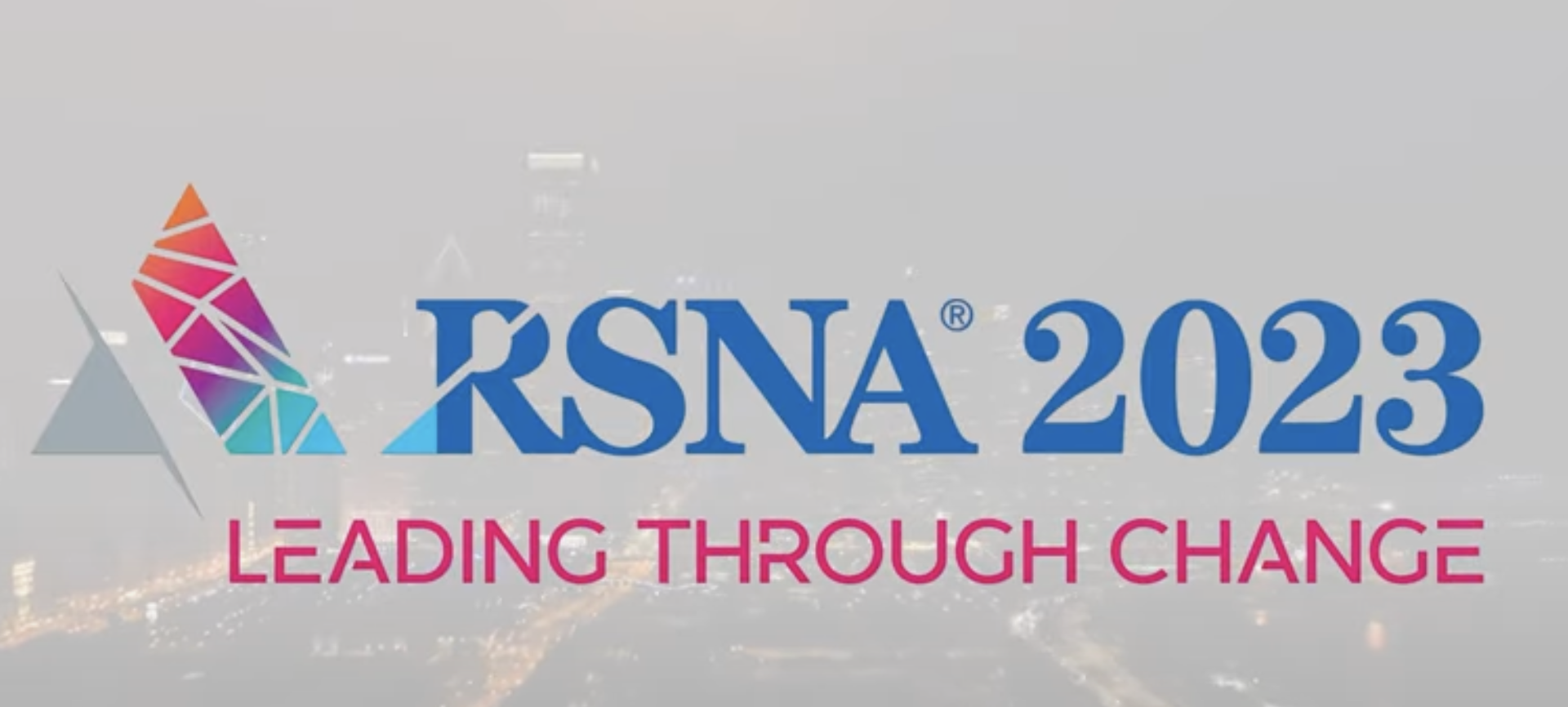 The Radiological Society of North America is already making news as it unveils its RSNA 2023 program, set to deliver trends in radiology science, a wide range of education sessions, industry leaders, and featuring latest advances in medical imaging Nov. 26-30 at McCormick Place in Chicago. Image courtesy: RSNA.
November 8, 2023 — Prepping for another strong meeting, the planners of "RSNA 2023: Leading through Change", presented by the the Radiological Society of North America, are eager to once again attract and engage the international community of medical imaging professionals and industry partners to stay up to date with the latest radiology advancements. 
Featuring over 300 educational courses and more than 3,500 scientific papers, education exhibits and science posters, RSNA 2023 will also include an engaging line-up of plenary speakers sharing insights on the topics that are most relevant to today's radiologists. RSNA 2023 program planners have included 33 hot topic sessions, 38 sessions focused on Artificial Intelligence (AI), presentations and clinical science covering the 18 subspecialty practice areas, and 6 plenary sessions, featuring industry leaders.
This year, the Technical Exhibits halls are home to more than 650 exhibitors, including over 100 first-time exhibitors. This group of welcome newcomers is comprised of recruiters and academic institutions as well as a variety of industry partners who are excited to share their products and services with you. Come see their offering of next-generation imaging modalities, AI, interoperability, workflow, 3D printing, automation and staffing solutions. Highlights from RSNA News online updates are shared here as ITN joins the imaging community in the countdown to one of the world's largest medical meetings. 
To help attendees plan for RSNA 2023, Jorge Soto, MD, chair of the RSNA Annual Meeting Program Planning Committee (AMPPC) provided a preview of this year's trending topics in an online RSNA News feature. Soto is the Professor of Radiology, is Chief of Radiology at Boston Medical Center and Chair of the Department of Radiology at Boston University Chobanian and Avedisian School of Medicine. Soto has served as interim Chief/Chair of the department since September 2015.
"Members of our committee performed an exhaustive review of the hundreds of abstract submissions," Soto said. "It is exciting to have a first-hand look at the breadth and depth of work being done by our global colleagues and to realize the impact this work might have on our profession...regardless of your subspecialty or career stage, there is something for everyone." 
Sessions selected from the second call will be featured in the Learning Center theaters throughout the week. "After introducing the Learning Center Theater last year for the presentation of research selected during our second call, we are pleased to announce the addition of a second Learning Center Theater to accommodate schedules and seating for this popular new feature," Soto said.
Which topics are trending for RSNA 2023?
"Trends vary somewhat, depending on your subspecialty, but applications of AI and photon-counting CT have been popular across nearly every subspecialty," according to Soto. "Theranostics is also increasing in popularity along with the use of large language models for a variety of different uses."
Attendees will also enjoy a wide selection of non-interpretive sessions that will help them sharpen skills beyond imaging. With radiology professionals continuing to focus on ensuring equitable access to health care for all patient populations and understanding diversity, equity and inclusion, sessions throughout the week will be available for attendees interested in making changes at their own institutions and practices.
"We'll have several experts sharing useful insights and ideas for improving in the areas of DEI and health equity," Soto offered, adding, "These sessions can be thought-provoking both from the research and clinical perspectives."
In promoting the RSNA Annual Meeting Learning Center, the news summaries noted that, in addition to the latest research, attendees can also rely on the annual meeting for a robust offering of CME opportunities. According to Soto, "Both in-person and virtual participants will experience an immersive week filled with chances to discover, connect, learn and grow. We look forward to providing this world-class experience to our world-class attendees."
Program planners and AMPPC members worked together to develop what RSNA referred to as a handy quick-reference guide to help attendees find trending topics and recommended sessions by subspecialty.
Trends by Subspecialty Practice Area include:
Gastrointestinal Imaging

Head & Neck Imaging

Imaging Informatics

Multisystem Imaging

Musculoskeletal Radiology

Noninterpretive/Practice Management

Neuroradiology

Vascular Imaging

Associated Sciences/ASRT
Captivating Topics in Focus
In addition to a strong response to the initial call for abstracts, many submissions were received for a second abstract call that focused on late breaking research in the areas of generative AI, sustainability in imaging, imaging of immunotherapy and theranostics, reports RSNA.
In a summary of scientific content, RSNA's meeting update offered five topics which are expected to generate "buzz" and captivate attention among the radiology community: sustainability; equity; theranostics; imaging of immunotherapy; and generative AI. According to an October 30 RSNA News overview published online, "This year's meeting will offer an unparalleled opportunity to delve into hot topics that are generating excitement throughout the specialty and, they add, are contributing to the future of medicine." Program planners encourage RSNA 2023 attendees to look for these  topics throughout the program and identified the following numerous sessions as examples for consideration. 
Equity
Assessing Role of Patient Social Factors on Radiology Cancellations and No-Shows

Decolonizing Radiology: Addressing Historical Influences and Promoting Global Equity

Emergency Radiology Practice Management in 2023: Health Equity, Sustainability and Cost in the U.S. and Europe
Theranostics
Design and Creation of a 3D Printed Realistic Anthropomorphic Kidney Phantom for Theranostics (Lutetium-177) Dosimetry

LAMP-1 Targeted PET Imaging for Detection of Adenocarcinomas

Assessment of Oxygen Saturation in Breast Tumors Using Photoacoustic Imaging: Correlation with Benign and Malignant Disease
Imaging of Immunotherapy
Multiparametric Magnetic Resonance Assessment of Tumor Response to Neoadjuvant Immunotherapy in Muscle-invasive Bladder Cancer

Radiomics Derived Phenotypes Predict Response to Durvalumab Immunotherapy for Non-Small Cell Lung Cancer

Combined Y90 Radioembolization and Immunotherapy for the Treatment of Hepatocellular Carcinoma. Is it effective or harmful due to adverse effects?
Generative AI
GPT Language Models for Automated Synoptic Reporting and Determination of Re-sectability in Pancreatic Cancer

Exploring Racial Disparities in Imaging Datasets via Generative AI: A Path to Enhanced Model Transparency

Utilizing Large Language Models for Neuro-Oncologic Prediction: A Multi-Center Study on Magnetic Resonance Imaging Reports
For additional information on RSNA 2023: www.rsna.org
Follow extensive RSNA23 news coverage by Imaging Technology News here.
---
If you enjoy this content, please share it with a colleague