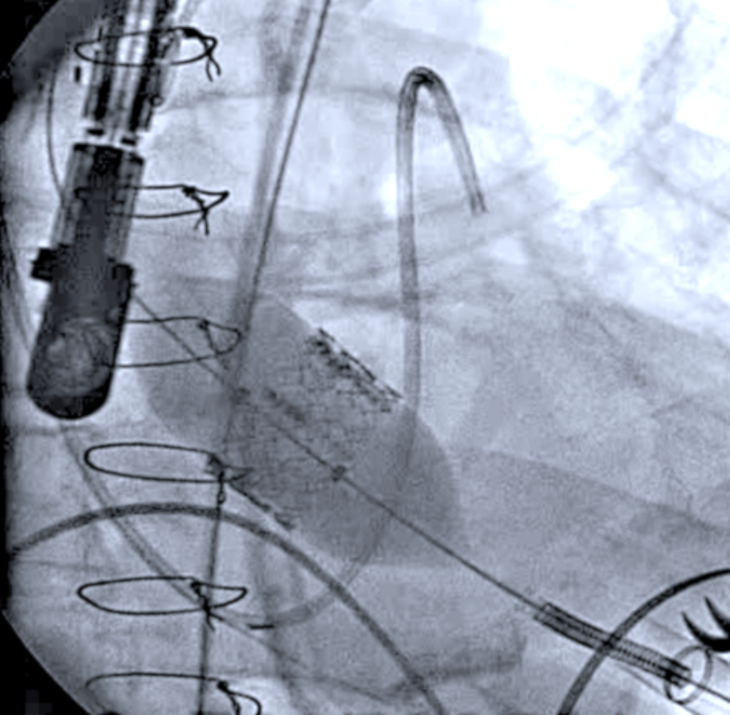 An angiographic image showing a transesophogeal Echo (TEE) probe in use during deployment of a transcatheter Sapien aortic valve.
June 20, 2012 — Echocardiography is playing a key role in both the assessment and guidance of transcatheter aortic valve replacement (TAVR). Attendees at the American Society of Echocardiography's 23rd Annual Scientific Sessions will have the opportunity to see this in action during a live TAVR procedure transmitted from Washington Hospital Center's hybrid cath lab.
The value of TAVR depends on careful selection of patients who, while not surgical candidates, do not have such extreme comorbidities that overwhelm the benefits of TAVR and render the intervention futile. In selection of these patients, Doppler echocardiography has now replaced cardiac catheterization as the gold standard diagnostic technique for quantifying aortic stenosis (AS), the most common valvular heart condition in the elderly. A transthoracic echocardiogram (TTE), in which an external probe is placed on the patient's chest, can determine whether the AS is severe enough for TAVR. Transesophageal echocardiography (TEE), in which an ultrasound probe is passed into the patient's esophagus, supplements the information from TTE, providing precise measurements of the ring surrounding the aortic valve, critical for selecting the proper size of the implanted valve.  And, the role for echocardiography doesn't stop with diagnosis and decisions on treatment, as TEE is widely used to guide device placement during the TAVR procedure.
Steven Goldstein, M.D.,  a cardiologist at MedStar Heart Institute, will lead a team of interventional experts during the surgery at the center. Due to the design of the hybrid cath lab at Washington Medical Center, the audience will be able to see information from various monitors, including echo images, fluoroscopic images and pressure tracings. 
For more information: www.asecho.org
---
If you enjoy this content, please share it with a colleague