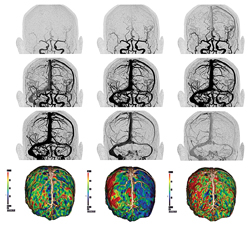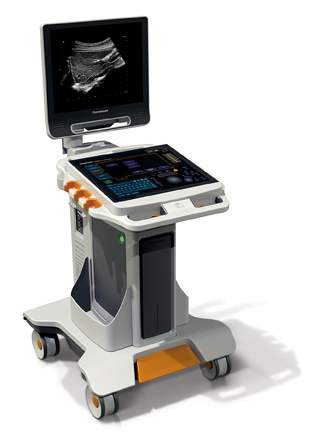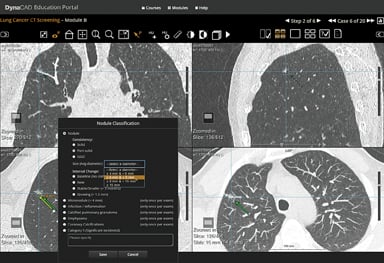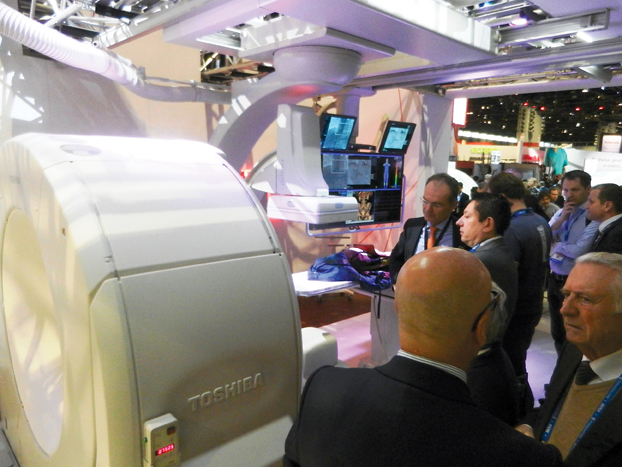 The exhibit floor at RSNA 2014 reflected a new era of austerity, one in which efficiency and effectiveness ruled. From South to North halls — Toshiba America to Siemens, Hologic to Samsung — new products and works in progress were distinguished by how they improved the lot of medical imaging among the various "ologies".
The workhorse of magnetic resonance (MR), the 1.5T scanner, promised lower costs upfront and throughout operation, as niche technologies extended the modality's clinical reach. Digital breast tomosynthesis (DBT), a market long dominated in the U.S. by Hologic, suddenly turned competitive with an entrant from GE Healthcare. New ultrasound and X-ray products were scattered across exhibits, some overshadowed by the heavy iron of multi-modality vendors, others waxing bright in booths with less extensive portfolios.
Hybrids expanded in number and type, their ranks swelling in positron emission tomography/computed tomography (PET/CT) and positron emission tomography/magnetic resonance (PET/MR) as they pushed beyond traditional bounds, combining biplane angiography with CT. In picture archiving and communication systems (PACS) and imaging technology (IT), the concept of neutrality took shape with vendors pledging what many practitioners needed but few can achieve, a coming together of best of breed technologies. 
CT most reflected how much and how fast radiology was changing. With promises kept at the super premium end and new ones made in dose regulation and lung cancer screening, CT appeared at the tip of the spear of imaging's long-awaited rebound.
CT on the Cusp
The U.S. government's drive to cut healthcare spending has hammered diagnostic imaging, particularly in CT. After peaking in 2011, CT procedure volume fell an average 5.5 percent in each of the next two years, according to IMV Medical Information Division. The drop was confirmed independently by researchers at Thomas Jefferson University, where research showed that Medicare bundling of CT codes for the abdomen and pelvis in 2011 led to a 29 percent drop in imaging payments for these procedures.1 
As radiologists prepared to converge this year on Chicago, Medicare announced a new policy that might help reverse the decline in CT usage — the decision to reimburse for lung cancer screening through age 74. Meanwhile, new and stricter radiation dosage regulations and guidelines were gathering steam among state legislatures and professional groups. And an aging CT installed base, which had not been energized since the frenzy for 64-slice scanners in 2004, was growing older.
Together these factors may spur a new wave of CT sales. Vendors showed plenty at the super-premium end from whole organ, as well as spectral and multi-energy systems to mid-tier and entry-level 16-slice scanners meant for bread-and-butter scanning.
Toshiba America showcased its field-upgradable Aquilion One family, released earlier in the year. Climbing this family tree, owners progress from a 320-slice scanner, named Aquilion One 320, to a product with twice as many slices, Aquilion One 640, to the ViSION Edition, a 640-slice CT that rotates faster (0.275 second versus 0.35 by the other two Aquilion CTs) and offers a more powerful generator (100 kW versus 72 kW). 
Toshiba had set the standard in 2007 for single organ coverage with its Aquilion One, the world's first 320-slice scanner. In the years since, this scanner has proven the clinical potential of whole-organ rotation coverage of the heart, as well as the brain for stroke. At RSNA 2014, GE's Revolution CT joined the super premium ranks. Shown as a work-in-progress last year, Revolution CT took its place atop GE's CT portfolio with whole-organ, 0.28-second rotations.
Similarly stratospheric, a new version of the Somatom Definition Edge CT debuted in the Siemens booth, featuring the company's TwinBeam Dual Energy X-ray tube concept. The Edge enables simultaneous imaging at two different energy levels, generating two datasets that can be compared to help differentiate tissues, as in the case of uric acid and non-uric acid kidney stones.
Siemens showcased its Somatom Force, the company's next generation in dual-source CT. Two Vectron X-ray tubes enable routine exams at low-tube voltages between 70 and 100 kilovolts, increasing the contrast-to-noise ratio, thereby reducing the amount of contrast medium needed by as much as two thirds, according to the company. Two filters optimize the X-ray spectrum, cutting patient radiation dose to as little as half of that from comparable CT systems. With its ability to minimize dose, the Force could find a place in lung screening programs with their obvious need to limit radiation dose. The system can cover the chest and abdomen in a second, eliminating breath holds and artifact due to cardiac motion with heart rates up to 90 beats-per-minute.
Philips returned with last year's work-in-progress IQon Spectral CT system newly cleared by the U.S. Food and Drug Administration (FDA). Built around a detector that can simultaneously discriminate between X-ray photons of multiple energies from high to low, IQon interprets photon strikes, then provides a grayscale anatomical image and, upon demand, color-enhanced images that identify the composition of tissues and structures.
Hoping to capitalize on growing interest in lung cancer screening, the company hawked a collection of workflow software, patient management, marketing advice and physician education designed to help providers implement an effective screening program. 
Business class CTs stepped into the limelight with Siemens' release of the Somatom Perspective, available in 16- and 32-slice configurations, and its 16-slice Somatom Scope. Hitachi showed two works in progress, Scenaria 3.0, which can be configured to deliver 64 or 128 slices per rotation, and an ultra-compact, 16-slice CT called Supria, each incorporating advanced dose reduction features. 
DBT Takes Hold
For years Hologic had the U.S. market for digital breast tomosynthesis (DBT) to itself. But this year, the pioneer of DBT had to share the stage with GE, which received FDA approval for its SenoClaire in August 2014. Showing its own entrant as a work in progress was Siemens, which filed last June with the FDA for approval of its Mammomat Inspiration. 
"Two" was already a crowd on the RSNA 2014 exhibit floor, as claims and counterclaims drifted between the GE and Hologic booths. A checklist prominently displayed by Hologic with many more checks in its column than the other was met by a similarly one-sided argument by GE, with marketers on both sides digging in for what is shaping up to be a disharmonious battle.  
GE stressed that its SenoClaire, which has been in European markets for more than a year, makes nine separate X-ray exposures as it arcs across a portion of the breast. Exposures typically are finished in less than 10 seconds. Dose is the same as that of a 2-D mammogram, according to GE. 
Hologic claims a similarly low dose with 15 exposures obtained through continuous tube motion over a four-second span. The resulting 3-D data set serves as the basis for both tomo, as well as 2-D images processed using the company's FDA-approved C-View software option. The vast majority of new Selenia Dimensions systems ship with this option, according to Hologic. More than 40 percent of the units installed in the United States now have it. Hologic also promoted its "Genius 3D Mammography Exams," a campaign that launched in October to grow interest in the system.
Siemens' Mammomat Inspiration with Breast Tomosynthesis, shown as a work in progress for the U.S. market, is designed to acquire 25 projection views over a 50-degree arc. Systems have been available commercially since 2009 in Europe, Asia and South America.
At the very least, the talk about DBT products on and nearing the U.S. market will generate buzz. A boost in Medicare reimbursement of $57 for tomo screening and for diagnostic exams in addition to the assigned payments rates, which took effect Jan. 1, 2015, will further drive interest, as will a continuing stream of research papers demonstrating positive clinical impact.
At the 2014 RSNA meeting, radiologists from Oslo University Hospital in Oslo, Norway, reported that DBT significantly increases the cancer detection rate in dense breast tissue. Their study of more than 25,000 women showed that digital mammography plus tomosynthesis detected 80 percent of 132 cancers in women with dense breasts, compared to 59 percent for mammography alone. This research comes on the footfalls of a key study reported last June in the Journal of the American Medical Association, where it was reported that adding tomo to mammography screening boosted cancer detection by 29 percent while reducing recalls by 15 percent.2 
MR Carves New Niches
GE dusted off its Signa brand, applied in the early 1980s to the company's first MR scanners, seeking to recapture the association Signa once had with excellence. Toward that end, GE unveiled its work in progress Signa Pioneer 3.0T scanner with MAGiC, which GE claims can cut imaging times by as much as two-thirds. MAGiC allows the simultaneous acquisition of multiple image contrasts, for example, T1, T2, STIR, T1 FLAIR, T2 FLAIR and proton density. The resulting data set can be later processed to change acquisition parameters retrospectively.
The new scanner, which has neither FDA clearance nor CE marking, also features an enhanced version of Silent Scan, which can dramatically reduce noise levels for virtually any body part, as well as diffusion imaging.
Exemplifying the new realities of value-based imaging was Siemens work in progress 1.5T Magnetom Amira. Distinguished by low capital and operating costs, the new scanner will be marketed primarily to small and medium-sized hospitals, as well as larger facilities looking for a complement to one or more existing MRIs. In an effort to boost consistency, reproducibility and efficiency, the company plans to release the new system with DotGO, software that simplifies protocol management by suggesting sequences matched to scan requirements.
In a similar vein, Toshiba America unveiled the Vantage Elan. The 1.5T scanner features a compact footprint and low-cost suited to facilities in small communities and rural areas.
Siemens 510(k)-pending SEEit is being groomed to support prostate MRI without an endorectal coil. The work in progress is designed for use on the Magnetom Aera 1.5T and Magnetom Skyra 3.0T utilizing high-density coil technology built into the company's Tim 4G and its readout segmented diffusion technology, Resolve. SEEit promises routine prostate exams in 10 minutes when used with Siemens new Body 60 channel coil, which is also pending FDA clearance.
Philips released Ingenia 1.5T S with Ambient MR In-Bore, a high-field workhorse set to begin shipping in Q1 2015. Ingenia 1.5T S emphasizes image quality, including advanced fat-free and motion-free techniques, along with in-bore visual and audio technologies that enhance patient comfort.
Hitachi showed as a work-in-progress a 3.0T version of its Oval product family, so named because it features oval-shaped bores. Also as a work in progress, the company unveiled for its Oval 1.5T MR scanner the Evolution 5.0 upgrade, which includes perfusion arterial spin labeling, as well as k-space parallel imaging, breast spectroscopy, T2 relaxation mapping and optimized FSE.
The Promise of Neutrality
Vendor neutral archives (VNA) promise to handle DICOM as well as non-DICOM data; communicate with outside health information exchanges (HIE) using standard protocol; and allow access through a standard interface, ideally a universal viewer available on desktop and mobile devices. 
Carestream showed its Vue for Clinical Collaboration Platform, which uses a VNA to compile and share data from dermatology, endoscopy, radiology and cardiology. 
BridgeHead introduced HealthStore Independent Clinical Archive, a modular product that works with the company's Healthcare Data Management platform, which together make data access easier, faster and simpler, according to the company, by allowing PACS and other department-specific information systems to concentrate on their assigned duties. 
Agfa unveiled its Enterprise Imaging Suite, a VNA-based bridge of the "ologies" that emphasizes efficient workflow solutions and timely communication with referring physicians. 
McKesson upgraded McKesson Radiology, emphasizing its Clinical Data Exchange for managing, sharing and accessing images and patient data, as well as Mammography Plus Version 2.0, which serves as a PACS with access to multimodality breast imaging.
Hybrid Ranks Swell
GE unveiled its first PET/MR scanner, joining Siemens and Philips, which displayed such hybrids four years ago. The scanner, which is pending FDA clearance, acquires MR at 3.0T and time-of-flight PET simultaneously. This new system, called Signa PET/MR, sports an MR-compatible silicon photomultiplier detector that is up to three times more sensitive than the detector built into GE Healthcare's Discovery PET/CT 690. 
Toshiba America displayed its first entry into molecular imaging hybrids, the Celesteion PET/CT, first revealed at the June 2013 Society of Nuclear Medicine and Molecular Imaging meeting. The company hopes to attract buyers with increased patient comfort and safety, claiming the industry's largest bore, widest field-of-view, dose reduction technology and fast imaging. The bore is 90 cm for CT; 88 cm for PET. Field-of-view is 70 cm for both CT and PET with an 85 cm CT extended FOV. Dose is minimized through Toshiba's adaptive iterative dose reduction and Celesteion's compliance with the Medical Imaging and Technology Alliance's XR-29 Smart Dose Standard. The new PET/CT offers time-of-flight resolution and 0.5 sec CT rotation with 0.5 mm slices across a 32-slice detector.
Toshiba extended hybridization to the interventional suite with its combination of CT and biplane angiography. Its Infinix 4DCT, featuring a CT gantry on rails lined up with an interventional table, is designed to allow planning, treatment and procedure verification in a single clinical setting. Its use could speed procedures, while reducing patient risk by eliminating the need to transfer a patient from interventional radiology to CT. The FDA has cleared configurations involving the Toshiba Elite and Aquilion One ViSION Edition CTs. Clearance is pending for use with the Aquilion Prime CT.
Siemens took a less technology intensive tack with its syngo Dyna4D angiography software, which processes angio data sets into 4-D maps that show the passage of contrast medium in real time. By determining the extent to which vessels fill, interventionalists might tailor therapy more precisely, according to the company.
Ultrasound, X-ray Proliferate
Super premium systems built by multi-modality providers were newly outfitted with shear wave elastography, an extension exemplified by GE's Logiq E9 ultrasound system, whose newfound ability to quantify tissue stiffness may turn up early signs of liver fibrosis, for example, or breast cancer.
New to ultrasound was Carestream, which unveiled a high-performance prototype of the Touch scanner. Named for the touch screen that takes the place of a traditional keyboard, Touch packs advanced imaging capabilities into a compact, cart-based footprint. Two models at different levels of performance are scheduled to launch commercially in Q3 2015. Both will feature an all-touch control panel offering a soft user interface with the kind of tactile feedback otherwise found on a traditional keyboard. Four smart transducers, mounted on a single-board graphics processing unit (GPU), will activate with the press of a button on the transducer itself.  
GE's pocket-sized Vscan sported a two-in-one probe at RSNA 2014 — one transducer for shallow views, another for deep. The goal behind Vscan, when it was first shown in 2009 and again at this RSNA, is to provide doctors a quick look at their patients or provide guidance for the insertion of central or peripheral lines. This may come in the emergency department, obstetric clinic or patient bedside. At the other end of the OB spectrum was GE's Voluson E10, which generates photo-realistic, colorized 3-D images of the fetus in motion. Utilizing 8,000 piezoelectric crystals to electronically steer the ultrasound beam, the E10 — first shown at the ISUOG meeting in September — delivers a detailed look at fetal blood vessels, heart, brain and other organs.
Konica Minolta launched an advanced point-of-care ultrasound unit built from intellectual property gained through its acquisition of Panasonic's ultrasound business in early 2014. 
Mindray Medical International showcased its M9, a premium compact echocardiography system, as well as an enhanced version of its ZS3 ultrasound platform. (The ZS3 entered Mindray's portfolio following the corporate purchase of Zonare in 2013.) 
Samsung commercially launched its RS80A high-resolution ultrasound scanner, shown at RSNA 2013 as a work in progress.
Konica Minolta, Agfa and FujiFilm Medical each showed new X-ray detector panels. Notably FujiFilm's FDR D-EVO II, a work in progress panel measuring 24 x 30 cm, sports a high-efficiency cesium iodide film, as do FujiFilm flat panels ready for or nearing market measuring 14 x 17 inch and 17 x 17 inch. Each is encased in packaging that resists moisture and germs, is 20 percent lighter, made from a durable magnesium alloy and features improved battery life. 
References
1. Levin DC, Rao VM, Parker L, "Financial Impact of Medicare Code Bundling of CT of the Abdomen and Pelvis." American Journal of Roentgenology. 2014;202: 1069-1071. www.ajronline.org/doi/abs/10.2214/AJR.13.11504
2. Friedewald SM,  Rafferty EA, Rose SL, et.al, "Breast Cancer Screening Using Tomosynthesis in Combination With Digital Mammography." JAMA. 2014;311(24):2499-2507
Greg Freiherr has reported on developments in radiology since 1983. He runs the consulting service, The Freiherr Group. Read more of his views on his blog at www.itnonline.com.