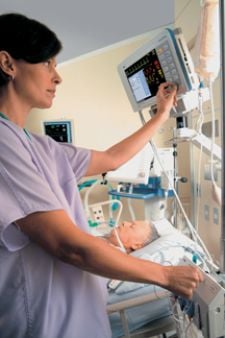 More women are learning about an imaging technique that offers a noninvasive alternative to hysterectomy for women with uterine fibroids and they are finding this procedure to be very accessible in outpatient centers.
Both interventional radiologists and OB/GYN doctors are applying magnetic resonance-guided focused ultrasound (MRgFUS), which uses focused beams of ultrasound with intensities of up to 5000W/cm to ablate tumors inside the body. The energy is thousands of times stronger than diagnostic ultrasound since the ultrasound energy is focused similarly to how a magnifying glass focuses light. With MRgFUS, effects are noted only at the targeted region and surrounding tissue is spared. In addition, as this procedure utilizes only MRI and ultrasound there are no harmful radiation effects to the patient.
Widespread Adoption, Applications
Worldwide, over 4,000 procedures have been performed for various indications. Today, the primary indication for MRgFUS and the only one approved in the U.S. by the FDA for commercial use is for uterine fibroids. However, the procedure also has the CE mark for fibroid and bone metastasis treatments in Europe, with National Institute of Health and Clinical Excellence (NICE) guidelines published in the UK. Other applications of this technology that are currently under investigation are breast tumors, liver tumors and prostate cancer.
Thus far, there is only one FDA-approved MRgFUS system, ExAblate developed by InSightec, which is used for incisionless surgery for uterine fibroids with GE Healthcare's 1.5T and 3.0T MRI systems.
Notably, this technique demonstrates the application of imaging in therapy and its ability to firstly, define the target/lesion for treatment; secondly, provide real-time thermal imaging as the therapy; and thirdly provide immediate posttreatment measures of tissue necrosis. Although the long-term durability of this method is not known, experts anticipate that MRgFUS will become a broadly applied thermal ablation method for many tumors and multiple diseases, allowing for noninvasive, image-based, individualized treatments.
Real-Time Treatment
Uterine fibroids, common benign masses in the uterus, affect 20-40 percent of Caucasian women over 35 years old and a significantly higher number of African and Afro-Caribbean women. Fibroids can be painful and cause urinary frequency, abnormal or heavy bleeding and pain during intercourse and possibly infertility.
The patient lies inside a magnetic resonance imaging (MRI) scanner, with real-time MR images employed to scan patient anatomy and tumor location.The MRI images are used to aid the physician in developing a treatment plan, and also for providing temperature feedback after each sonication, ensuring that temperatures are sufficiently elevated for cell death. Post treatment contrast-enhanced MRI images are obtained to confirm the amount of ablated or dead tissue inside the fibroid. This image-guided procedure requires no incisions, light conscious sedation, and mild pain relief (Diazemuls, pethidine, paracetamol and Voltarol Suppository).
Prior to treatment, the physician outlines the fibroid tumor to be treated as well as sensitive structures outside the uterus (such as bowel, pubic bone and sacral nerves). The system's computer generates a treatment plan indicating the number of individual bursts of high-intensity ultrasound (called sonications) required to complete treatment, the optimal size and shape of the spots, and ensures that the US beam does not pass through any of the marked sensitive structures outside the uterus.
During the treatment, sonications are delivered into the body by a focused ultrasound transducer. The transducer is housed inside a water bath in a special MRI patient table on which the patient lies.The sonications range in energy from 1.5 to 5kJ, and last 15-30 seconds in duration. Between sonications, a cooling period of 45-90 seconds prevents heating of tissue outside the targeted focal region.
Rapid Recovery, Low Risk
For both patients and the healthcare system as a whole, there are significant benefits to this noninvasive procedure particularly against currently alternative procedures for the fibroids, which include hysterectomy, myomectomy and uterine artery embolization.
As awareness about the procedure increases, more women view MRgFUS as a preferred or desirable option for treating their fibroids due to the noninvasiveness of the procedure and the quick recovery time.Many patients would actually choose the 'watchful waiting' option rather than a more invasive surgical procedure.The burden of uterine fibroids on healthcare costs for women who choose to live with fibroid symptoms is significant.There is evidence to show that women are seeking minimally invasive alternatives to hysterectomy, motivated by a trend toward later child-bearing and the desire to minimize recovery time.2 In another study, women with symptomatic fibroids waited an average of five years and consulted with an average of three gynecologists before undergoing UAE.3
In comparison, MRgFUS is an outpatient procedure, and patients are able to return home after a very short recovery time of approximately 30-60 minutes.Typical time to return to work with MRgFUS is between 0.8 ± 1.9 days.4 By contrast the time to return to work is over 30 days for hysterectomy and 10 days for UAE.
In a survey of 84 women with symptomatic fibroids the top factors that influenced their decision to choose UAE (the most minimally-invasive procedure at the time of that publication) included: desire to avoid adverse effects of other treatments (90 percent), anticipated prolonged recovery from surgery (83 percent), and avoiding surgery (71 percent).5
While no medical procedure is without risk, it has been demonstrated that MRgFUS has fewer risks than other treatment options for fibroids.6 The side-effects of MRgFUS include transfusion (3 percent), fever (6 percent) and vaginal discharge (7.5 percent). This is much lower than the 32 percent and 76 percent of women experiencing transfusions and fever respectively after a hysterectomy and the 21 percent of women experiencing vaginal discharge after UAE.7
With lower side effects comes a reduction in cost primarily attributed to hospital length of stay (LOS). This statistic has been documented for fibroid treatment. (see Table 1).
Procedure Cuts Time, Cost
A recent study investigated payer costs associated with 2,836 hysterectomy, 704 myomectomy and 125 UAE patients.8 It was shown that although there were significant differences in the procedure costs, the difference in total 12-month payer costs (medical, professional and pharmacy) for all three procedures was not significant (see Table 2).There were also more accident and emergency visits and hospital admissions after UAE than for hysterectomy and myomectomy.
From a patient and employer perspective, the minimal recovery time can be associated with fewer lost workdays. Several studies have reported the number of missed work days associated with UAE, hysterectomy and myomectomy, and the indirect costs associated with work loss and recovery time.
As patients and physicians become more aware of this noninvasive ablation procedure, the expectation is that the numbers of MRgFUS procedures will rise. With it will likely come greater awareness and expectation that non-invasive MRgFUS ablation procedures could be applied for use in treating various types of tumors. At this stage in the evolution of the technology, MRgFUS has proven to be efficacious and safe for the treatment of uterine fibroids with a minimal recovery time, can potentially save on provider resources and is a viable and cost-effective alternative to current fibroid treatments.
References:
1. Walker CL, Stewart EA. Uterine fibroids: the elephant in the room.Science. 2005 Jun 10;308(5728):1589-92.
2. Stewart EA. Uterine fibroids. Lancet 2001; 357(9252):293-298.
3. Pron G, Cohen M, Soucie J, Garvin G, Vanderburgh L, Bell S. The Ontario Uterine
Fibroid Embolization Trial. Part 1. Baseline patient characteristics, fibroid burden, and
impact on life. Fertil Steril 2003; 79(1):112-119.
4. Nevadunsky NS, Bachmann GA, Nosher J, Yu T. Women's decision-making
determinants in choosing uterine artery embolization for symptomatic fibroids. J Reprod
Med 2001; 46(10):870-874.
5. Stewart EA, Rabinovici J, Tempany CM, Inbar Y, Regan L, Gostout B, Hesley G, Kim HS, Hengst S, Gedroyc WM.Clinical outcomes of focused ultrasound surgery for the treatment of uterine fibroids.Fertil Steril. 2006 Jan;85(1):22-9.
6. Fennessy FM, Tempany CM, McDannold NJ, So MJ, Hesley G, Gostout B, Kim HS, Holland GA, Sarti DA, Hynynen K, Jolesz FA, Stewart EA.Uterine leiomyomas: MR imaging-guided focused ultrasound surgery--results of different treatment protocols.
Radiology. 2007 Jun;243(3):885-93.
7. Iverson RE, Jr., Chelmow D, Strohbehn K, Waldman L, Evantash EG. Relative morbidity of abdominal hysterectomy and myomectomy for management of uterine leiomyomas. Obstet Gynecol 1996; 88(3):415-419.
8. Corson SL, Brooks PG. Resectoscopic myomectomy. Fertil Steril 1991; 55(6):1041-1044.
9. Becker ER, Spalding J, Duchane J, Horowitz IR. Inpatient surgical treatment patterns for patients with uterine fibroids in the United States, 1998-2002. J Natl Med Assoc 2005; 97(10):1336-1342.
10. Dembek CJ, Pelletier EM, Isaacson KB, Spies JB.Payer costs in patients undergoing uterine artery embolization, hysterectomy, or myomectomy for treatment of uterine fibroids. J Vasc Interv Radiol. 2007 Oct;18(10):1207-13.
About the Authors:
Suzanne LeBlang, M.D.
Neuroradiologist
Director, MRgFUS program
University Image Guided Therapy Center
Boca Raton, FL
[email protected]
Arthur Chan, Ph.D.
Director, Clinical Marketing and Professional Education
InSightec, [email protected]