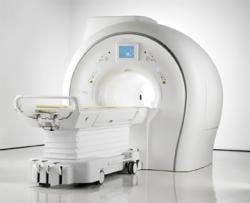 Hitachi's Echelon Oval 1.5T
Activity in the magnetic resonance imaging (MRI) systems marketplace this year included the appearance of several units featuring a wide bore. Despite its benefits in terms of soft tissue image quality, MRI always had a slight hurdle to overcome in terms of patient comfort, both for patients whose clautrophobic tendencies make them cringe at entering the small tube to the obese population that has difficulty fitting into a smaller opening. Systems offering another 10-14 cm of diameter make scanning easier for those groups and are attractive to providers that want to attract and accommodate as many patients as they can.
Among the newly cleared systems this year is the 3.0T Magnetom Spectra from Siemens, designed to provide high field strength at a cost-effective pricepoint. It received clearance from the U.S. Food and Drug Administration (FDA) at the end of July. 
At the end of August, the FDA cleared Toshiba's Vantage Titan 1.5T series, which features 8-, 16- and 32-channel systems. Earlier that month, Toshiba also had received clearance for a new high-density 16-element flexible coil system available for the Vantage Titan 1.5T systems, designed to improve signal-to-noise ratio. The Toshiba Vantage Titan 1.5T series features a 71 cm bore. 
Several models in the Siemens Magnetom series have a 70 cm bore, and GE Healthcare also has several wide bore units, including the Discovery MR750W 3.0T, cleared in 2011, and Optima MR 450W 1.5T systems. The first Discovery MR750W 3.0T was installed in the United States in March. 
Philips' Ingenia 1.5T and 3.0T models have a 70 cm bore. The Ingenia was FDA cleared in April 2011, and there are U.S. installations of both models.
Hitachi received FDA clearance for its Echelon Oval 1.5T wide-bore system in early May. It not only has the widest bore in the industry, at 74 cm, but also unique is the bore's oval shape. The first unit was installed in mid-September.
Market Ready for a Jump
Sales of MR systems are bound to see an uptick in the near future, as the number of old units in the field is getting high, according to a newly released survey by the IMV Medical Information Division, "2012 MR Market Outlook Report." The average age of installed scanners in the United States increased from eight years in 2007 to 10.9 years in 2011, the report notes, and IMV senior director of market research Lorna Young says, "… the market is ready for replacement of the older units that are at the end of their useful lives."
Among survey respondents, 22 percent said they plan to purchase a new MRI system in the next three years. Of the new installs, two-thirds will be wide bore units. "Providers plan to take advantage of the wider bore sizes that are now available," Young says.
IMV also notes that overall procedures performed in the U.S. rose about 6 percent, to 32 million procedures, from 2010 to 2011, but utilization at the site level increased 4 percent, and the average number of MR procedures performed per scanner fell 4 percent. The revenue drop was attributed to reduced reimbursements from Medicare and third-party payers, despite the slight increase in utilization.
Lower and upper extremity procedures grew 15 percent from 2010 to 2011, and were the biggest contributors to MR procedure growth, the research found. Two other large procedure categories were spine and brain. Orthopedic procedures also grew.
The report also showed a drop in contrast usage, from 42 percent in 2010, to 37 percent of all MR procedures in 2011. Providers indicated concerns about the risk of nephrogenic system fibrosis (NSF) from gadolinium-based contrast agents (GBCA), the report said. More than 75 percent of the survey respondents said NSF prevention is a priority patient management issue for their departments.
Other survey findings of note: 63 percent of all MR studies were performed in hospitals or in hospital-owned imaging centers, and 1.5T units still predominate, "representing 70 percent of all recently installed MR scanners and 70 percent of all systems currently in place," IMV says. 
Is 3.0T Worth the Money?
The value of 3.0T versus 1.5T systems was discussed at the beginning of the year by ECRI Institute in its "Top 10 C-Suite Watch List: Hospital Technology Issues for 2012." It asked, "Are higher resolution and more detailed images worth the extra $1 million cost of ultra-high-field strength (3.0T) MRI?"
ECRI noted that while technology improvements have made 3.0T suitable for routine body imaging, "Purchasing an expensive 3.0T system for routine MRI applications, however, is still difficult to justify — at least until additional research demonstrates added clinical utility." 
But when it comes to neurosurgical applications, the benefits of 3.0T MRI are well established, ECRI said, and "facilities that serve neurosurgery programs should seriously consider acquiring a 3.0T system."
ITN columnist Greg Freiherr contended in his July/August "The Last Read" column that prices for 3.0T are dropping to a range that makes them more affordable for providers, more in line with what buyers previously paid for 1.5T systems in the past. "So while 3.0T may not as yet have proven that its heftier field strength provides a clinical advantage over the long-time [1.5T] king of MRI, its images are clearer and its price well within the reach of what buyers are used to paying," he said. itn
For more information about ECRI or its report, visit www.ecri.org. For more information about the IMV survey, visit www.imvinfo.com.