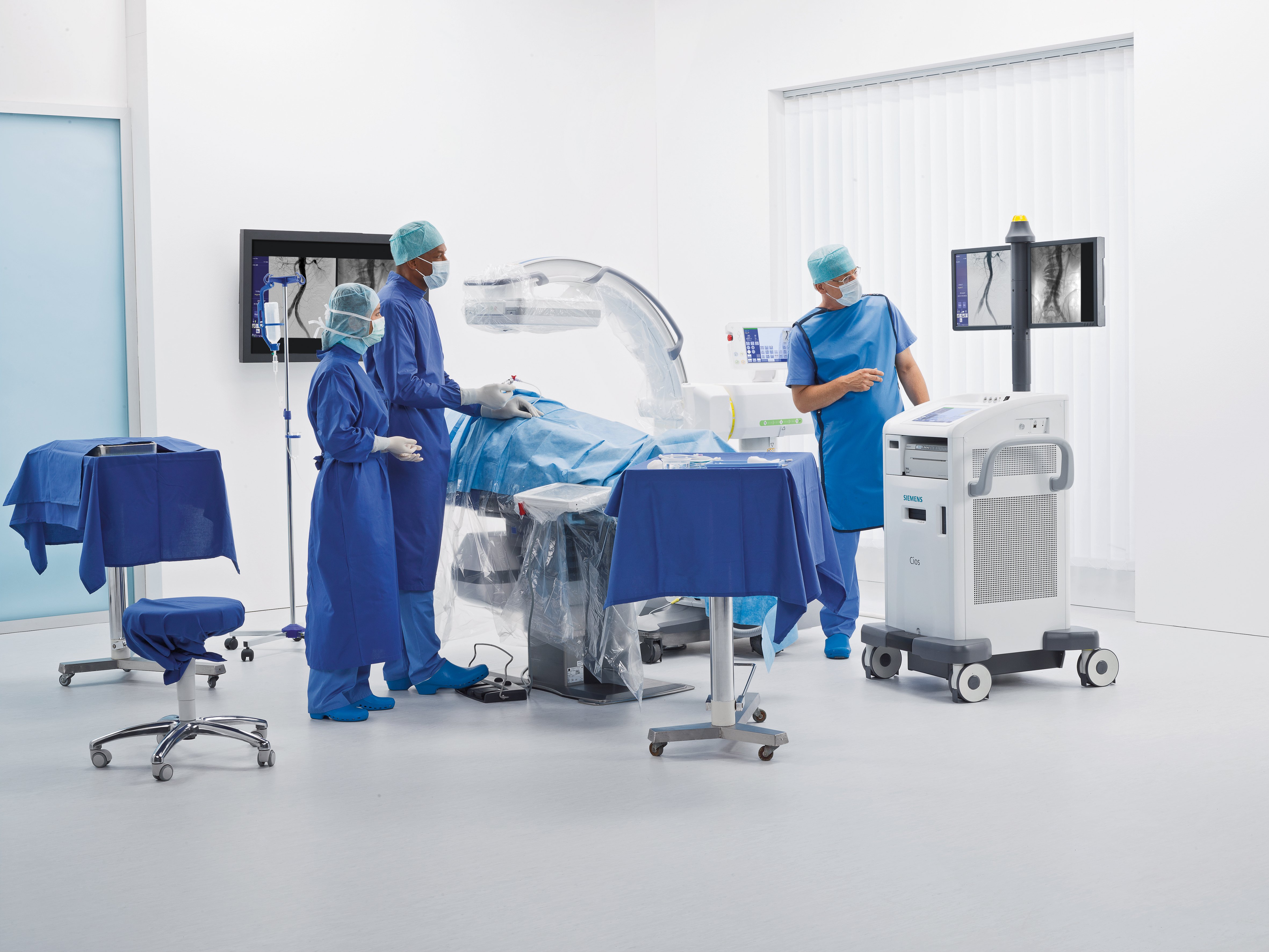 Siemens' Cios mobile C-arm system.
Mobile C-arm fluoroscopic X-ray systems are used for a variety of diagnostic imaging and minimally invasive surgical procedures. In the operating room (OR), they help in visualizing kidney drainage, abdominal and thoracic aortic aneurysm repair, percutaneous valve replacements, cardiac surgery, vascular surgery, gastroenterology, neuro stimulation, orthopedics, pain management and neurology procedures. Included in the mobile C-arm category are mini C-arms, which are smaller systems used in clinics for sports medicine, orthopedic and podiatric imaging.
There are only a handful of key players in the United States C-arm market, including GE Healthcare/OEC, Philips, Siemens and Ziehm Imaging. Outside the U.S., Shimadzu and Hitachi also sell systems. German-based Ziehm is a market leader in Europe and has made a strong push into the U.S. market over the last few years. In 2009, Philips expanded its product portfolio when it acquired Meditronics, the manufacturer of diagnostic and interventional X-ray systems. Manufacturers of mini C-arms include Hologic and Orthoscan.
Features on newer mobile C-arm systems include 3-D navigation aids and image processing software to improve image quality and system capabilities. For example, the cardiac and vascular models of GE/OEC imaging systems use motion tolerant subtraction (MTS) advanced processing algorithms to enable real-time subtraction without using a mask image. This allows the physician to perform a complete extremity run-off with a single contrast media injection and a single imaging run.
Some systems offer technologies to reduce the radiation dose delivered to patients. Other features include a touch-screen interface, laser aiming guides, digital subtraction angiography (DSA) and procedure roadmapping, allowing vascular procedures to be planned with minimum amounts of contrast media and shorter fluoroscopy times.
Read an updated version of this story covering recent mobile C-arm advances in the article "Mobile C-arms Enhancing Flexibility."
Read an updated version of this story covering recent mobile C-arm advances in the article "Mobile C-arms Mature But Improving."
 
Flat-Panel Systems
Most mobile C-arms use image intensifiers with a charge-coupled device (CCD) camera. Ziehm was the first to introduce a digital flat-panel detector system with its Vision FD flat-panel detector (FPD) mobile C-arm. Philips followed with its 2009 release of the Veradius system.
Manufacturers say the flat-panel detectors offer better image quality and a smaller system that takes up less room in the OR. They also offer a larger field of view (FOV) that is unaffected by geometrical distortions, and the detector is not affected by magnetic distortions, so the system can be freely positioned. Philips says a smaller flat-panel detector offers fewer obstructions in the OR, allowing more room to see team members and coordinate tasks.
A Less Expensive Option for Hybrid ORs
High-quality angiographic X-ray imaging systems are a key component when planning a hybrid operating room. For this reason, large fixed angiography systems are generally considered when creating these rooms, because the image quality has traditionally been much better than mobile C-arms. However, advances in detector technology and new imaging software have greatly improved mobile C-arm capabilities over the last few years.
Fixed systems also use liquid cooling systems to prevent overheating during prolonged imaging. In March, Ziehm introduced its newest mobile C-arm, the Vision RFD, with a liquid cooling system to allow continued use during long procedures. The company hopes the system will compete as a less expensive alternative to fixed systems in hybrid ORs.
The new system uses flat-panel technology to deliver distortion-free images with more than 16,000 shades of gray and a resolution of 1.5 by 1.5 k pixels. The detector is not affected by magnetic fields, so it also produces distortion-free, detail-rich images when close to magnetic resonance (MR) scanners. The square display format creates a significantly larger visible area with up to 60 percent more information per X-ray than conventional image intensifiers.
Another feature usually only found on fixed systems is a contrast media injector interface to synchronize injection of contrast with the imaging process. The Vision RFD offers this same interface. The new Ziehm system was recognized in February with Frost & Sullivan's European Product Leadership Award 2011 in the interventional radiology category.
C-Arm Tables
C-arms work in conjunction with patient tables that are specifically designed for X-ray imaging. A table should allow free positioning of the C-arm around the patient. Some tables are designed to move and rotate to allow better patient access for procedures and to aid imaging angles. Tables also need to be X-ray translucent so they do not interfere with imaging. Carbon fiber tables are usually used in this role because they are strong and lightweight.
Comparison chart of C-arm Systems
This article served as an introduction for the ITN comparison chart on mobile C-arm systems. The chart includes all the players on the U.S. market and offers an apples-to-apples comparison of technical specifications. The chart requires a log-in, which is free and only takes a minute to sign up. It can be accessed at www.itnonline.com/content/mobile-c-arms