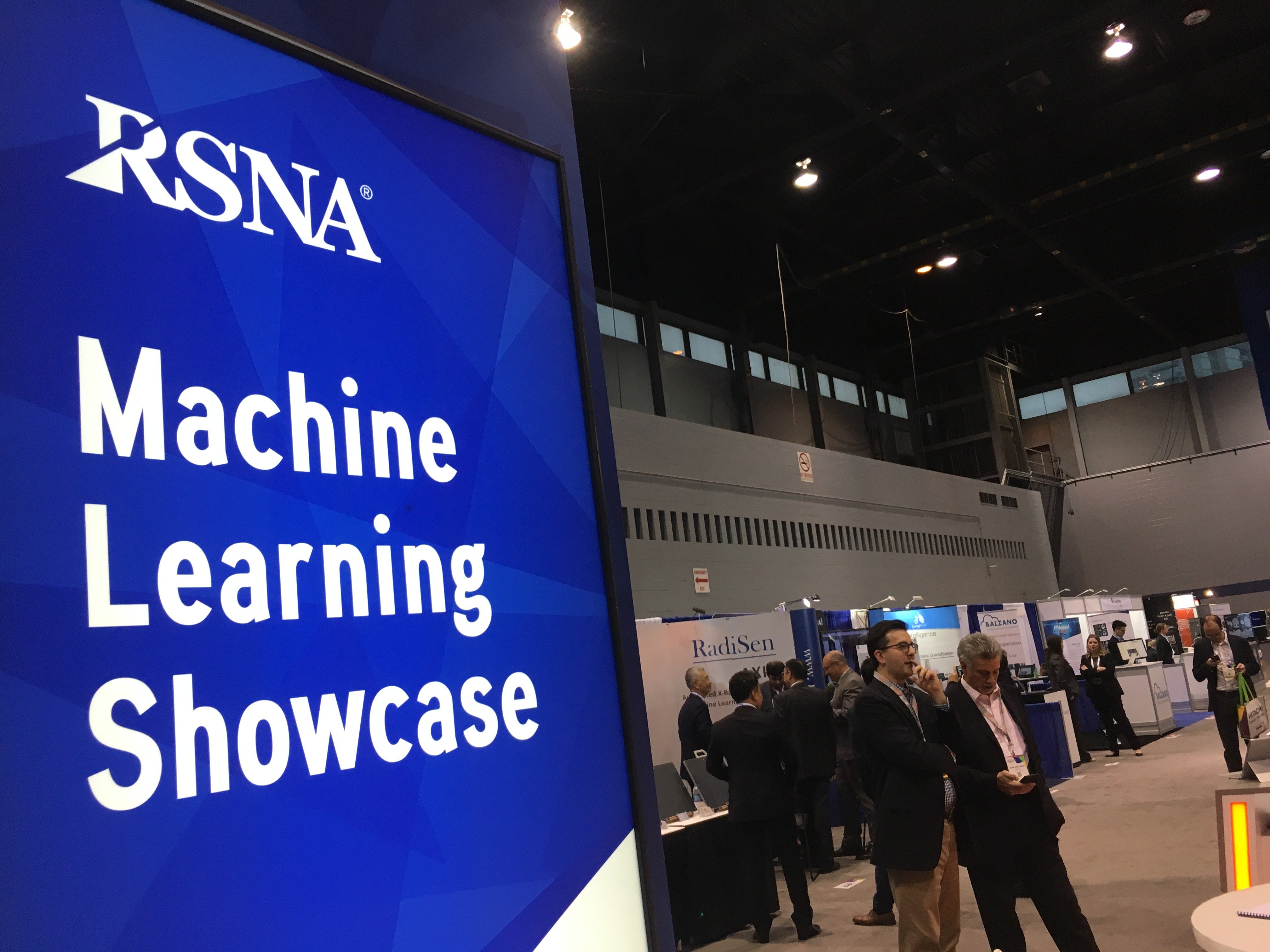 Artificial intelligence was the hottest topic at the 2018 Radiological Society of North America (RSNA)) meeting, which included a large area with its own presentation therater set asside for AI vendors.
Hands down, the hottest topic in radiology the past two years has been the implementation of artificial intelligence (AI) in radiology and how it will be integrated into medical imaging. As products now begin gaining U.S. Food and Drug Administration (FDA) market clearance, the next question with this potential technology revolution is how exactly to integrate the scores of new software applications from a large number of vendors into daily practice. 
The majority of the new AI software is coming from small startup companies and each piece of software cleared by the FDA covers one very specific medical imaging diagnostic review. Radiology experts have started asking how AI technology will be viable if it requires hundreds of contracts and integration of a large number of disparate software programs into the hospital or enterprise imaging system PACS. They say the need to deal with a large number of small companies for various pieces of the AI puzzle would be a nightmare for legal review, contracts and hospital IT departments.    
At the 2018 Radiological Society of North America (RSNA) meeting, about 150 companies showed technology that integrates some level of AI or deep learning. Many were concentrated in the specific Machine Learning Showcase area. However, only a small handful of these vendors actually have an FDA cleared project. But, this is changing rapidly and the number of new AI applications for medical imaging is expected to explode the next couple years. While these technologies may offer improved outcomes by immediately differentiating between a hemorrhagic and ischemic stroke, or identify a pneumothorax during a bedside X-ray, there are reservations in the market as to how this technology from numerous vendors can logically be implemented. 
The Creation of AI App Stores
Taking a note from Apple's App Store, larger healthcare IT vendors are starting to partner with smaller companies to provide a combination of home-grown and third-party apps through a web-based AI app store platform. Partnering companies need to meet compatibility and interface requirements that match those of the primary vendor's products to allow plug-and-play use. This model allows hospitals a single location and vendor to purchase AI software that offer a common IT interface. 
Elements of these platforms started to appear in early 2017, with the introduction of Siemen's Digital Ecosystem. That platform offers an online menu of apps from Siemens and partner IT firms, including some that offer AI enabled technology. At RSNA 2018, numerous companies announced the creation of, or expanded capabilities of, AI app stores. Examples include TeraRecon's Envoy AI, and AI app stores offered by Blackford, Visage, Sectra and IBM Watson.  
IBM Watson announcing at RSNA 2018 it is starting to partner with various AI vendors to offer their products on its new AI Marketplace. This was an interesting revelation, because IBM Watson was previously perceived to be the 500-pound gorilla in the medical AI space. The company originally planned to start rolling out a series of its own, in-house developed AI solutions across the healthcare spectrum. However, the company faced set backs like MD Anderson ending its partnership on cancer imaging AI, and the slow progress in commercializing AI products while many small startups began getting FDA clearances for AI clinical review products. In a booth presentation at RSNA, Steve Tolle, VP, global strategy and business development, acknowledged a single vendor cannot yet be all things to all people in the AI space. In order to be a major player in the growing AI market, he said the company needed to partner to offer access to a wide variety of AI apps.  
Tolle said IBM Watson's AI Marketplace will offer standardized application programming interfaces (API) for building or integrating third party software with availability through the IBM Cloud. 
GE Healthcare at RSNA unveiled its Edison platform, which is designed to help accelerate the development and adoption of new technologies, especially AI. GE's clinical partners would use the newly branded platform to develop algorithms and speed the path of advances in data processing to Edison applications and smart devices.
Where is AI Being Implemented in Medical Imaging?
There are four main areas where AI is being implemented: 
   1. Computer-aided diagnosis
   2. Clinical decision support
   3. Quantitative analysis tools
   4. Computer-aided detection
   
Automated quantification tools are entering a level of maturity and acceptance in the market, with AI making measurements from imaging exams and auto filling fields or performing calculations that were previously manual and time consuming. However, new frontiers in AI-driven auto quantification tools include radiomics, imaging biomarkers and virtual biopsies. 
AI-drive quantitative analysis tools also are being used in data analytics software used for departmental and hospital business management. Rather than the old and cumbersome process of running Crystal reports or manually tabulating data points, AI software can data mine connected electronic medical records, billing systems, patient scheduling and even individual scanning equipment. This data can be mined for everything from the amount of X-ray dose used by specific technologists or machines for specific exam protocols, to predictive analytics software that can pin point which days and times there were be back ups in the radiology department when additional staff should be scheduled. 
The newer AI areas of computer-aided diagnosis and clinical decision support were only recently introduced into the market and may take several years before they are found in general use. The primary areas where AI image diagnostic software is being developed and commercialized is for critical findings such as stroke or other maladies where timing is crucial. Other areas include identification of incidental findings and tools to reduce the time it takes to review complex exams, or to help auto triage patients who need additional or more immediate care.
Computer-aided detection has been around for years, but with the addition of machine learning algorithms, experts in the field are calling the newer generation AI-supported software "CAD that works," because of its much lower rate of false positives. 
Lots of Data is Needed to Validate AI
A big question in AI, especially with diagnostic algorithms, is how it gets validated. Large amounts of de-identifed data is needed to train deep learning software. At RSNA 2018, Philips Healthcare unveiled its IntelliSpace Discovery 3.0 platform to help facilitate the AI training data required. It is an advanced visualization and analysis platform designed specifically to support imaging research, and an extended version of its IntelliSpace Enterprise Edition that includes Philips' PerformanceBridge. Providers at dozens of institutions are already using the Discovery 3.0 version to prepare patient data to train and validate deep learning algorithms. 
Read the article "Selecting an AI Marketplace for Radiology: Key Considerations for Healthcare Providers."
 
Compare AI Software for Radiology on the U.S. Market
This article originally ran as a chart introduction to the Artificial Intelligence Software Comparison Chart in the January/February issue if ITN. The chart can be viewed here. This requires a login, but it is free to create.
Related Artificial Intelligence Content:
VIDEO: RSNA Post-game Report on Artificial Intelligence — ITN editors Dave Fornell and Greg Freiherr discuss the AI trends they saw at RSNA 2018
VIDEO: RSNA President Vijay Rao Says Artificial Intelligence is Hottest Tech Advancement in Radiology 
How Artificial Intelligence Will Change Medical Imaging
VIDEO: Editor's Choice of the Most Innovative New Artificial Intelligence Technologies at RSNA 2018
VIDEO: Technology Report: Artificial Intelligence
How to Market Healthcare Artificial Intelligence Software
Increasing Presence of AI at RSNA Reflects Emphasis on Efficiency
VIDEO: AI, Analytics and Informatics: The Future is Here — Interview with RSNA 2017 keynote speaker Michael Recht, M.D.
VIDEO: A Walk Through the RSNA 2018 Machine Learning Showcase
Selecting an AI Marketplace for Radiology: Key Considerations for Healthcare Providers
---
If you enjoy this content, please share it with a colleague