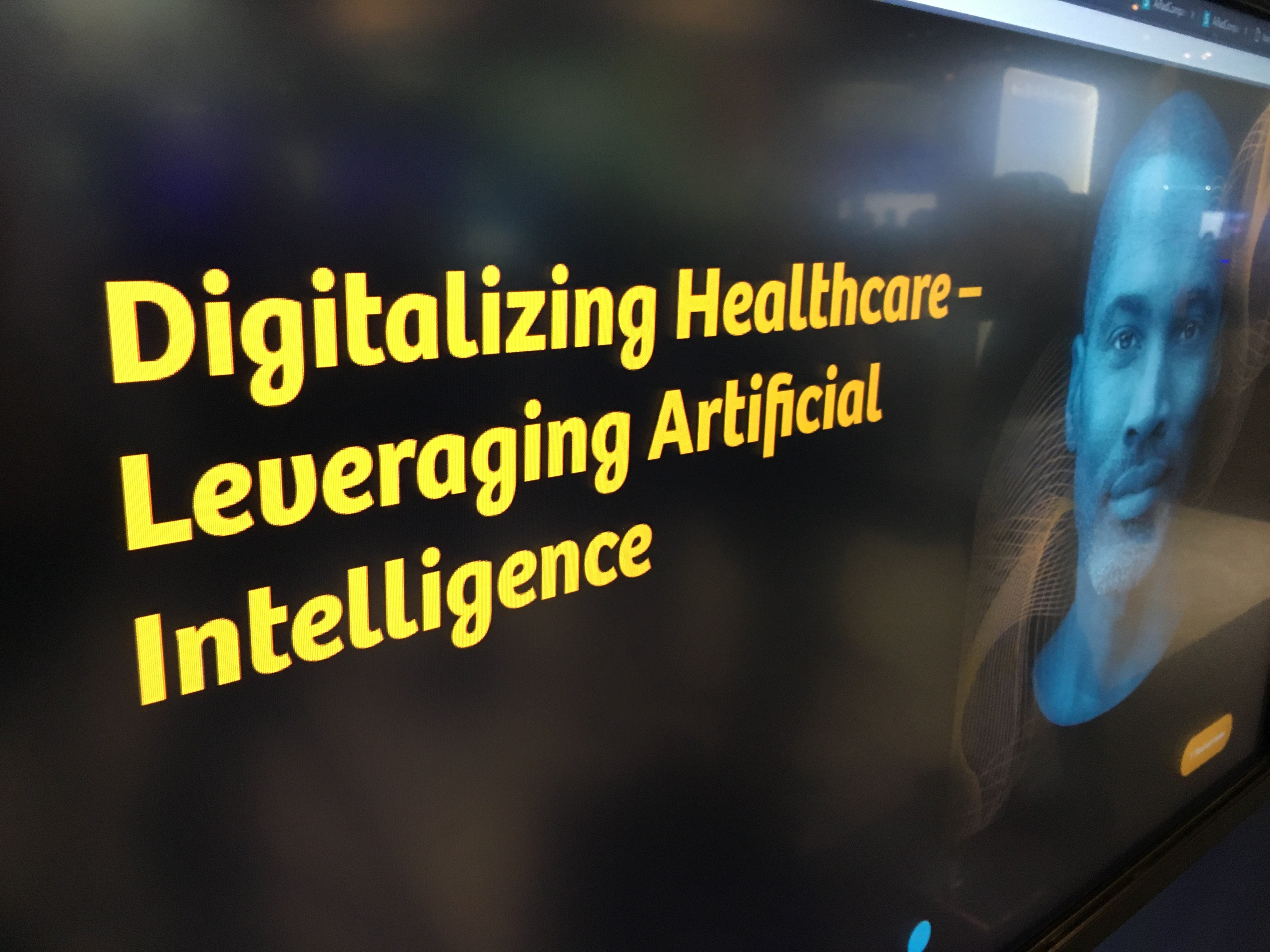 October 18, 2019 — As the nascent market for artificial intelligence (AI) in medical imaging develops, healthcare providers are faced with the question of how best to select, purchase and implement the rapidly expanding range of regulatory approved AI-enabled imaging applications and AI algorithms. More than 50 vendors have received regulatory clearance for medical imaging AI products and with more than 200 algorithm developers active in the market, product availability will increase many-fold in the coming years. Purchasing algorithms direct from multiple vendors adds an administrative overhead, not to mention the technical challenges of integrating these algorithms in existing systems and clinical workflows. AI platforms and marketplaces, akin to mobile app stores, offer a unified approach to deploying AI in medical imaging. A summary from Signify Research of the advantages and disadvantages for healthcare providers of AI marketplaces is provided below.

Signify Research graphic showing the advantages and disadvantages for healthcare providers of AI marketplaces.
The first marketplace/platform offerings entered the market in the last couple of years, and several new ones are expected to be announced at the 2019 annual meeting of the Radiological Society of North America (RSNA 2019). The performance and functionality of these solutions varies between vendors, with some offering what is essentially an online application store, with little or no support for integration, and others offering end-to-end solutions that address many of the engineering (deployment, workflow integration, etc.) and commercial (contracting, billing, etc.) challenges associated with the distribution and implementation of AI.
The following selection guide highlights some of the criteria that healthcare providers should consider when selecting a marketplace/platform vendor and compares six offerings from a selection of vendors from different parts of the world: Blackford Analysis (from the U.K.), Incepto (France), Nuance Healthcare (U.S.), Siemens Healthineers (Germany), TeraRecon (U.S.) and Wingspan (China). This selection guide is based on verified contributions from each of the vendors. Signify Research anticipates this will be a useful resource for healthcare providers when determining whether to implement a marketplace offering, and then, which vendor to select.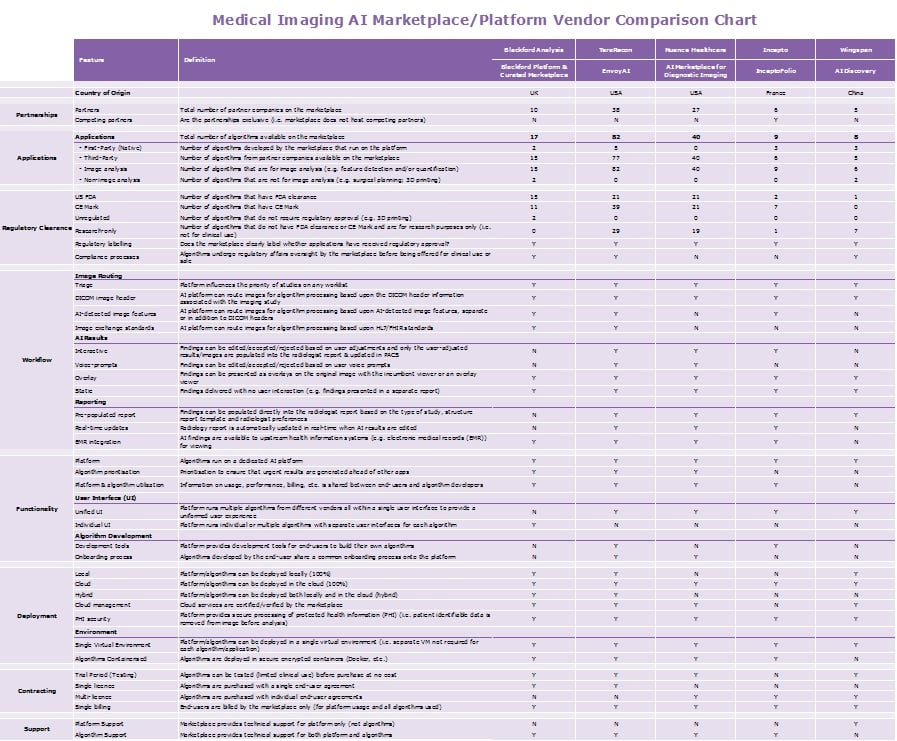 Access an expanded version of the chart here.
AI marketplaces with the most partners and greatest number of applications and algorithms may, at first sight, appear the obvious to partner with. However, healthcare providers are advised to consider how these will be implemented in clinical practice, and the level of contracting and technical support provided by the marketplace. The selection guide also covers a range of other criteria and functionalities that should be considered, and how today's marketplaces perform against these criteria. For example, when considering workflow integration, providers are advised to consider: 
How images are routed to the AI; 

How algorithms/applications are prioritized; 

How the radiologist engages with the AI results; and 

How the results are populated in the radiologist report. 
Other considerations include deployment options (cloud or on-premise) and tools for clinicians to develop their own AI solutions.
This is the first edition of the selection guide and Signify Research intends to release regular updates as new marketplaces/platforms come to market. The next release is scheduled for shortly after RSNA 2019.
Editor's note: Sanjay Parekh, Ph.D., is a senior market analyst with Signify Research. The firm is an independent supplier of market intelligence and consultancy to the global healthcare technology industry. Its major coverage areas are healthcare IT, medical imaging and digital health. Its clients include technology vendors, healthcare providers and payers, management consultants and investors. Signify Research is headquartered in Cranfield, U.K.
Related AI Marketplace Content:
How to Market Healthcare Artificial Intelligence Software
Nuance and Partners HealthCare Collaborate to Create AI Marketplace for Diagnostic Imaging
Siemens Healthineers Launches New Partners for Digital Ecosystem at HIMSS 2018
TeraRecon Receives First-of-Kind FDA Determination for Northstar AI Results Explorer
Densitas Breast Density Assessment Software Joins Nuance AI Marketplace
VIDEO: The Economics of Artificial Intelligence — Interview with Khan Siddiqui, M.D.
---
If you enjoy this content, please share it with a colleague