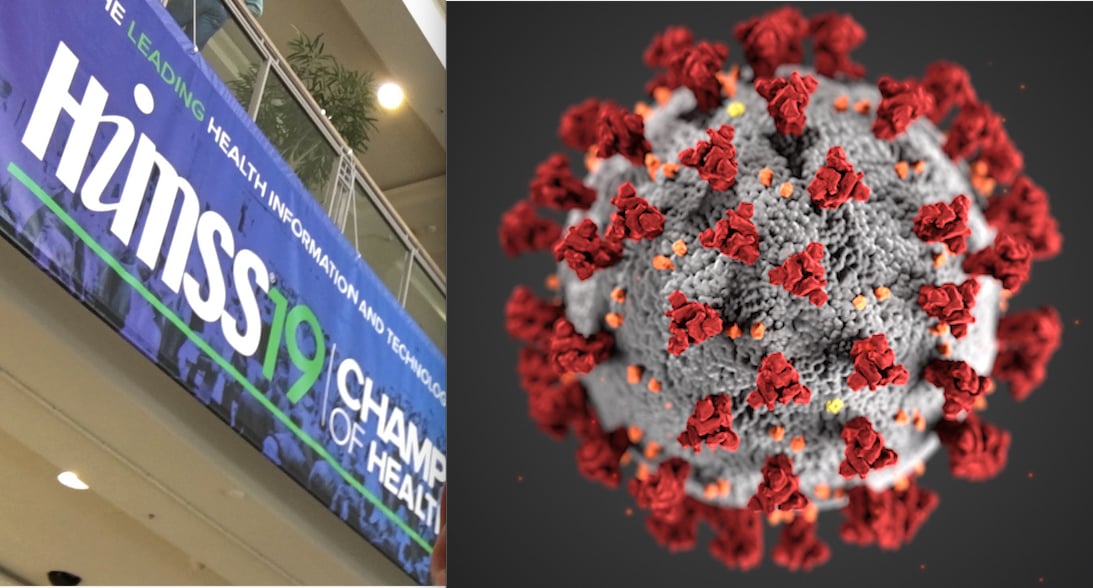 The HIMSS 2020 health information (IT) conference of more than 40,000 attendees was cancelled due to the threat of COVID-19 coronavirus.
March 5, 2020 – Due to the rapidly evolving novel coronavirus (COVID-19) situation in the U.S. and internationally, the Healthcare Information and Management Systems Society (HIMSS) announced today it is cancelling its five-day 2020 conference, which was slated to begin Monday. The large healthcare conference has more than 40,000 attendees.
HIMSS said the decision was partly due to recent reports from the World Health Organization (WHO) and the Centers for Disease Control and Prevention (CDC). However, dozens of vendors, including numerous anchor vendors, started pulling out of HIMSS starting Monday of this week, and numerous healthcare systems have announced they will not allow their employees to attend HIMSS or other conferences in case they need to implement emergency plans due to a sudden spread of COVID-19. HIMSS announced it is clearly necessary to cancel the 2020 HIMSS Global Health Conference and Exhibition.
"We recognize all the hard work that so many have put into preparing for their presentations and panels that accompany every HIMSS conference," said Hal Wolf, president and CEO of HIMSS. "Based on evaluation of evolving circumstances and coordination with an external advisory panel of medical professionals to support evidence-based decision making, it is clear that it would be an unacceptable risk to bring so many thousands of people together in Orlando next week."
The advisory panel recognized that industry understanding of the potential reach of the virus has changed significantly in the last 24 hours, which has made it impossible to accurately assess risk. Additionally, there are concerns about disproportionate risk to the healthcare system given the unique medical profile of global conference attendees and the consequences of potentially displacing healthcare workers during a critical time, as well as stressing the local health systems were there to be an adverse event.
This will be the first time in 58 years the event has been cancelled, but it is now clear that cancellation is unavoidable in order to meet HIMSS' obligation to protect the health and safety of the global HIMSS community, employees and local residents, as well as for the healthcare providers tasked with keeping our U.S. and global communities healthy.
HIMSS has about 1,300 exhibiting companies across a vast show floor. Several large companies began deciding this week to pull out of the conference because of concerns about employees health and potential travel issues if COVID-19 spread. Among a couple dozen companies that announced they were pulling out included Siemens Healthineers, IBM, Amazon, Change Healthcare, Cisco, DellEMC, HL7, Humana, Intel, Pure Storage, Roche, Visage Imaging, Vocera, Wolters Kluwer and numerous others. The companies announcing they planned to pull out and not attend HIMSS was a constant stream between Tuesday and Thursday morning. 
An additional issue confronting HIMSS was that several healthcare systems have told their employees not to attend the conference because if an outbreak of coronavirus occurs, they will be needed at their hospitals to help implement emergency plans. 
Siemens Healthineers was one of the first large vendors on the expo floor that announced it was pulling out of the conference due to safety concerns over the spread of COVID-19. Siemens decided to withdraw from all exhibits and trade shows globally for the month of March, including the large American College of Cardiology (ACC) meeting March 28-30.
Earlier in the week, COVID-19 fears also cancelled two European medical conferences, the European Society of Radiology announced it is postponing its European Congress of Radiology (ECR) annual meeting that was supposed to take placed March 11-15 in Vienna, Austria. COVID-19 fears also shut down the European Society of Cardiology (ESC) sponsored Acute Cardiovascular Care 2020 conference that was supposed to take place this weekend, March 7-9, in Athens, Greece. Read more about these cancelled conferences.
HIMSS20 exhibitors and attendees will be contacted with further information regarding booth contracts and registrations. Please contact [email protected] for immediate booth concerns. Any further updates regarding HIMSS20 will be published on himssconference.org.
ITN has published prelimiary coverage of HIMSS 2020. This article Deployment of Health IT in China's Fight Against the COVID-19 Epidemic was written by Jilan Liu, M.D., executive director of HIMSS Greater China, who was going to speak in a session at HIMSS 2020 on how to use health IT to prepare for and fight against the coronavirus.
Additional COVID-19 Resources for Clinicians:
World Health Organization (WHO) COVID-19 situation reports
World Health Organization (WHO) coronavirus information page
U.S. Food and Drug Administration (FDA) COVID-19 information page
Centers for Disease Control (CDC) COVID-19 information page
Centers for Medicare and Medicaid Services (CMS) frequently asked questions and answers (FAQs) for healthcare providers regarding COVID-19 related payments
 
RELATED CORONAVIRUS CONTENT:
The Cardiac Implications of Novel Coronavirus
CT Provides Best Diagnosis for Novel Coronavirus (COVID-19)
Radiology Lessons for Coronavirus From the SARS and MERS Epidemics
Deployment of Health IT in China's Fight Against the COVID-19 Epidemic
Emerging Technologies Proving Value in Chinese Coronavirus Fight
Radiologists Describe Coronavirus CT Imaging Features
Coronavirus Update from the FDA
CT Imaging of the 2019 Novel Coronavirus (2019-nCoV) Pneumonia
CT Imaging Features of 2019 Novel Coronavirus (2019-nCoV)
Chest CT Findings of Patients Infected With Novel Coronavirus 2019-nCoV Pneumonia 
Find more related clinical content Coronavirus (COVID-19)
---
If you enjoy this content, please share it with a colleague