An image from the Radiology article showing a baseline CT image of a 75 year old male with multiple patchy areas of pure ground glass opacity (GGO) and GGO with reticular and/or interlobular septal thickening. Follow-up CT images on day 3 after admission show an overlap of organizing pneumonia with diffuse alveolar damage in that it is more diffuse and associated with underlying reticulation. Read more and see 15 more images from novel coronavirus patients in the article.
February 11, 2020 — The Radiological Society of North America (RSNA) journal Radiology has published a study from researchers in China, who describe symptoms and computed tomography (CT) imaging findings in 51 patients infected with 2019 novel coronavirus (2019-nCoV). The article "Emerging Coronavirus 2019-nCoV Pneumonia" was published online Feb. 6.
"Patients with fever and/or cough and with conspicuous ground grass opacity lesions in the peripheral and posterior lungs on CT images combined with normal or decreased white blood cells and a history of epidemic exposure are highly suspected of 2019-nCoV pneumonia," the authors wrote.
Key findings of the study include:
   • Nearly all patients in this series with 2019-nCoV pneumonia (50/51 patients, 98 percent) had a history of the contact with individuals from Wuhan, China.
   • Chest CT showed pure ground grass opacities (GGOs) in 77 percent patients, GGOs with interstitial and/or interlobular septal thickening in 75 percent patients, GGOs with consolidation in 59% cases.
   • On chest CT, GGOs were bilateral in 88 percet of patients involving the posterior lungs in 82 percent and peripheral in 85 percent of patients.
 
Find all the latest Radiology coronavirus research at Special Focus: 2019-nCoV.
Current State of Coronavirus Status Report
As of Tuesday, Feb. 11, 2020, the World Health Organization (WHO) listed the following statistics on the spread of thee coronavirus:
   • 43,103 confirmed 2019-nCoV cases globally 
   • 42,708 of these cases are in China
   • 395 cases are confirmed outside of China in 24 countries
   • 1,018 deaths reported, all but 1 are in China
The novel coronavirus case fatality rate is around 2 percent. For comparison, the fatality rate for SARS was about 10 percent and for MERS 34 percent. Epidemiologists are concerned that the virus might mutate and increase virulence.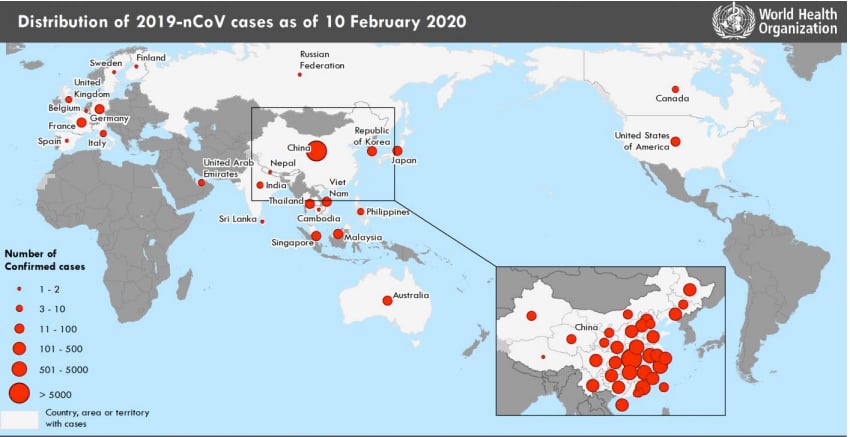 Corona virus (2019 nCoV) situation map as of Feb. 10, 2020, from the World Health Organization (WHO). 
The U.S. Food and Drug Administration (FDA) took steps in the coronavirus response effort Feb. 4, issuing an emergency use authorization for the first 2019 novel coronavirus diagnostic test. The Centers for Disease Control and Prevention (CDC) was using this test to confirm patients infected with the nCoV2019 virus and it is now released for use by qualified clinical labs. 
The CDC coronavirus page is located at https://www.cdc.gov/coronavirus/2019-ncov/index.html.
ECRI Institute has developed a Coronavirus Outbreak Preparedness Center to help hospitals protect healthcare workers and patients as the threat of coronavirus rapidly spreads across the globe. ECRI's Coronavirus Outbreak Preparedness Center includes:
   • Preparation and patient handling checklists
   • Equipment and alternative suppliers
   • Patient care equipment evaluations, including portable ventilators
   • Recommendations for infection control
   • Resources from Centers for Disease Control and World Health Organization
Related Coronavirus Imaging Content:
Radiologists Describe Coronavirus CT Imaging Features
The Cardiac Implications of Coronavirus
CT Imaging of the 2019 Novel Coronavirus (2019-nCoV) Pneumonia
Infervision in the Frontlines Against the Coronavirus
CT Imaging Features of 2019 Novel Coronavirus (2019-nCoV)
Find more related clinical content Coronavirus (COVID-19)
Reference:
1. Fengxiang Song, Nannan Shi, Fei Shan, et al. Emerging Coronavirus 2019-nCoV Pneumonia. Radiology. Published Online Feb. 6 2020. https://doi.org/10.1148/radiol.2020200274.
---
If you enjoy this content, please share it with a colleague