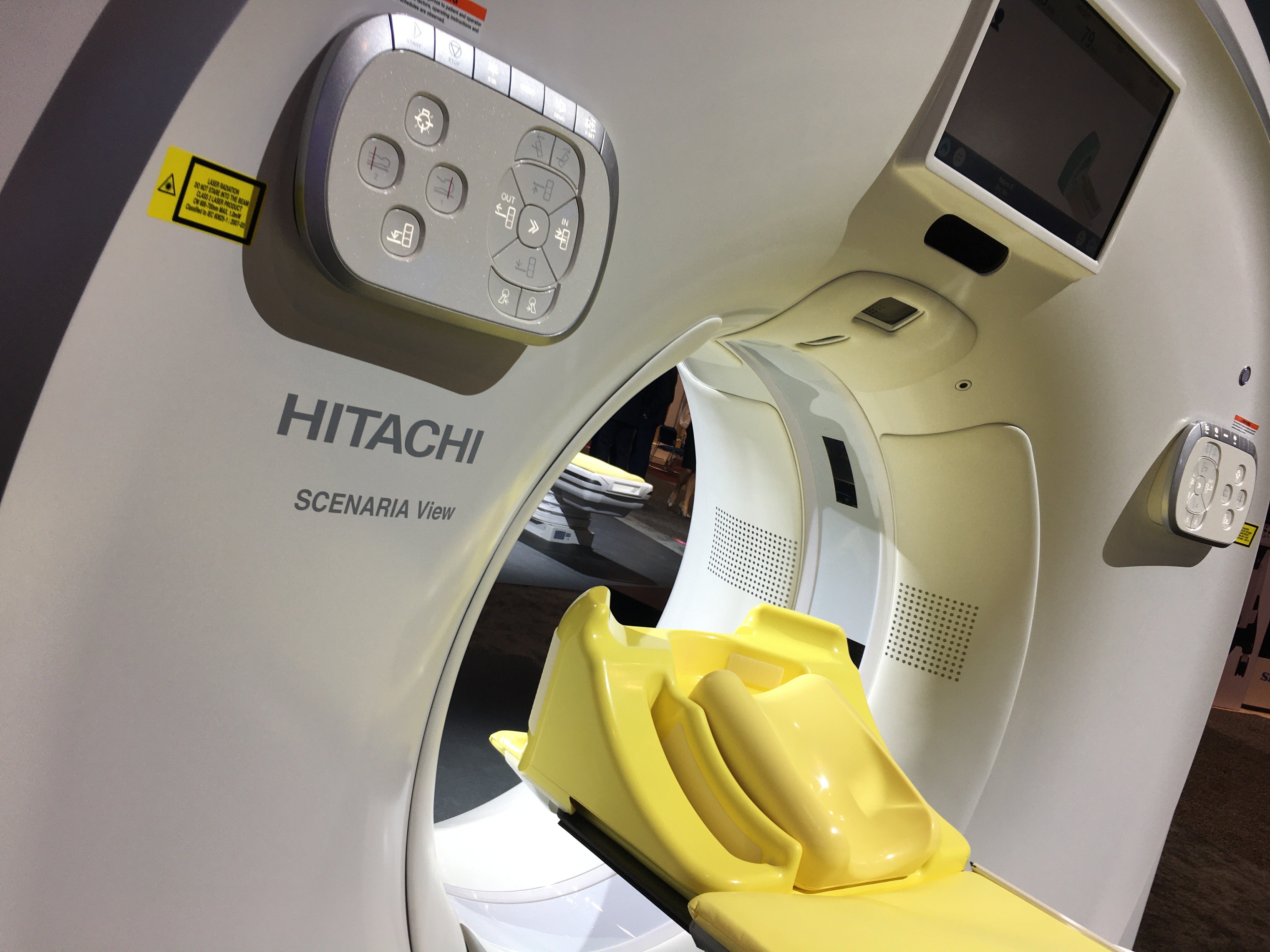 The Hitachi Scenaria View CT scanner on display at the 2019 Radiological Society of North America (RSNA) meeting in December. This workhorse 64 or 128 slice CT system, and Hitchai's portfolio of MRI and ultrasound systems, is attracting the attention of Fujifilm, which does not have some of these technologies. Combined, the new new portfolio may help Fujifilm capture a larger portion of international radiology market share. Photo by Dave Fornell.
December 17, 2019 — It was disclosed today that Fujifilm may buy Hitachi's diagnostic imaging business in a deal that could be worth about $1.55 billion. This was according to the Nikkei Asian Review business daily, which first broke the story early on Dec. 17. 
The acquisition would be designed to expand Fujifilm's footprint in the radiology market to better complete internationally with the big three medical imaging companies — GE Healthcare, Siemens Healthineers and Philips Healthcare. Worldwide, the big three vendors control more than 60 percent of the medical imaging market.
Nikkei reported Fujifilm has been beefing up its medical equipment business, particularly endoscopy and X-ray imaging. It is turning its attention to the CT scanners, MRI devices and workhorse ultrasound severs, which Hitachi specializes in and Fujifilm is missing from its current radiology portfolio. 
Both company are also working on artificial intelligence (AI) applications for medical imaging. The merger would help expand Fujifilm's REiLE AI suite of AI products. Hitachi also offers software tools and AI to speed workflow and aid completion of medical imaging reports. 
The Board of Directors for both Fujifilm and Hitachi are supposed to hold meetings to vote on the proposed deal Wednesday, Dec. 18, according to Nikkei. 
Reuters also reported Hitachi has been reorganizing its business, selling non-core assets, while buying foreign businesses to help expand its digital businesses.
Toshiba followed a similar path in recent years, selling off its medical imaging division to Canon. All of the Japanese medical imaging companies have struggled to gain a larger portion of international market share outside of Japan. Consolidation of these companies in recent years has been seen as a way to increase market share and help build wider medical imaging portfolios. 
---
If you enjoy this content, please share it with a colleague