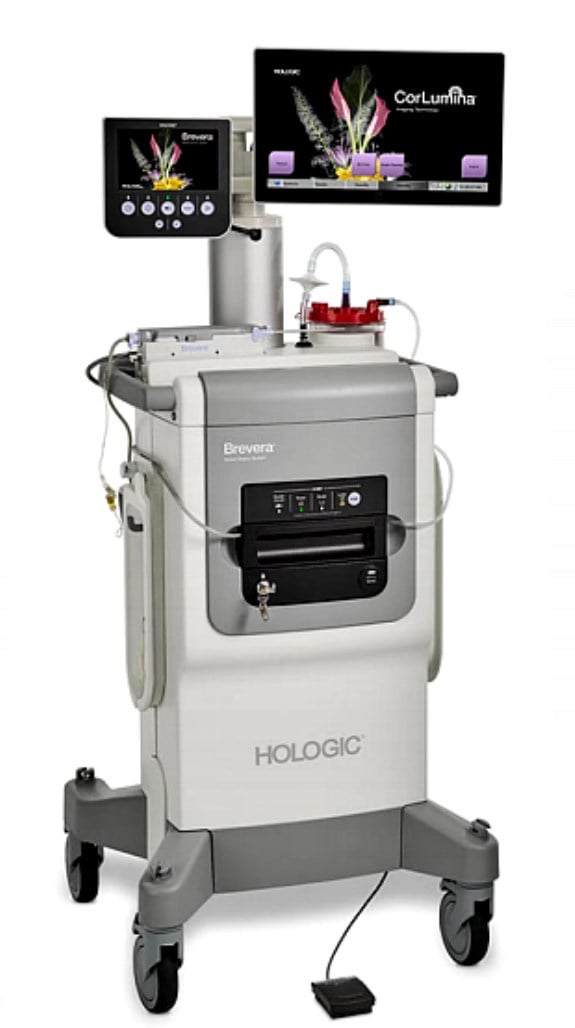 When it comes to breast imaging, mammography has long been the gold standard among breast cancer detection technologies. But as the cancer-masking effects and increased risks of dense fibroglandular breast tissue become better understood by both healthcare professionals and patients, mammography is no longer feasible as a one-size-fits-all approach to breast cancer screening. Radiologists of all subspecialties are also having to become more efficient as workloads continue to increase.
"With new focus on population health and value-based healthcare payment models, our customers need to be extremely effective in getting to a clinical answer," said Tracy Accardi, global vice president of research and development at Hologic. Recent advances in breast imaging technology — from acquisition to image processing, analysis and sharing — are geared toward helping radiologists tackle these challenges.
Tomosynthesis
Digital breast tomosynthesis (DBT), also known as 3-D mammography, was first put into clinical use in the early 2000s. In traditional 2-D mammography, images of the breast are captured in a single flat view, with lesions showing as white over a background of gray tissue. In breasts with high fibroglandular density, however, the cancer can be masked by the white dense tissue. Tomosynthesis images are built with layers, allowing radiologists to see past the dense tissue to the cancer underneath.
One of the newest offerings hit the market in January when Fujifilm received U.S. Food and Drug Administration (FDA) premarket approval (PMA) for the DBT option on its Aspire Cristalle full-field digital mammography (FFDM) system. Fujfilm's hexagonal close pattern (HCP) detector design forms the backbone of the tomosynthesis option. According to the company, traditional mammography systems — which feature square pixels — have a weakness in the electric field intensity between pixels due to the right angles, meaning that some of the converted X-ray information is not collected. The hexagonal pixel design of Aspire Cristalle features no right angles, improving overall electric field intensity, increasing the efficiency of signal capture and resulting in a higher-quality image.
Siemens Healthineers also received FDA approval for tomosynthesis add-on technology this year, introducing High Definition Breast Tomosynthesis in April. A new option for the Mammomat Inspiration digital mammography system, High Definition Breast Tomosynthesis uses advanced algorithms to enhance image quality. Dubbed EMPIRE technology (Enhanced Multiple Parameter Iterative Reconstruction), it uses advanced iterative reconstruction and machine learning algorithms to deliver sharp 3-D reconstructions. EMPIRE was approved for use only in 3-D exams, but it also includes Insight 2-D and 3-D, which creates a synthetic software-generated visualization of tomosynthesis volumes in both 2-D and 3-D.
While mammogram image quality is the primary concern of the radiologist, discomfort has long been the biggest complaint about the exam for patients. Compression of the breast is required to obtain an optimal image, and patients may be required to maintain an uncomfortable position during the exam. 
In recent years, mammography vendors have been working to improve the patient experience as well as the technology. GE Healthcare's newest mammography system, the Senographe Pristina — introduced at the 2016 Radiological Society of North America (RSNA) annual meeting and launched in the U.S. in March — was designed on such a patient-centric philosophy. All parts of the machine in contact with the patient's breasts have gentle, rounded corners for greater comfort, and new armrests allow the pectoral muscles to relax for easier positioning. Perhaps most importantly, patients can set their own compression level with a handheld remote. "Senographe Pristina offers patients a reinvented mammography experience, one that had not significantly changed for the last 40 years," said Kathy Schilling, M.D., medical director of the Christine E. Lynn Women's Health and Wellness Institute at Boca Raton Regional Hospital (Fla.).
Tomosynthesis-guided Biopsies
Breast imaging plays an important role in the second component of cancer diagnosis — tissue biopsy to confirm visual findings. For the procedure to be successful, there has to be strong correlation between what is seen on the mammogram and the biopsy system's findings. According to Rachael Bennett, BHS, R.T.(R)(T) and Julie Johnson of
MD Buyline, when DBT first came into clinical use, many biopsy systems — especially prone biopsy systems — were still using FFDM technology. This led to clinicians being unable to identify the lesion(s) found on the 3-D mammogram when the patient was on the biopsy table.
"It's imperative that clinicians are able to biopsy using the modality on which they've found a suspicious area," stressed Accardi.
"When you do tomosynthesis, you can find the precise slice where the lesion is, so the needle can be centrally located," said William Geiser, MS, DABR, senior medical physicist at MD Anderson Cancer Center in Houston during the 2017 American Association of Physicists in Medicine (AAPM) meeting in July. Geiser added that this capability is especially helpful for asymmetric lesions, as it is easier to get above and below the lesion.
Hologic became the first (and to date only) mammography vendor to offer a tomosynthesis-guided biopsy system when the Affirm prone biopsy table got FDA approval in April 2016. Then in late August of this year, the company announced the launch of the Brevera breast biopsy system with CorLumina imaging technology, which allows real-time biopsy and verification all on one system, potentially saving up to 10 minutes per patient and cutting the procedure time up to 25 percent, according to Hologic. The tissue sample collection and separation is automated, and the Brevera can integrate directly with the picture archiving and communication system (PACS) to streamline image sharing and transfer of patient records.
Geiser noted that there are currently no manufacturer-provided quality control (QC) programs for tomosynthesis-guided biopsy, and his advice to the audience at AAPM was to "do what you think is best." He suggested a number of QC procedures that technologists can perform, including:
•    Localization accuracy test (daily);
•    Phantom imaging (weekly);
•    Printer QC (monthly);
•    Visual checklist (monthly);
•    Compression (semi-annually);
•    Repeat analysis (quarterly);
•    Zero alignment test (per manufacturer); and
•    Dark room testing (if using film screen).
Molecular Breast Imaging
Molecular breast imaging (MBI) offers a supplemental screening choice when mammogram results are inconclusive. While mammography provides an anatomical assessment of the breast, MBI works to detect cancers via metabolic activity in the breast.
At present there are two different types of molecular breast imaging:
•   Breast-specific gamma imaging (BSGI) tracks blood flow via uptake of the radiotracer sestamibi. A single one-dimensional image is captured per view similar to mammography using a small-field-of-view gamma camera; and
•    High-resolution positron emission mammography (PEM), which uses the PET tracer F18-FDG to track glucose activity.
Each method is suited for particular applications. BSGI, for example, is often employed as a mammography adjunct to differentiate scar tissue from cancer recurrence, to screen patients contraindicated for magnetic resonance imaging (MRI) and/or to investigate indeterminate mammographic findings. PEM is often employed for presurgical staging and planning, evaluation of axillary lymph nodes, neoadjuvant chemotherapy response monitoring and to look for recurrent disease.1
Though it has only been in clinical use for a relatively short time, the effectiveness of MBI in detecting mammographically occult breast cancers has played out in several studies. Most recently, an August 2016 trial published in the American Journal of Roentgenology retrospectively assessed 1,696 women with dense breasts and negative mammography results who were subsequently screened using MBI. A total of 13 cancers were detected: 11 were invasive, one was node positive and one had unknown node positivity. Cancers ranged in size from 0.6 to 2.4 cm (mean 1.1 cm).
In total, the incremental cancer detection rate was 7.7 percent, recall rate was 8.4 percent and the biopsy rate was limited to 3.7 percent.2 
The number of commercially available MBI systems is currently limited to two — the LumaGEM MBI system from Gamma Medica and the Dilon 6800 from Dilon Diagnostics. Both systems were introduced in 2011.
Visualization Software Enhancements
While imaging system advances have helped improve the quality and workflow of acquisition, other technologies are enhancing the processing, analysis and sharing of breast imaging data.
Konica Minolta Healthcare offers a mammography module for its Exa PACS, which includes a multimodality zero-footprint viewer to eliminate the need for a dedicated breast imaging workstation. "Three-dimensional mammography exams are significantly larger than 2-D exams, and they can take much longer to open and read," said Emily Lafella, women's imaging product and sales specialist with Konica Minolta. Exa Mammo offers server-side rendering that Lafella said reduces network traffic up to 60 percent. She noted that the software has diagnostic-grade viewing capabilities.
Other recent software launches have been aimed at helping breast radiologists improve cancer detection. iCAD received FDA approval in March for its PowerLook Tomo Detection. Available on the PowerLook Breast Health Solutions platform, the application is designed for concurrent reading with tomosynthesis exams. It analyzes each layer of a tomo exam using machine learning algorithms (also known as artificial intelligence) for suspicious findings, then blends the findings onto a 2-D synthetic image, speeding up the interpretation process.
At the 2017 annual meeting of the Association for Medical Imaging Management (AHRA) in July, Volpara Solutions introduced Volpara Enterprise DDP, a software-as-a-service (SaaS) offering combining its VolparaDensity, VolparaDose and VolparaPressure tools. Breast radiologists can now access all three quantitative assessment applications through a subscription-based model. Each application adds a different dimension to breast imaging assessment: 
•    VolparaDensity provides objective, quantitative assessment of fibroglandular breast density, assigning a Volpara Density Grade to each image.
•    VolparaDose computes the radiation dose delivered to the patient based on individual breast density, delivering a personalized mean glandular dose (MGD). This provides a more accurate estimation of patient dose than most manufacturer systems, which is often based on phantom measurements; and
•    VolparaPressure helps monitor and optimize mammographic compression during the exam.
All key performance indicators (KPIs) tracked by the applications are presented via dynamic, interactive dashboards. These and other quality metrics are updated with each mammogram or tomography examination, and can help facilities comply with the FDA's Enhancing Quality Using the Inspection Program (EQUIP) mammography quality assessment initiative. 
Related Breast Imaging Content
New Technology and Clinical Data in Breast Imaging
VIDEO: Personalized Breast Screening and Breast Density
New Technology and Clinical Data in Breast Imaging
The Evolution of Breast Imaging Technology
VIDEO: Innovative Breast Cancer Screening for Women With Dense Breast Tissue
References
1. Shirazi, Parvez M.D. "Pros and Cons of Molecular Breast Imaging Tools," Imaging Technology News, July 25, 2012.
2. Shermis, Robin B., Wilson, Keith D., Doyle,  Malcolm T., et al. "Supplemental Breast Cancer Screening With Molecular Breast Imaging for Women With Dense Breast Tissue," American Journal of Roentgenology, August 2016