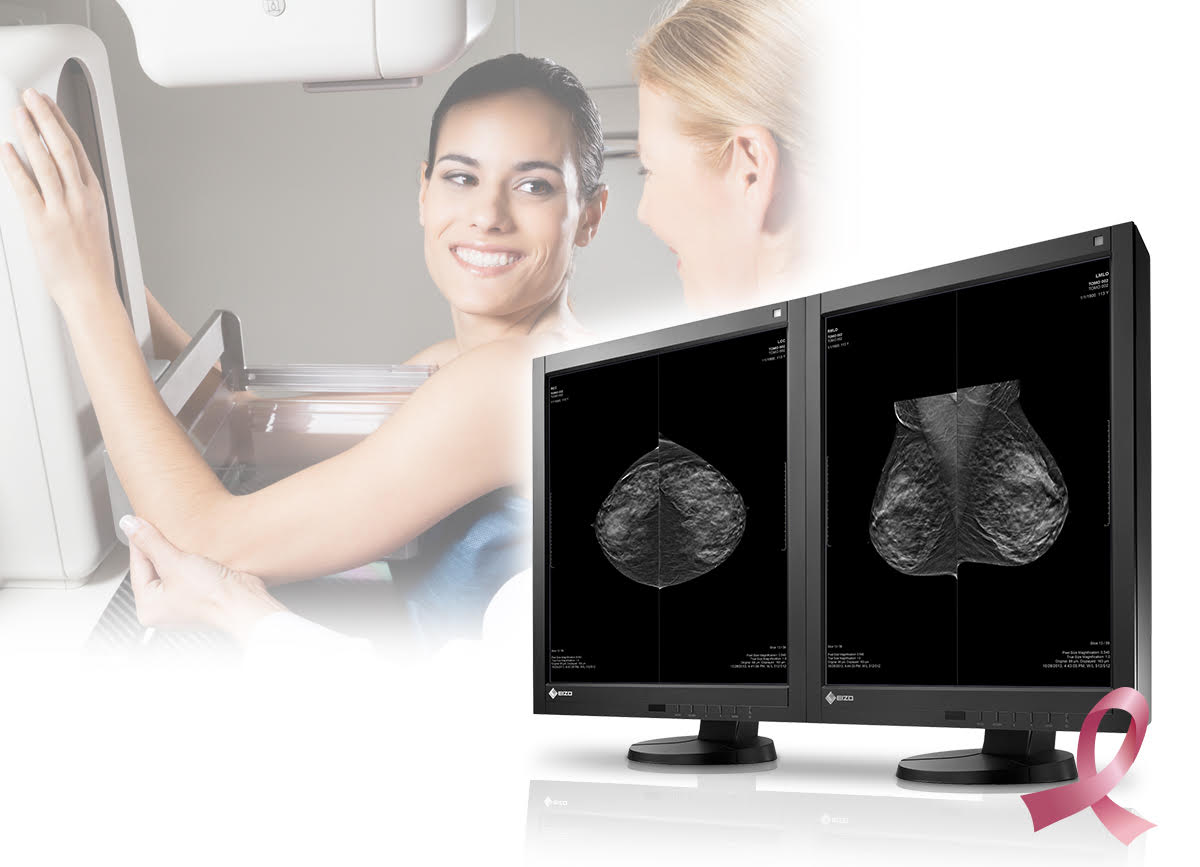 Image courtesy of Eizo
Over the years, significant progress has been made educating women, men and families about breast cancer — the pink ribbon has become the universal symbol of breast health and awareness, and more women than ever before know about the disease, the risks it poses and the necessary steps to take to prevent and detect it early. These ongoing efforts to educate women are undoubtedly crucial to promoting the value of early detection and motivating women to undergo their annual screening appointments. Equally as important is diligence when it comes to other factors that contribute to the early and accurate detection of breast cancer — the imaging technology used during these screenings.
Imaging technology is so much more than an investment for a business — it can be life-altering for patients, radiologists and facilities. Purchasing decisions for such equipment should be made just as conscientiously and with as much enthusiasm as education and awareness has been raised. In fact, healthcare executives should similarly establish their own internal standards and goals for making these crucial purchases, best achieved by factoring in not only administrative priorities, but also clinical and patient perspectives. At first glance, it may seem that there are just too many viewpoints to consider, destined to make decision-making more confusing. However, as a radiologist and a woman who receives annual health screenings, I believe that several standards all executives should look to when considering the purchase of new imaging technology can actually benefit all parties involved.
Technology Standard 1: Accuracy Comes First
The ability to directly aid in the early detection of cancer is a key factor of all imaging technology. Without access to more accurate equipment, clinicians simply cannot make the most optimal diagnoses possible for their patients. Consider, for example, breast cancer screening. The most miniscule of irregularities in breast tissue can mean a serious cancer diagnosis for a patient, yet those irregularities require the highest quality and most precise images for a radiologist to be able to accurately identify the abnormality.
So while other pieces of the screening puzzle have been receiving a lot of industry buzz lately, particularly in the realm of patient comfort — leading with advancements in accuracy first and foremost is absolutely essential. Improved patient experience and comfort during an exam is a great attribute for manufacturers to strive for, and it certainly makes sense that health systems around the country are interested in products that meet (and exceed) patient needs, but prioritizing patient comfort during exams should never mean neglecting the lifesaving attributes that allow radiologists the ability to detect cancer early. It's crucial that capital decision-makers not only prioritize early cancer detection, but also understand what doing that means: trusting expert clinicians and their understanding of the product features that truly impact early detection.
Technology Standard 2: Workflow Efficiency
There are likely many doctors who are dealing with administrative updates like reimbursement guidelines and electronic medical records, feeling pressure from administrators to be more productive each day. To these clinicians, being required to see more patients in a day, for example, may make them feel like they need to cut patient visits short, compromising quality of care to meet executives' financial demands. But, being more productive and being proud of quality work don't have to (and shouldn't) be mutually exclusive. The enhancement of workflow efficiency should be a technology standard for capital decision-makers, and one that actually is quite beneficial for all parties involved — clinicians, facilities and patients. First, by offering technology that streamlines screening and imaging processes, doctors can better meet their facility's administrative demands, reducing internal pressures. This will likely increase personal job satisfaction, which in turn can positively impact performance and evaluation scores. Ultimately, clinician satisfaction can be beneficial for health systems as a whole, as it can have a very real effect on employee retention.
While quality of work should never be compromised to reduce the time spent with a patient, when patients are able to spend less time in a health facility, they will likely have a more positive experience. For patients, screening appointments can be intimidating, as they always come with the possibility of receiving bad news. Making their appointment quick and seamless will likely help keep any feelings of anxiety at a minimum and allow them to move on with the rest of their day. For facilities, having a record of more positive patient experiences can help with future referrals and overall reputation, making the standard of efficiency crucial for all.
Technology Standard 3: Not Just Tested, Proven
It's easy for capital decision-makers to compare the benefits of several different products and choose which list realistically sounds the best: eliminate the product with the lowest number of tangible benefits, remove the product that doesn't impact revenue and ignore the product that is too expensive. Any piece of imaging technology can have a list of intended enhancements on its packaging and in its advertising copy, but how many of those features have actually been tested and clinically proven to be true?
There's no benefit to investing money in imaging equipment that is designed to improve a facility unless the manufacturer has proof of its capabilities. Capital decision-makers should be asking for solid proof points and diving into data from clinical trials, just as clinicians do before making recommendations to their patients. By confirming a technology's capabilities before purchase, executives can rest assured that their investment is truly worthwhile and will actually make the positive impact needed on their facility. Likewise, clinicians can feel confident that the equipment they are using is helping them make the right diagnoses for patients. Of course, patients will also benefit from medical equipment that is clinically proven to be superior, as it will instill in them a differentiating trust that their health is in capable hands.
Technology Standard 4: Accounts for Patient Variation
Customization is a powerful tool across many industries today, and this is especially true in the medical field. From patients living with genetic mutations, to patients with varying body shapes and sizes, to those with physical and developmental disabilities and more, unique approaches to both diagnosis and treatment are needed now more than ever before. Consider the breast cancer screening industry — screening guidelines differ for women with high risk factors for breast cancer and those who do not. Different techniques are in place for women with dense breast tissue than those without, and within this category of "dense-breasted women," there are various levels of breast density. Capital decision-makers would be narrow-minded to not consider the importance of investing in technology that tailors to more than one type of patient. Conversely, equipment that can help a wide variety of patients opens up an array of opportunities for facilities and radiologists alike, while also improving screening experiences for patients who may feel concerned that their situation is outside the norm.
Establishing Standards
There are many more considerations to navigate when making a capital purchase, especially while various brands are vying for a facility's business. Deciding what imaging technology to invest in should require a multifaceted approach. Healthcare executives and clinicians need to work together to help support capital investment decisions, ensuring that they not only meet their own needs, but also address their patients' concerns. To achieve this, establishing a set of standards to refer to for each capital investment decision should be a priority in every facility. This process can only be truly effective if it involves a joint effort from both the administrative and clinical sides. With each technology purchase, there will certainly be some criteria that must be compromised, as each facility understandably has its limitations. But, emphasis on early detection — and the crucial features, like accuracy, that make it possible — workflow efficiency, clinical proof and patient adaptability should never be sacrificed. They are the cornerstones of a sound investment, and without them, executives would be doing little to truly make improvements for their facilities, employees and patients. 
These important qualities are typically found in technology from manufacturers that are historically leaders in the industry and possess thoughtful insight into the field based on years of knowledge and innovation. It is my hope that as executives set higher expectations, standards and more specific guidelines for their investments in technology, more manufacturers will similarly look to these standards when designing their next devices, and ultimately, we will together be one step closer to making a more positive impact on patients.
Stamatia Destounis, M.D., FACR, is a radiologist at Elizabeth Wende Breast Care in Rochester, New York.
Related Breast Imaging Content
New Technology and Clinical Data in Breast Imaging
The Evolution of Breast Imaging Technology
VIDEO: Personalized Breast Screening and Breast Density
New Technology and Clinical Data in Breast Imaging
The Evolution of Breast Imaging Technology
VIDEO: Innovative Breast Cancer Screening for Women With Dense Breast Tissue