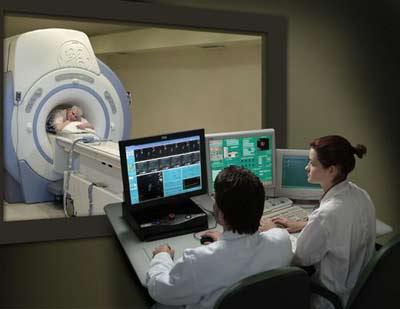 June 5, 2014 — Magnetic resonance-guided focused ultrasound (MRgFUS) is one of the top 10 technologies to watch in 2014, according to a report released by the ECRI Institute. MRgFUS using the Exablate system by Insightec Ltd. (based in Tirat Carmel, Israel) is a relatively new noninvasive thermal ablation option, U.S. Food and Drug Administration (FDA)-approved for treating and palliating pain from bone metastases. The technology integrates high-intensity focused ultrasound and a real-time magnetic resonance imaging (MRI) system in one unit.
The therapy reportedly improves pain from bone metastases in some patients, including those who are not candidates for other treatment such as external beam radiation therapy (EBRT). Furthermore, MRgFUS is under study for treatment of other solid cancers and could potentially be positioned for use at any stage of treatment in combination with any other cancer therapy. It purportedly offers a noninvasive option with fewer side effects than surgery, chemotherapy or radiotherapy options typically used to treat cancers.
MRgFUS is well established for ablating uterine fibroids and has been approved for that use in the United States since 2004. MRgFUS was FDA-approved for palliating painful bone metastases in 2012. Bone metastases occur in more than half of patients with solid tumors, some of who have no other treatment options for palliating bone pain. For indications under study, MRgFUS is being used on patients with prostate, breast, lung, brain, liver and kidney cancers and metastatic disease.
Anticipated Utilization
Some patients with painful bone metastases are not candidates for other therapies, and thus MRgFUS may offer them a new option. Even patients who are candidates for standard EBRT might prefer MRgFUS because of its non-radioactive and targeted mechanism. Pricing is substantially lower for MRgFUS than for EBRT, although MRgFUS is not reimbursed by many U.S. third-party payers at this time, because evidence is available from only two published articles on a small number of patients. Potential for expanded use is significant, however, because several trials are under way on its use for other solid cancers.
Estimated Adoption Status
Adoption is limited at this time. According to the Focused Ultrasound Foundation, 24 centers offer MRgFUS (for uterine fibroids and/or bone metastases) in the United States as of January 2014. Of these, the company states that nine centers are offering the treatment for painful bone metastases.
Potential Health Impact
Three published articles on two studies of 160 patients (one randomized controlled trial and one small case series) reported that MRgFUS provided pain relief from bone metastases in about two-thirds of patients for up to three months after treatment (Meyer et al. 2013; Napoli et al. 2013b; Hurwitz et al. 2013). The trial (n = 142) compared MRgFUS to sham treatment. MRgFUS might have a better side-effect profile than EBRT for some patients, although risks, including necrosis and burns to skin and tissues adjacent to treatment sites, exist. MRgFUS offers a potential advantage in that it could be repeated, whereas EBRT might not be able to be repeated because of the impact of its radiation dose on a patient.
Potential Financial Impact
Initial acquisition and implementation requires major capital investment. Two options are available. A high-intensity focused ultrasound system can be fitted onto an existing MRI scanner at a cost of about $750,000 to $1.5 million, or both elements of the system can be purchased. A fully equipped MRgFUS system with a new MRI scanner costs about $2 million to $3.5 million. To accommodate larger case volumes and long treatment times, facilities might require an additional MRI scanner. The Centers for Medicare & Medicaid Services (CMS) has established a rate of about $3,300 for MRgFUS treatment, which makes reimbursement per treatment significantly lower cost than EBRT on a per patient basis.
For more information: www.ecri.org