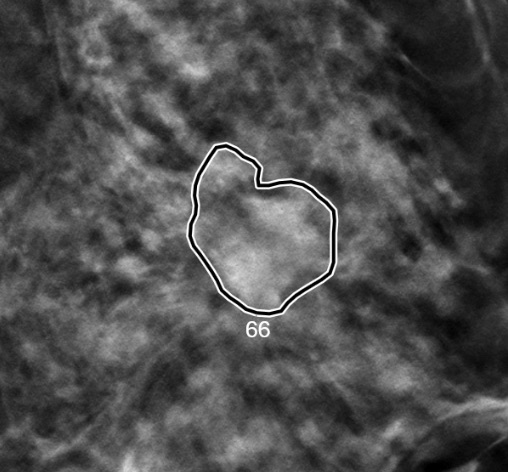 A smart algorithm developed by iCAD outlines and scores a suspicious lesion seen in an image created using digital breast tomography. Displayed is the probability calculated by the algorithm that the outlined area includes a cancerous lesion. Image courtesy of Emily Conant, M.D.
Editor's Note: This article was updated following the SBI symposium.
In a study evaluating the use of artificial intelligence (AI) as a tool for breast cancer screening, increased sensitivity and specificity were achieved with AI when reading digital breast tomosynthesis (DBT) while reading time was reduced. Study leader, Emily Conant, M.D., framed the results as a triple win.
"We detected more cancers; decreased false positives; and decreased reading time," said Conant, radiology professor in the Perelman School of Medicine and division chief of breast imaging at the Hospital of the University of Pennsylvania (HUP). She is scheduled to present details of the study April 4 at the Society for Breast Imaging (SBI)/American College of Radiology Breast Imaging Symposium in a talk entitled "Concurrent Use of Deep Learning Based Artificial Intelligence Improves Detection of Breast Cancer and Reading Time with Digital Breast Tomosynthesis in Women with Dense and Non-Dense Breasts."
In an interview with ITN before the symposium, Conant described details that underscored the substantial impact that the algorithm can have on breast imagers. In regard to a particular case (see image above), without AI, 12 of 24 readers in the study detected the cancer with an average reading time of 72.7 seconds.  With AI, 22 of 24 readers detected the cancer with an average reading time of 45.6 seconds.
"So ten more readers detected the cancer while also reducing their reading time on average 37% (27.1 seconds)," she said.
The test data set was "enriched" with more images of pathology than would occur in a typical screening population. Radiologists served as their own controls. They read the same images either with or without AI, waiting four weeks between readings so they would not have an advantage that might have been gained from previous interpretations.
"They go back to work and see lots of other cases. (After four weeks), they don't remember how they read the earlier cases," she said.
The results, she said, were provided to iCAD, developer of the AI algorithm, to support its FDA application for product marketing of the software.
New AI Better Than Earlier CAD Software
The great advantage of using the AI algorithm, she said, is that not only did radiologists find more cancers but they did so without increasing the number of false positives. And they did the work substantially faster. This is much different than what happened with CAD (computer-assisted detection) software developed for full field digital mammography (FFDM)
A major problem with CAD software was the high number of false positives that came from its use. CAD software also tended to slow rather than accelerate interpretations.
In contrast to CAD software, the AI algorithm tested at HUP was applied to tomosynthesis rather than FFDM; was used at the same time radiologists' interpreted images; and calculated probabilities that the suspicious lesions were cancerous, rather than simply marking suspected lesions for radiologists to consider after they had already interpreted the image.
"The concept behind this AI is that you will have it from the 'get-go.' It can help you rapidly navigate to slices that have concerning lesions," Conant said.
AI Efficiency Varies With Breast Density
One unexpected outcome from the HUP research was that the algorithm shortened reading times more for dense than non-dense breast.  Average reading times dropped from 62.5 seconds to 32.8 seconds when reading images of non-dense breast – and from 65.8 seconds to 28 seconds for images of dense breasts. 
Conant attributes the extra time for reading non-dense images to the greater complexity associated with images of this type. Although dense breasts can obscure pathology, they may also contain fewer structures that need to be analyzed. 
"When it comes to reading time, sometimes there is not a lot to look at with a dense breast.  If you have a breast that is less dense and has a lot of little nodules and calcifications, it can be a more complex texture and, therefore, require a longer reading time," she said.
The differences in reading time between images of different breast types, however, were relatively small, averaging just a few seconds.  Similarly sensitivity increased with AI assistance slightly more for dense than nondense breasts as did specificity.  Again the differences were slight.
The key takeaway from the research, according to Conant, is that – regardless of breast density – the use of artificial intelligence, when applied to screening for breast cancer, can reduce the time needed to read DBT while increasing the detection of cancer.
Greg Freiherr is a contributing editor to Imaging Technology News (ITN). Over the past three decades, he has served as business and technology editor for publications in medical imaging, as well as consulted for vendors, professional organizations, academia and financial institutions.
Related Content
The Evolution of Digital Breast Tomosynthesis
VIDEO: How iCAD Uses AI to Speed Breast Tomosynthesis
3-D Tomosynthesis: Where Are We Now?
---
If you enjoy this content, please share it with a colleague