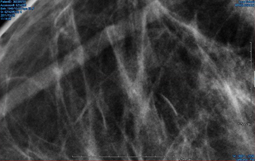 Sept. 10, 2012 – A mammography and women's health advocacy group, Are You Dense Inc., blasted the American College of Radiology (ACR) and the Society of Breast Imaging (SBI) for their positions on recent research published in the Journal of the National Cancer Institute. The article detailed the risk of death by stage of cancer for women with breast cancer, which Are You Dense said is misleading in its presentation of data to the public.
The ACR and SBI sent out a press release titled, "Gierach et al. Study in JNCI Good News for Women with Dense Breasts, Reinforces Need for Regular Mammograms." In its own subsequent press release, Are You Dense said the ACR and SBI's spin was that the fact that dense-breasted women have the same risk of dying as women with fatty breasts is "good news for women with dense breasts" and took issue with this. In this study, 74.3 percent of participants with the densest breasts had a mammogram within the previous two years, and mammography only detected 26.8 percent of cancers. Are You Dense said that despite this extremely low detection rate, the ACR/SBI described the ability of mammography to detect cancer in dense tissue as "somewhat reduced," which it felt was an understatement.
The actual cancer "find" rate by mammography for all breast types in the study ranged from a low of 26.8 percent to a high of 45.2 percent, Are You Dense said and added the opinion that this means for any breast tissue type, the odds of a coin toss exceed the odds that breast cancer will be found by mammography. It noted, "Astoundingly, the ACR/SBI concluded the research is 'good news,' 'reassuring' and 'reinforces need for mammograms.' It is little wonder that there is ongoing debate about the effectiveness of routine mammographic screening."
Are You Dense further noted that women with dense breasts are more likely to be diagnosed with breast cancer, more likely to have it missed on mammogram and more likely to have more advanced disease at diagnosis, requiring more expensive and extensive treatments. "The Gierach et al. data confirm that mammography screening alone is inadequate in those women with dense breasts," it said.
Another point made by Are You Dense was that as women with dense breasts are at greater risk of developing breast cancer, their risk of dying from breast cancer is elevated compared to the general population. While a dense-breasted woman diagnosed at Stage IV may have the same risk of dying as a woman with fatty breasts diagnosed at Stage IV, the indisputable truth is that women with extremely dense breasts are 4 to 6 times more likely to develop breast cancer and thus be 4 to 6 times more likely to be Stage IV than women with fatty breasts.
Are You Dense Inc. and Are You Dense Advocacy Inc. concluded, "While mammography is the most widely available screening test for breast cancer today, and while it does save lives, we appeal to the ACR/SBI and other national organizations to recognize that mammography has major limitations. The lives and health of women must not be sacrificed in the process of defending the status quo. Enough."
For more information, visit AreYouDense.org
---
If you enjoy this content, please share it with a colleague