GE Healthcare's 3-D/4-D echo system, showing implantation of ASD occluder in a septal wall defect. This type of virtual surgical view enables several new types of procedures that otherwise would be difficult to perform.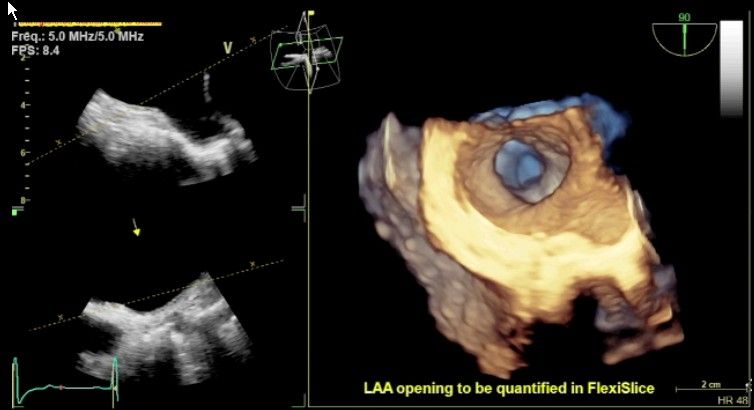 Image courtesy of GE Healthcare
Transesophageal echocardiography (TEE)
is quickly establishing itself as an essential tool in the interventional cardiologist's daily toolbox. An alternative to the more traditional transthoracic echo, TEE provides higher quality images due to the esophagus' location directly behind the heart. With the introduction of 3-D/4-D TEE, the technology has become a primary imaging modality to guide new, complex transcatheter structural heart procedures, including transcatheter aortic valve repair (TAVR), MitraClip, transcatheter mitral valve replacements (TMVR), left atrial appendage (LAA) occlusions, and septal defect closures. 
These procedures have led to the rapid adoption of TEE in the last few years, bringing it firmly into the cath lab and hybrid OR. "Transcatheter solutions for heart valve disease have become a clinical option, not just a research option," said Mani Vannan, M.D., of the Piedmont Heart Institute in Atlanta. 
All four of these procedures have seen major technological advances over the last several years, allowing greater precision and efficiency. TAVR, in particular, has emerged as a viable treatment option for many heart patients following successful outcomes in the CoreValve U.S. Pivotal High Risk Study.[1] The role of TEE during these procedures is two-fold, according to Vannan. During the procedure, he it helps the interventionalist with device placement, checking for complications as the procedure unfolds, and post-procedure the echocardiographer can use TEE to ensure there is no paravalvular leak.
When it comes to sizing the valve prior to the procedure, however, Vannan said that computed tomography (CT) is still the preference. "Not only does it give you a better look at the aortic root, but you can also look at the blood vessels that you'll use for access," he said. Some patients, however, cannot undergo CT, such as those with kidney disease, as they won't be able to process the contrast injection required for proper CT imaging. "3-D TEE is useful here in order to make the necessary measurements," Vannan added. 
Aurora Health Care in Milwaukee does about a dozen TAVR procedures per week, according to Bijoy Khandheria, M.D., cardiovascular specialist. The high-volume facility also was one of the test sites for the clinical trials for Boston Scientific's Watchman LAA closure device, which received U.S. Food and Drug Administration (FDA) approval in March. Between clinical trials and commercial use following FDA approval, Khandheria estimates Aurora has done 50-60 Watchman implantations.  
"If I had to name the places where TEE is essential and rank order them, I would probably say that Watchman would be No. 1, MitraClip would be 1a, and percutaneous mitral valves would be 1b. TAVR would be No. 2," Khandheria said. 
TMVR remains the most enigmatic of potential TEE applications, as that technology is still largely underdeveloped and is only being done in select centers around the world to date. Khandheria acknowledges that mitral valve replacement is more difficult than aortic valve replacement, "so you can't do it without TEE." 
2-D versus 3-D
While TEE visualization has progressed into the three-dimensional realm, it does not mean that 2-D is without its applications. Vannan and Piedmont Healthcare use 2-D TEE during TAVR procedures. "You have to be able to take enough pictures to see the valve movement," said Vannan, a point in favor of the higher temporal resolution of 2-D TEE. 
For the most part, though, 3-D visualization has gained widespread acceptance, mainly because it provides a "surgeon's view" of the anatomy that is easier for most cardiologists to interpret. "The technology for 3-D has gotten less cumbersome," said Khandheria, making it more accessible for more personnel with less specialized training required. 
The rise of 3-D has happened simultaneously with the ability to visualize blood flow in real-time, a function not previously available with TEE. Vannan finds this functionality indispensable during MitraClip procedures. "Looking at valve structure has always been good with TEE, but before you couldn't look at structure and blood flow simultaneously in real time," he said. "It was mainly a descriptive technique." 
Processing speeds on echo software have now caught up and enable simultaneous, real-time Doppler blood flow and full-volume 3-D/4-D anatomy in motion. 
Evolution of the Interventional Echo Subspecialty 
With several new interventional devices hitting the market and substantial growth still projected in the future, the question has been raised whether interventional echo could — or should — eventually become its own subspecialty. For many echocardiographers, participating in interventions is essentially considered side work that has to be fit in amongst their other regular duties.  However, many believe that things are already heading that direction. 
Khandheria said he spends roughly 2.5 days a week in the cath lab, from 7 a.m. to 7 p.m. Echocardiographers have developed into key members of the interventional heart team, as the interventionalists themselves often don't know how to operate a TEE probe or interpret the images. 
As crucial as echocardiographers have become to interventional procedures, there are still some concerns about how their time in the cath lab is valued compared to their other activities in terms of relative value units (RVUs) for reimbursement. 
"It does take a lot of time and that time isn't recognized," said Lissa Sugeng, M.D., associate professor of medicine at Yale University, New Haven, Conn. "There needs to be a recognition that the role of echo should be regarded as important as the interventionalist." 
Things are starting to move in that direction, with the American Medical Association approving a new CPT code for interventional TEE last September. The code includes guidance, real-time image acquisition, documentation and interpretation during transcatheter intracardiac procedures.[2] The American Society of Echocardiography (ASE) also released new standards for the use of echocardiography as a monitor for therapeutic intervention in adults earlier this year. ASE guidelines for TEE and 3-D echo were released in 2013 and 2012, respectively.
Shopping for TEE 
As with any imaging system, good image quality is paramount above nearly all else. While some say 2-D echo provides high-enough image quality, most say that 3-D TEE is essential in this day and age as transcatheter procedures become more complex and angiography alone is insufficient to visualize soft tissue. If acquiring a full 3-D TEE system is not feasible, Sugeng said providers should at least invest in an ultrasound system with a 3-D TEE probe 
Along with 3-D TEE, many who are using the advanced functions of newer TEE systems can not imagine working without them. "You have to have both real-time anatomy and blood flow analysis," said Vannan. He also advocated for the ability to make 3-D measurements on-screen during the procedure. 
For Khandheria, the most important strategy for purchasing TEE systems is to stay up with the times, as technology develops and advances so rapidly. At Aurora Health Care, Khandheria said hospital policy requires ultrasound equipment to be refreshed every three years. 
While the importance of various features can be debated, the expanding role of TEE in the hospital, and especially in the cath lab, is clearly evident and will continue to grow as technology improves. 
References:
1. "Self-expanding TAVR Widens Advantage Over Surgery at Two Years," www.itnonline.com, March 17, 2015. Accessed March 31, 2015. 
2. "One Major Step Towards a New Interventional TEE Code," www.asecho.org (American Society of Echocardiography), Sept. 2, 2014. Accessed April 3, 2015.