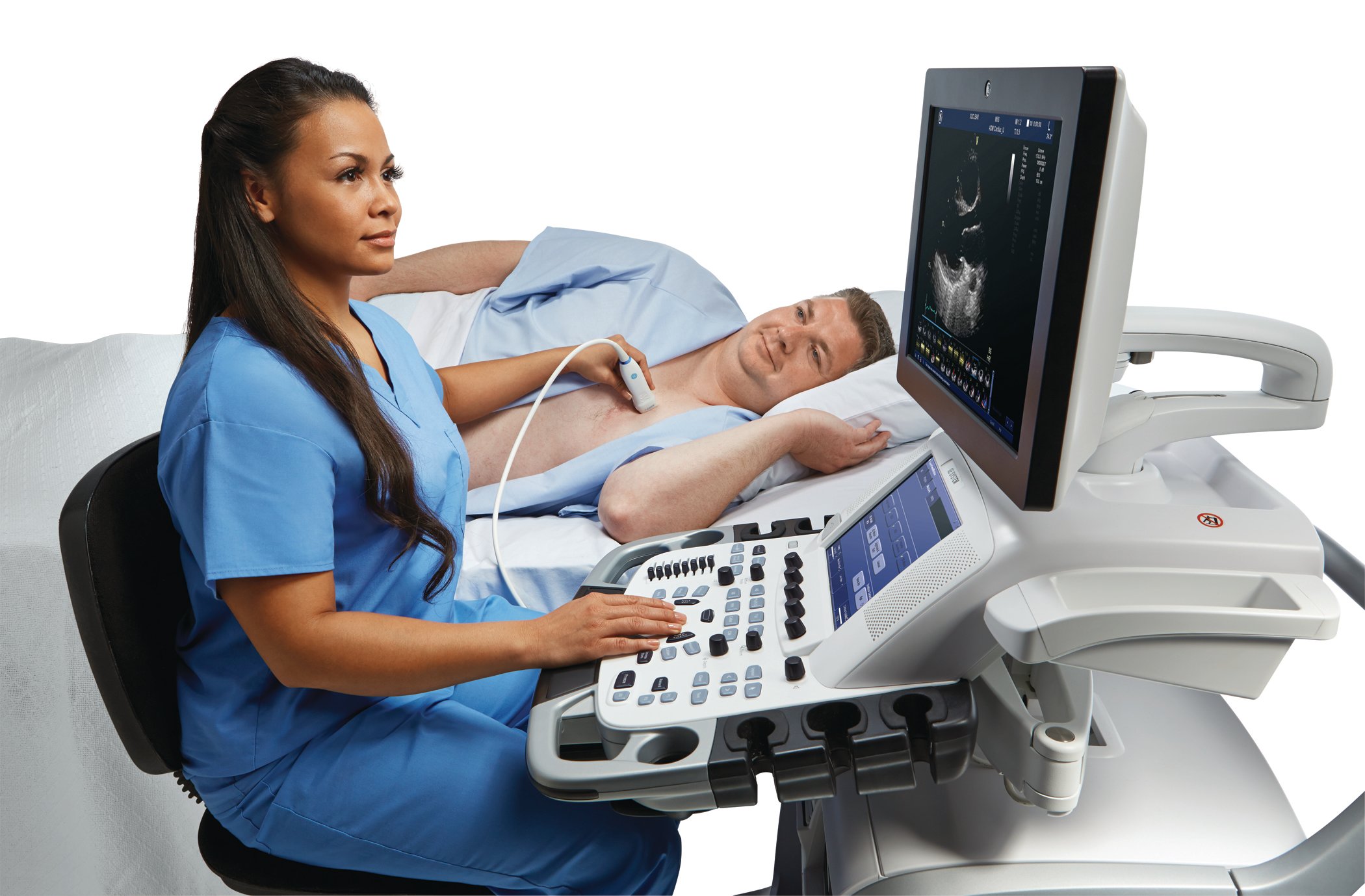 The latest advances in echocardiography were discussed at a special evening symposium at the 2015 American College of Cardiology (ACC) meeting, organized by Methodist Debakey Heart and Vascular Center. 
Echo has rapidly advanced in the past decade from 1-D M-mode imaging to 2-D cut plane imaging, then to 3-D reconstructions and now on to 4-D, which are 3-D images in motion in real time. While the technology has advanced, providers have been slow to adopt it, partly due to the lifespan of their current systems, the cost of 3-D and 4-D systems, and the need for more data to establish a benefit for the increased costs for the newer technology, said Roberto Lang, M.D., FASE, professor of medicine, director, noninvasive cardiac imaging laboratory, University of Chicago
One thing clinical studies of the newer technology have found is that the gold standard of 2-D is not an exact science when it comes to quantification, Lang said. This is because measurements for a three-dimensional structure are being made only at single points on a single plane, whereas 3-D echo allows the measurement of the entire volume of the anatomy, such as the right or left ventricle. He said an example of this is 3-D speckle tracking, which enables better measurements than 2-D because the anatomy you are attempting to measure in 2-D often comes in and out of plane, whereas 3-D is always in plane. 
Computed tomography (CT) and magnetic resonance imaging (MRI) have extremely high levels of reproducibility and eliminate operator variability with the use of volumetric datasets. These blocks of image data can be cut electronically on any plane and standard views easily created. The same is true of 3-D echo volumes. 
Lang said 2-D can also under- or overestimate the severity of things like valvular regurgitation. If a mitral valve Doppler jet is seen from the side it may appear very small, while from the front is may appear very large if several cusps are involved. 
"We understand 2-D has certain limitations to do the quantification, but 3-D has the ability to overcome many of the limitations of 2-D," Lang said. "We have not seen a lot of use of 3-D echo, mainly because it takes quite a lot of time to do."
At first 3-D was cumbersome to use because someone had to sort through all the data and manually delineate the anatomy of interest to measure. However, recent echo system advances now automate this process, reducing the time it takes closer to that of 2-D exams. Automation also makes quantification more consistent and reproducible. Lang said this is what was needed to bring 3-D into mainstream clinical practice. 
Interventional Echo
Echo is increasingly being used for minimally invasive or transcatheter procedures. This is especially true of 3-D echo and 3-D/4-D transesophageal echo (TEE). Lang said these technologies offer a "surgeon's view" that makes visualization of procedures by the physician operators much easier. 3-D/4-D echo is used in complex procedures such as transcatheter aortic valve replacement (TAVR), Watchman device left atrial appendage occlusions, ASD, VSD and PFO closures, and transcatheter paravalvular leak occluder deployments. It will play an even bigger role with transcatheter mitral valve replacements (TMVR) and MitraClip procedures, where it is used for volumetric and anatomical evaluation for valve placement, device sizing and device delivery. 
Diagnosing Anatomical Shape
Lang said software can now detect the shape of the cardiac anatomy to help determine a specific diagnosis. He explained this technology will play an increasingly important role in the coming years. 
He believes 3-D speckle tracking will be used for evaluation of heart failure and cardiomyopathy. Left ventricular rotation and twist will become important for more precise quantification. He said strain imaging also can quantify the amount of deformation of an object in a specific direction, which will likely become another diagnostic measure in the future. 
Fusion Imaging  
Image fusion of echo combined with other imaging modalities might also play an increasing role in the future, allowing complementary modalities to offer a complete picture in one view. Lang said the next level of fusion imaging will be CT angiography (CTA) combined with 3-D echo strain, which shows the detailed anatomy of the heart and coronaries, while an echo strain map of the left ventricle can help align areas of wall motion defects with blocked coronary arteries to better determine culprit lesions. 
Another example of fusion already on the market is Philips' EchoNavigator fusion software, which combines 3-D TEE with fluoroscopy in the cath lab. 
Spatial compounding enabled by 3-D echo is another area that will play an increasingly important role, especially during interventional echo-guided procedures. Since 3-D echo collects data for a volume of anatomy, not just a slice of imaging data, it can be rendered electronically to show multiple views of the same anatomy without the need to move the transducer. Lang said this essentially enables a panoramic anatomic view. 
New Echo Systems
Last fall, Siemens introduced its latest echo system, the SC2000 Prime. It integrates 3-D/4-D TEE and has new levels of automated measurements to speed workflow and improve reproducibility. The system is capable of performing real-time 3-D/4-D echo with live color flow Doppler overlaid on the image using a single-beat image acquisition. This can help guide transcatheter valve procedures and help confirm reduction of regurgitation, or identify paravalvular leaks. 
Siemens also recently introduced its eSie Valves post-processing application suite, which focuses on quantification of heart valves and their related defects. It automates most of the calculations required for measures such as valve area, mitral cusp identification, regurgitation, PISA measurements and others. The app suite is designed to move the workflow away from the scanner bedside and to allow more patient throughput. Siemens' syngo Dynamics can transfer the data from the application to populate report fields and can transfer the data to Q Lab
Philips' newest cardiac ultrasound systems are the Affiniti 50 and 70, which are set for release in the United States in mid-2015. The systems use Philips's Purewave transducers, which apply a new manufacturing process to decrease the number of crystal defects for better image quality with broadband beam forming technology. The systems are narrower than the Epic system, allowing easier movement into patient rooms. The systems also accept 27 different transducers so they can be used with multiple service lines. The systems also use Philips' anatomical intelligence software to help identify anatomy and aid in workflow and image reproducibility. 
Toshiba's Aplio Platnium Series CV (cardiovascular) ultrasound systems offer a comprehensive suite of dedicated technology for cardiac diagnosis. The Aplio Platinum series also was designed to serve as a standardized platform for use across various service lines. The Aplio 500 Platinum CV and Aplio 300 Platinum CV feature 2-D wall motion tracking, spectral and color Doppler, and Toshiba's latest suite of guidance and workflow technologies. Both deliver detail and resolution throughout the entire field-of-view, providing excellent definition of the endocardium, which results in an accurate and easy-to-use 2-D strain resolution. Toshiba's wall motion tracking technology allows doctors to quantify isolated movement within the heart to assist with detection of cardiotoxicity.
Esaote North America's MyLab Six ultrasound system gained U.S. Food and Drug Administration (FDA) clearance in 2014 and offers an affordable, compact ultrasound. It has improved ergonomics for sonographers scanning in a seated position and can be configured with a complete suite of applications. The modular application structure of MyLab Six gives practices the flexibility to configure their system with the clinical applications needed at time of purchase, then add more capabilities as their needs change or as they expand into new services. Application packages range from cardiovascular and musculoskeletal to OB-GYN and general imaging. 
GE Healthcare received FDA clearance for its Vivid T8 cardiovascular ultrasound system last summer. The 129-pound mobile system offers quantitative features, stress echo and TEE capabilities at an economical price point.
Vivid T8 combines the established cardiac imaging capabilities of GE Vivid systems with the shared services performance of the company's Logiq systems. The Vivid T, cardiovascular ultrasound system is rugged, reliable, robust and rich with features, yet still affordable and convenient to use. Key clinical applications include tissue velocity imaging, auto ejection using a speckle-tracking ROI tool, SmartStress to automatically adjust settings to help enhance workflow and reproducibility, automated function imaging to assesses left ventricular wall motion at rest, and automatic edge detection for intima-media thickness and auto-completion of required measurements.
---
If you enjoy this content, please share it with a colleague