GE Healthcare introduced its artificial intelligence (AI) automation features on its Voluson Swift ultrasound platform at the 2020 Radiological Society of North America (RSNA) virtual meeting. Features of this system include semi-automated contouring, auto identification of fetal anatomy and positioning on imaging. AI is seeing increasing integration in ultrasound systems from numerous vendors.
Recent advances in ultrasound image systems seen over the past year include the integration of artificial intelligence (AI), automation of functions and measurements, introduction of very specialized tool sets, the rapid growth in point-of-care systems, improved ergonomics, and on the horizon, the development of therapeutic ultrasound systems for cardiovascular and cancer therapies. These trends are highlighted in the breakout sections below.
1. Adding AI to Ultrasound Systems Increases Diagnostic Capabilities
GE Healthcare is highlighting artificial intelligence (AI) automation features on its new Voluson Swift ultrasound platform at the 2020 Radiological Society of North America (RSNA) virtual meeting. Features of this system include semi-automated contouring, auto identification of fetal anatomy and positioning on imaging, 
The system used GE's SonoLyst AI software, which can auto recognize 20 standard fetal views in the second trimester protocol. The goal is to speed exam times and make the exams more accurate, even for less experienced sonographers. The AI can tell users what any image is when they freeze the frame. This can be used to help cue up measurements and appropriate annotations. The AI also can tell the user if all the required anatomical structures are in an image needed for the exam protocols.
AI also was also integrated into GE's Ultra Edition package on Vivid cardiovascular ultrasound systems in 2020. This enables clinicians to acquire faster, more repeatable exams consistently. The AI helps reduced exam time with up to 80 percent fewer clicks, 99 percent accuracy as the AI automatically recognizes the anatomy on standard 2-D scan planes so there is less inter-operator variability. This anatomical identification also helps automate measurements and make them more reproducible. 
"We use AI Auto Measure – 2-D, AI Auto Measure – Spectrum Recognition, and Auto AFI together with Auto EF. We also use Scan Assist Pro, 4-D biplane and 4-D triplane. All of this in combination has saved us 7 to 10 minutes per scan, which is fantastic, so we really do have more time to spend with the patient," explained Rebecca Perry, Ph.D., cardiac sonography program stream coordinator, University of South Australia.
Canon's liver ultrasound analysis suite uses AI to create a multi-parametric report. From elastography measures of the the fat content within the liver, along with things like BMI, blood tests, and other measures, it consolidates all the data into one place, so clinicians can glance and go.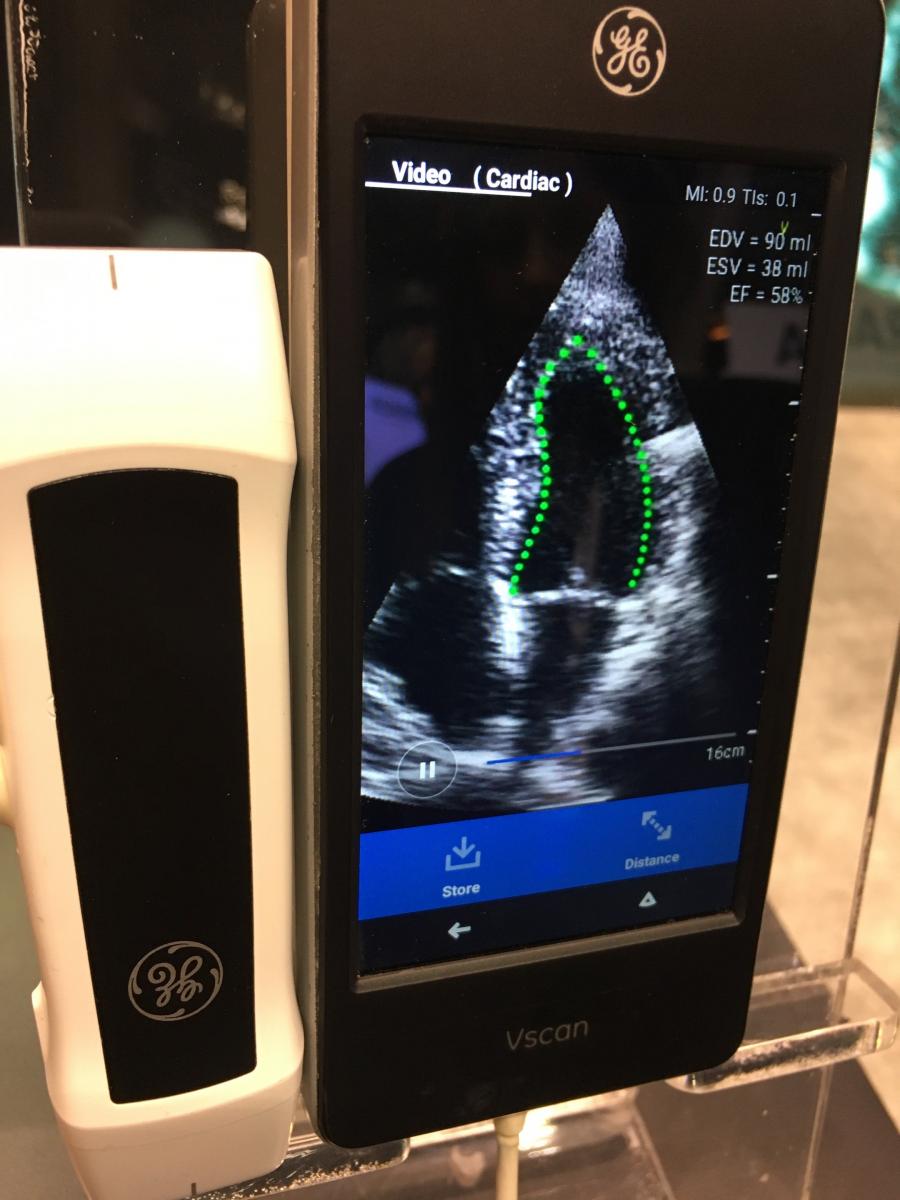 As with all areas of AI, imaging system manufacturers are finding it more cost effective to partner with third-party AI vendors to offer additional tools on their systems. An example of this is Dia Imaging Analysis, which has partnered with companies like GE and Konica Minolta Healthcare to automate cardiac ultrasound functionality. Dia's LVivo Cardiac ultrasound AI Toolbox automates workflow and quantified analysis of the left ventricle. On The GE hand-held vScan ultrasound system, Dia is used to perform automated ejection fraction (EF) measurements. 
Other examples of a vendor-neutral, third-party AI software are Caption Health Ultromics. 
Ultromics gained FDA clearance in November 2020 for its artificial intelligence-driven echocardiography image analysis system, EchoGo Core. It automates the analysis and quantification of cardiac ultrasound heart scans. This includes calculation of echo left ventricular ejection fraction (EF), left ventricular volumes (LV) and automated cardiac strain. Ultromics' EchoGo Pro is another AI solution that automatically identifies coronary artery disease (CAD) in echocardiograms. 
Caption Heath's artificial intelligence provides real-time guidance and feedback on image quality to enable capture of diagnostic quality images.The AI provides expert guidance, automated quality assessment, and intelligent interpretation capabilities to improve the diagnostic quality of an exam, regardless of the imager's experience. The AI also selects the best images of the heart during an exam to automatically calculate the patient's ejection fraction.
2. Features to Increase Workflow Efficiency and Automate Workflows
Hospitals continue to ask ultrasound vendors to find ways to speed workflow to allow more patients to be scanned, while reducing the work required to complete an exam. Here are some examples of how vendors are addressing these concerns.
GE said at RSNA 2020 that its Logiq E10 continues to see reduced numbers of clicks needed for various tasks, more pre-populated reporting fields to reduce completion time after an exam and enabling both of these features with the integration of more AI into the systems.
The Canon i-series FlexStyle allows the sonographer to personalize key functions so the buttons they are used to can be in the same place as a pervious system, or other vendors' systems. The goal is to make the transition to the new system very easy. 
Cannon also offers its Ultra Wide View feature on its ultrasound system that enables the user to expand out their field of view on your certain convex transducers. This can make a big difference when scanning larger organs like the liver. For obstetrics, it allows the user to see the relationship of the placenta to the cervix. It also helps with measuring anything long in one view without having to stitch images together. This feature also does not loose some of the image by making it wider. 
In 2020, Philips released its version 7.0 Epiq CVx and Epiq CVxi cardiology ultrasound systems and the new Affiniti CVx. These systems include AutoStrain updates that enhance efficiency in strain measurements while creating a 70 percent time savings in the acquisition and processing of images. These capabilities build on automated tools for strain and right heart measurements released in 2019. Subspecialty tools include 3-D Auto LAA to enable faster measurements of the left atrial appendage (LAA) from 3-D, increasing procedure efficiency. Cardiac TrueVue Color and Cardiac TrueVue Glass expand on the current Cardiac TrueVue photo realistic rendering by enhancing the visualization of flow, heart valve regurgitation jet origin and morphology.
In January 2021, Philips introduced its Abdominal Aortic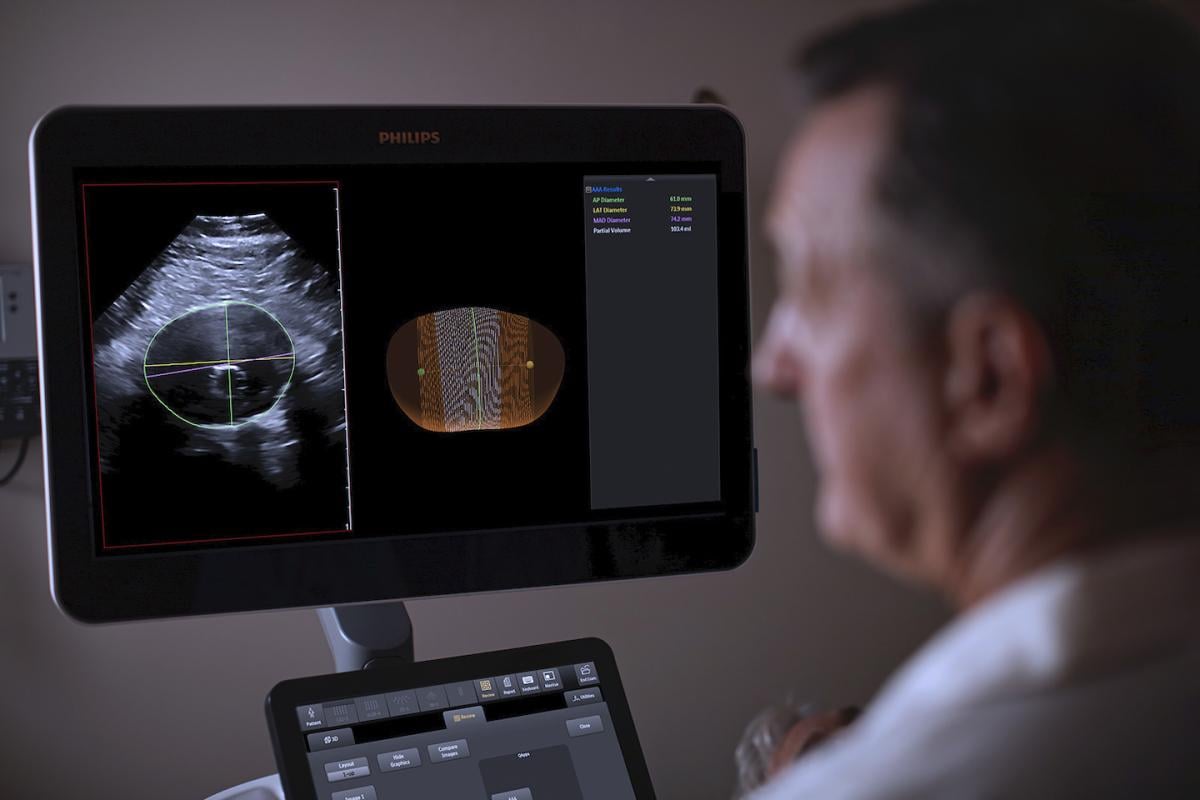 (AAA) Model, providing physicians a more patient-friendly solution compared to the current standard of care for managing AAA patients. Based on 3-D ultrasound, it delivers accurate diagnostic information without exposing patients to high doses of radiation and nephrotoxic contrast agents. The software automatically segments and quantifies the size of the aneurysm sac for surveillance of known untreated and post-endovascular aortic repair (EVAR) treated AAAs.
Intel and Samsung Medison announced a collaboration on new smart workflow ultrasound solutions to improve obstetric measurements that contribute to maternal and fetal safety. Using an Intel Core i3 processor, the Intel Distribution of OpenVINO toolkit and OpenCV toolkit, Samsung's BiometryAssist automates and simplifies fetal measurements, while LaborAssist automatically estimates the fetal angle of progression (AoP) during labor for a complete understanding of a patient's birthing progress, without the need for invasive digital vaginal exams.
3. Point-of-care Ultrasound Sees Rapid Growth in the COVID-era 
There was a big question as to the best imaging modality for detection of COVID-19 and later for monitoring critically ill virus patients in the ICU. CT became a front line imaging modality in most emergency departments and mobile digital radiography (DR) X-ray systems saw a big bump is sales in 2020 to enable imaging in patient rooms or dedicated units in COVID wards. But, the imaging modality to see a virtual explosion in 2020 was small, compact point-of-care ultrasound (POCUS) systems. 
These included small cart based systems and handhelds. Handheld systems like the Philips Lumify, GE vScan, and Butterfly Network's app-based POCUS that turns a mobile phone into a multi-organ ultrasound system, all saw skyrocket growth. These systems can be placed inside a probe sheath and are much easier to clean after each use than a larger system. Hand-held POCUS systems had a lot of interest prior to COVID-19, but the pandemic showed the extreme value of these tiny imaging systems in a major emergency during the current pandemic.
 
GE Healthcare said at RSNA 2020 it saw an unprecedented sales numbers in 2020 for its hand-held, cell-phone sized vScan ultrasound device and a large increase in its Venue Go POCUS system. 
Several vendors, including Fujifilm Sonosite and Philips, also received additional FDA indications in 2020 for their POCUS systems to be used specifically for performing accurate lung and cardiac imaging in COVID-19 patients. 
"COVID-19 patients can deteriorate rapidly in a matter of minutes to hours, and ultrasound is there and ready when we don't have minutes to spare. And while ultrasound alone doesn't tell me exactly what the disease is, it allows me to look for typical COVID-19 ultrasound findings as well as assess the disease severity to determine the optimal management plan for the patient," said Vi Dinh M.D., FACEP, RDMS, RDCS, emergency medicine and critical care physician at Loma Linda University Medical Center, in Loma Linda, Calif., and a Fujifilm POCUS user. "I appreciate that point-of-care ultrasound is much safer, faster to use, and easier to sanitize than many other medical devices in the emergency department and intensive care unit. This technology is truly critical in the fight against COVID-19."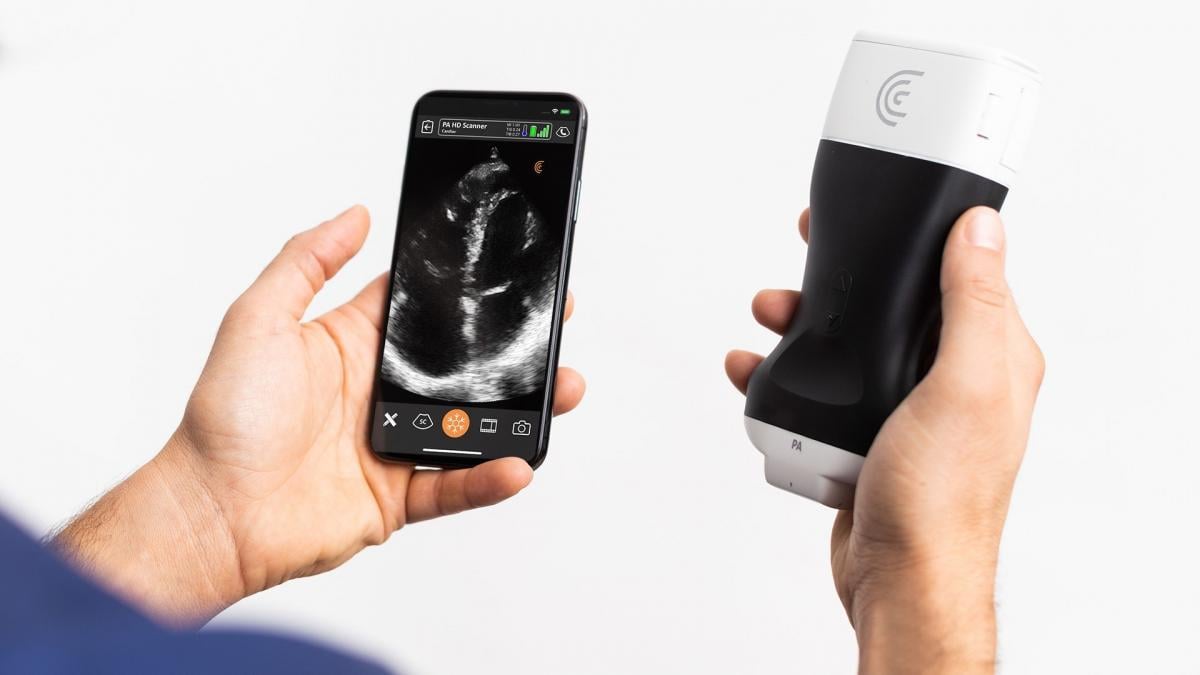 The Clarius PA HD hand-held, wireless ultrasound scanner now offers high resolution cardiac imaging with the release of the Clarius Ultrasound App 7.3 for iOS and Android smart devices. Compact and without wires to keep clean, Clarius PA HD ultrasound speeds disinfection and enables physicians to quickly triage and monitor COVID-19 patients.
POCUS was already seeing rapid growth prior to COVID for use in clinics, office visits, needle guidance, critical care, and in musculoskeletal (MSK) applications due to its ability to visualize soft tissue tears in muscles, tendons, ligaments and joint spaces. 
A new POCUS vendor to enter the U.S. market in 2020 is Emagine Solutions Technology, with FDA clearance for its VistaScan mobile ultrasound platform. It transforms a clinician's cell phone or tablet into a portable ultrasound solution. The system consists of compatible FDA-cleared ultrasound probes that interface with the VistaScan software application. 
4. Ergonomics Added to Ultrasound Systems 
Most vendors have made efforts to improve the ergonomics of their mid-rage and premium ultrasound systems to improve comfort and reduce orthopedic problems for sonographers. 
An example of this highlighted at RSN 2020 was Canon's i-series FleXstyle ultrasound system, which features an electric lift mechanism to aid ergonomics by making it much easier for sonographers to position and personalize the height of the system to them. The FleXstyle also meets all 35 requirements for an ergonomic cart-based systems set forth by the Society of Diagnostic Medical Sonography (SDMS). New buttons around the track ball were also added to make this system more ergonomic.
5. Therapeutics Applications for Ultrasound on the Horizon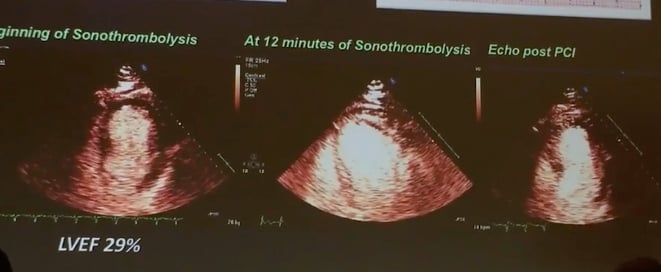 Studies have been undertaken for several years that show ultrasound can help break up thrombus in blood vessels that cause a heart attack, pulmonary embolism or deep vein thrombosis (DVT) using an ultrasound transducer and micro bubble contrast agents. This has been the subject of several late-breaking study presentations at the American Society of Echocardiography (ASE) in recent years. Ultrasound has also been shown to improve cancer drug delivery to targeted organs and the ability to allow drugs to cross the blood-brain barrier. 
In January 2021, GE Healthcare and Exact Therapeutics announced a partnership to develop an ultrasound probe optimized for this type of therapy using Acoustic Cluster Therapy (ACT) across multiple disease conditions.
ACT is a proprietary formulation consisting of microbubbles and microdroplets that are activated through the application of ultrasound with the consequent increase in targeted delivery of a co-administered therapeutic agent. ACT is supported by a strong and broad preclinical package demonstrating therapeutic enhancement in multiple oncology models (pancreatic, breast, colon, prostate) as well as controlled blood-brain barrier opening. Currently ACT is being evaluated in the international ACTIVATE Phase I clinical trial in patients with metastatic colorectal and pancreatic cancer at the Royal Marsden Hospital in London.
View the Ultrasound Systems comparison chart
Watch the VIDEO: Ultrasound With Contrast Revascularized 50 Percent of Patients Prior to PCI in Study — an interview with Thomas Porter, M.D.
Related Ultrasound  Technology Content From the Past Year:
Handheld Ultrasound Used to Monitor COVID-19 Patients With Cardiac Complications
Point-of-care Ultrasound Sees Rapid Growth Amid COVID-19 and May be Poised for Consumers
FDA Clears AI-powered Cardiac Ultrasound Analysis and Quantification by Ultromics
VIDEO: Imaging COVID-19 With Point-of-Care Ultrasound (POCUS) — Interview with Mike Stone, M.D.
Philips Expands Cardiovascular Ultrasound With Affiniti CVx to Increase Productivity
Intel and Samsung Medison Announce AI Ultrasound Technology for Fetal Care
Fujifilm Sonosite Receives FDA COVID-19 510(k) Clearance for Comprehensive POCUS Portfolio
Utility of Point-of-Care Ultrasound Across Clinical Applications Spurs Continued Growth
Ultrasound Systems Market to Outpace Other Imaging Modalities for COVID-19 Diagnostics
FDA Clears Philips Ultrasound Portfolio to Image COVID-19 Related Lung and Cardiac Complications
Atrium Health and Butterfly Network Partner for Innovation in Medical Imaging During COVID-19
AI-Guided Ultrasound System Now Available in the U.S.
Emagine Solutions Technology Receives FDA 510(k) Clearance for VistaScan Mobile Ultrasound
FDA Clears Artificial Intelligence to Guide User for Optimal Cardiac Ultrasound Imaging
Philips 3-D Ultrasound Offers New Surveillance Method for Abdominal Aortic Aneurysms
 
Exact Therapeutics Announces Innovative Probe Development Collaboration With GE Healthcare
FDA Clears Ultromics Echocardiography AI for Auto Identification of Coronary Artery Disease
Samsung Introduces Its Latest Radiology Innovations
Konica Minolta Debuts Next-generation Ultrasound System, the SONIMAGE HS2
Expanded AI-based Echocardiography Analysis and Reporting Added to Konica Minolta Exa Cardio PACS 
DiA Granted FDA Clearance for its Cardiac Ultrasound AI Auto Views Selection
Northwestern Medicine Introduces Artificial Intelligence to Improve Ultrasound Imaging
Aplio i-Series and Aplio a-series Ultrasound Deliver Streamlined Workflow and Optimal Ergonomics
VIDEO: AI Features on the GE Voluson Swift Ultrasound System
Butterfly Network Releases New Version of Point-of-Care Ultrasound Platform With Butterfly iQ+
 
GE Healthcare Receives FDA Clearance for AI-powered Cardiovascular Ultrasound System
---
If you enjoy this content, please share it with a colleague