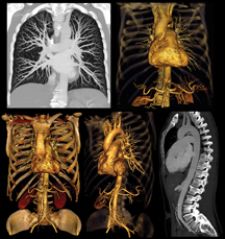 Shands at the University of Florida Medical Center utilizes Toshiba's Quantum Advantage to produce high-quality images.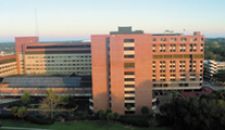 Shands at the University of Florida Medical Center utilizes Toshiba's Quantum Advantage to produce high-quality images.
Situation: As the leading academic medical center in the state of Florida, Shands at UF looked to purchase a suite of CT systems that could be used for a variety of procedures. Hospital administrators knew they needed multiple systems to accommodate their capital budget and patient volume with procedures ranging from routine scans for the chest or abdomen to more complex cardiac imaging and brain perfusion studies.
To maximize their available capital investment, they decided it would be best to purchase three configurations – 16-, 32- and 64-slice systems to meet the variety of imaging needs. In addition, these CT systems needed to produce consistent, high-quality images to meet the facility's excellent standards of patient care and education and be compatible with Shands' existing IT archiving system.
Solution: After an extensive review process of CT systems on the market, Shands at UF selected the Toshiba Aquilion 16-, 32-, and 64-slice systems. Toshiba's proprietary Quantum Advantage of 0.5 mm slices across its CT systems gave Shands high- image quality across all of the systems. Whether physicians are doing a routine chest CT on the Aquilion 16-slice or a cardiac study on the 64-slice, they are guaranteed consistent, high-quality images. Also, Toshiba's flexibility and willingness to work openly with the IT and workflow implementation at Shands fit with the needs of the hospital systems available.
Benefits:
• No Trade Offs – Consistent Image Quality and Cost Effectiveness: Shands didn't have to purchase three 64-slice systems to ensure consistent image quality. With Toshiba's Quantum Advantage, which offers thin slices (0.5 mm) and high-image quality across all of its platforms, Shands was able to purchase multiple systems that were appropriate for their needs.
• Seamless Integration into Existing IT System: Toshiba's flexible customer support team fully integrated the new Aquilion CT systems into Shands' existing IT workflow, enabling the hospital to work with the new equipment without disruption to patients and staff.
• Excellent Usability for Teaching: User-friendly and functional, the suite of Aquilion CT systems has allowed Shands students to practice and learn on the advanced systems. The Quantum Advantage Toshiba's proprietary Quantum Advantage detector technology of 0.5-mm isotropic slice thickness was a significant reason Shands decided to purchase this suite of CT systems. With the same slice thickness across the board, the quality of images is consistent on all three Aquilion systems.
"The 0.5 mm slice profiles on the Toshiba Aquilion CT systems allows for excellent spatial resolution," said Anthony Mancuso, M.D., professor and chairman of Department of Radiology, UF College of Medicine. "As the profile of z-axis resolution becomes smaller, it increases the quality of reformations." A robust CT suite also provides an associated cost benefit. Shands can use the Aquilion 16- and 32-slice scanners effectively for a variety of routine scans, while more complex cardiac imaging and brain perfusion studies can be completed on the Aquilion 64 because image quality is consistent across all three platforms.
With these advanced systems, Dr. Mancuso said his staff quickly realized significant clinical benefits. "We wanted to create a strategy in CT that would streamline our workflow and allow us to move along the platform continuum as our clinical need and resource availability demands evolve," said Dr. Mancuso. "By purchasing the complete suite of Aquilion CT systems, we were able to remain within our capital budget. We can now utilize all of our systems to produce excellent, accurate images at the same slice thickness and allow for top-notch patient comfort and reduced exam times."
Adapting to IT System and Workflow Implementation
For Dr. Mancuso, one of the most important aspects of the hospital's decision was based on a vendor's ability to integrate into its IT archiving system and provide a streamlined workflow. To ensure the potential CT systems met these requirements, Shands enlisted Meryll Frost from Medical Imaging Consultants Inc., as a consultant.
"When helping Shands in its purchasing decision, we went through significant test procedures to ensure the Aquilion CT systems could be adapted at Shands," said Frost. "The tests are designed to make sure a particular vendor can adhere to both DICOM standards and Integrating Healthcare Enterprise (IHE) limitations to blend into the workflow."
Dr. Mancuso and Frost concur that Toshiba was clearly able to adapt to Shands' IT situation because of its flexible approach. Since Toshiba made sure the Aquilion systems were able to work into Shands' existing IT set up, there was no disruption in patient registration time nor patient data archiving capabilities.
"Toshiba has been extremely responsive to the needs of Shands from connectivity to workflow implementation," Frost said. "It is crucial when adding a new system that there is a give and take relationship with both vendor and hospital to make sure workflow implementation fits. Toshiba's excellence in this area contributed directly to Shands' purchasing decision."
Results: Best Equipment for Patients and Students
The installation of the 16-, 32-, and 64-slice Toshiba Aquilion CT systems has been a perfect fit for Shands at the University of Florida. The Quantum Advantage of 0.5-mm slices has been a significant benefit to both patients and students. The consistent and high-quality images across all the systems has allowed Shands to create a continuum of CT options and to provide better patient care and teaching opportunities.
In addition, Toshiba's flexibility in integrating into the IT archiving situation at Shands and creating a streamlined workflow for technologists has enabled Shands to be up and running on the new equipment quickly without disruption to patient registration and data.
"We couldn't be happier with our decision to purchase a complete suite of Aquilion CT systems from Toshiba," said Dr. Mancuso. "Having the best and most advanced technology is crucial in delivering quality patient care and providing the most advanced tools for education. Toshiba continues to lead the industry in CT technology and its current products and product horizon have made it a leader in CT."