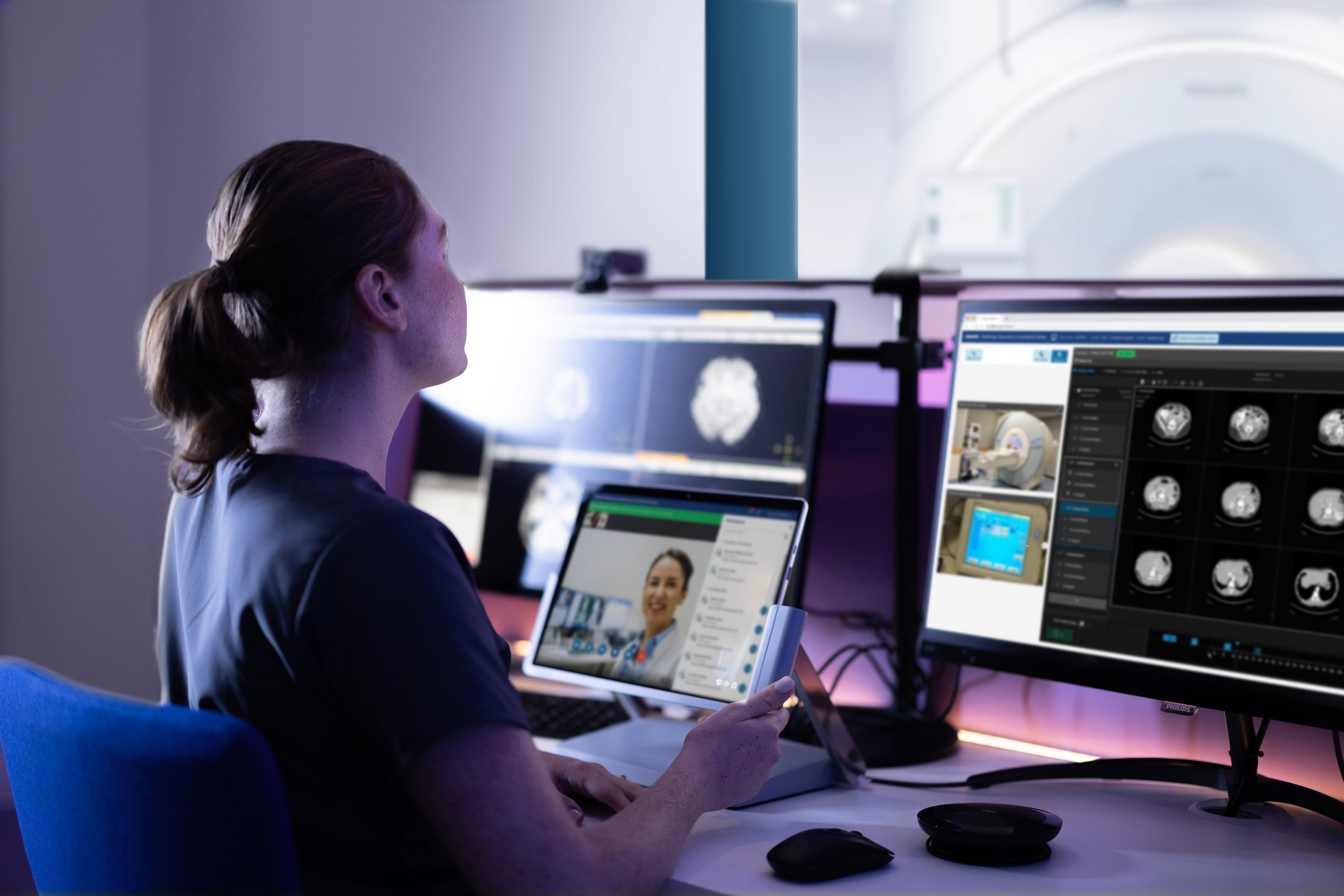 The healthcare industry faces many different types of obstacles in today's challenging marketplace.
Staff shortages, increased workloads and financial pressure are just some of the challenges facing hospitals and clinics. These hurdles can negatively affect patient care, staff experience, patient outcomes and costs. "One challenge is staff shortages, especially coming after COVID. We have seen a lot of health care workers burning out. It is prevalent throughout the industry," said Tanuj Gupta, MD, Business Category Leader, Operational Informatics at Philips. "I have talked to a lot of CIOs of different hospitals across the United States and we've seen the problem globally as well."
Now radiology departments, imaging technologists and medical experts have a solution they can use to help tackle these challenges.
Leveraging Technology and People
Philips Image Orchestrator (Radiology Operations Command Center, or ROCC) is a vendor neutral, multi-modality, multi-site telepresence tool that provides advanced tele-acquisition capabilities. ROCC connects imaging experts at a Command Center with technologists at scanning locations across an organization.
Philips Image Orchestrator empowers healthcare organizations to virtually enable scanning by connecting centralized expert support with magnetic resonance imaging (MRI), computed tomography (CT) and positron emission tomography (PET)/CT technologists across scan locations, providing real-time support and training on complex procedures and protocols.
By using ROCC, technologists can receive expert guidance during a procedure, even if the technologist and the expert are on separate floors, in separate buildings, or even across the country from each other.
"It helps leverage your most talented people," Gupta said. He explained that you could have one technologist or one expert oversee multiple machines. The technologist could be in Kansas City, and the scanners plus a tech aid could be in Chicago, New York, in both places, or just about anywhere. Thanks to the internet, the expert can view all those scanners remotely from a single location.
The less time experts spend traveling between locations they are responsible for, the more time they can devote to doing value-added tasks focusing on other team members, patients and workflow.
Philips Image Orchestrator features an intuitive user interface, private and secure architecture, and backward compatibility with an organization's scanner install base, that can deliver benefits across the entire imaging organization.
Imaging protocol adjustments can be made with the assistance of an expert and questions can be answered while a patient is on the scanner table. This makes it possible for on-demand, cross-training and procedure assistance when it is needed.
ROCC allows experts to connect with technologists and view console screens simultaneously to provide virtual assistance. The technologist can give an expert secure access to their console to receive help completing a procedure or adjusting an imaging protocol.
ROCC allows for real-time collaboration and "over-the-shoulder" support and breaks down communication barriers while maximizing the value of top staff without compromising imaging quality, privacy, safety or security.
Advanced Technology Provides Real Solutions
"Philips Image Orchestrator is truly an innovative technology that is multivendor and backward compatible," said Omkar Phanse, Market Leader, Radiology Workflow Solutions, Philips.
ROCC's advanced technology helps facilitate communication between scanner-facing technologists and experts. Imaging protocol adjustments can be made real-time with the aid of an expert and questions can be answered while a patient is on the scanner table.
"We now have the ability to have a virtual technologist monitor and support image acquisition. We are also seeing our customers [using ROCC] for virtually assisted scanning as well," Phanse said.
According to Gupta, Philips Image Orchestrator has been well received by diagnostic imaging centers. "These are facilities that are doing large volumes of scans with a large workforce. They naturally have an interest in looking for ways to leverage their staff to operate multiple scanners at once, especially in the face of staff shortages."
Gupta added that large or complex health systems can also find the system beneficial. "The product supports real time audio-video connection capability, to provide expert advice or education to med techs in different locations. You can leverage this product to upskill your staff across facilities, or find uses for it in multiple other ways."
"Most of our customers start off [with ROCC] using it for things like remote training and quality control support. As they get more acquainted with it, they start having more participative use of ROCC," Phanse said. "We have seen the ability to connect to a console remotely across any of the OEM scanners being used for protocol standardization. We now have the ability to have virtual technologists monitor and support image acquisition at the site. We see them using it for virtually assisted scanning as well."
ROCC is multi-vendor. Phanse said that about 85% of the ROCC installations in the U.S. are using non-Philips equipment, "which is a testimony to the fact that it is the only solution in the market that is multi-vendor and compatible with MRs and CTs."
Some of the key features of ROCC include: an intuitive user interface; a private and highly secure architecture; the ability to connect to multiple vendor products; and its backward compatibility with scanner install base.
ROCC can help stretch your staff; accelerate training; increase capacity and throughput; expand access to imaging devices; increase average revenue per exam; improve communication between techs, experts and radiologists; reduce recalls and repeats; and maintain business continuity.
Multiple Benefits
According to Phanse, the typical implementation time for Philips Image Orchestrator is eight to 10 weeks and the scanner downtime during the implementation is less than 30 minutes.
Among the other benefits ROCC offers are increased communication and collaboration by securely sharing imaging expertise among technologists, experts and radiologists across an organization in real time.
Efficiency and productivity are enhanced due to reduced travel times between sites and scanners, and increase capacity and throughput for your imaging operation, mitigating staff shortages, resource shortages and burnout.
ROCC also helps extend expertise everywhere by providing access to expert support to guide, support and train from a centralized location to help technologists while they are scanning.
ROCC can help drive consistency in imaging operations across sites. It can enhance an organization's ability to provide expert support whenever and wherever needed, and can help reduce patient recalls, repeat scans and maintain business continuity. ROCC Command Center can connect to up to three systems concurrently at any given time.
Another benefit is expanded access to expert care. ROCC helps minimize the physical distance and scheduling constraints that stand between patients and access to expert care, even when those patients are at a distance or have limited mobility.
If you would like to learn more about Philips Radiology Operations Command Center, please visit https://www.usa.philips.com/healthcare/clinical-solutions/radiology-operations-command-center.
The Radiology Operations Command Center is a digital solution that enables a hub-and-spoke model of imaging across multiple sites in an imaging network which allows an Expert User to provide real time support to the onsite user, The ROCC Solution is not intended to be used for clinical decision making. This software is not used for diagnostic or therapeutic purposes and has no connection to operating rooms or surgical use.
Related Content:
Take a Test Drive on the Philips Radiology Experience Tour
BLOG: Artificial Intelligence Provides Radiologists with Solutions for Today … and Tomorrow
VIDEO: Talking Trends with Philips: Connecting Data and Technology
Philips Advances AI-powered Diagnostic Systems and Transformative Workflow Solutions at RSNA 2022
---
If you enjoy this content, please share it with a colleague