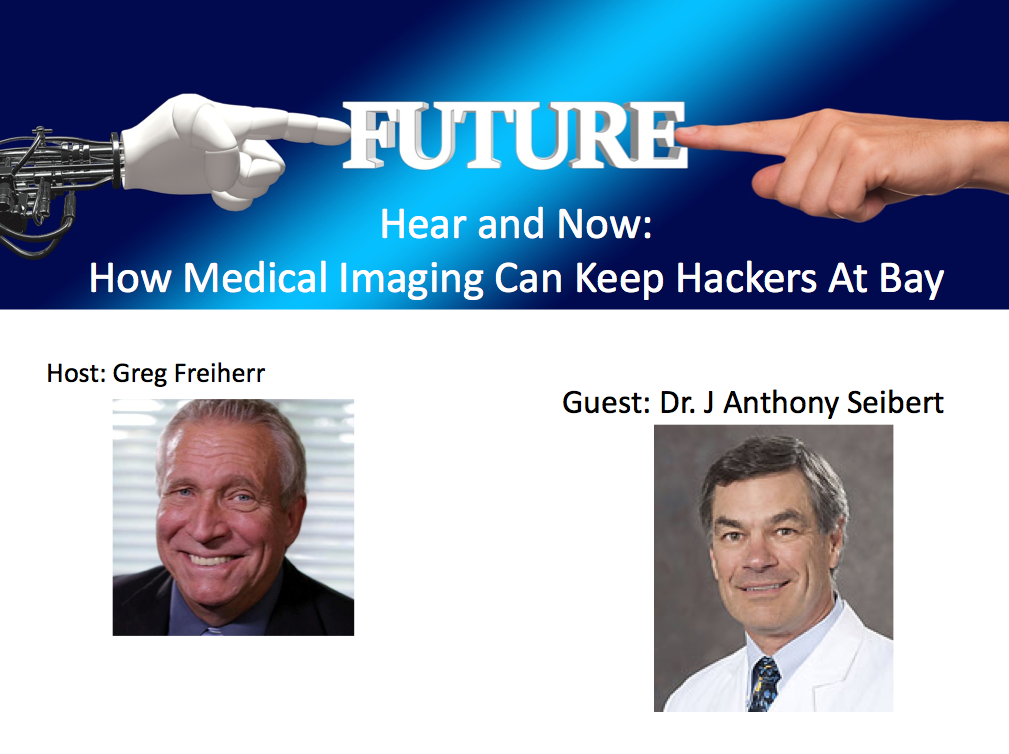 Medical imaging is ripe for the picking. Here's why.
Imaging and information systems are becoming ever more connected. And that has made them appealing and vulnerable, said Professor J. Anthony Seibert, Ph.D, in a podcast published by Imaging Technology News (ITN).
Now is the time to boost medical imaging security, said Seibert, who frequently speaks about cybersecurity issues at medical imaging meetings. (On June 27 at 4:15 pm, he is scheduled to co-chair a session on the topic at the annual meeting of the Society for Imaging Informatics in Medicine in Denver.)
The first steps to increased cybersecurity are amazingly easy and inexpensive.
In the ITN podcast, Seibert, an imaging physicist who serves on the radiology faculty of the University of California Davis, describes five of them:
Increasing awareness by staff;
Backing up disks;
Encrypting laptops;
Patching systems; and
Updating operating systems.
Not only does the integrity of health care and patient trust hang in the balance, but so does patient data. These are what make hackers want to attack medical imaging, Seibert said.
Medical information is more valuable than the common targets of hacking — illicitly gaining information about credit cards, social security and email accounts, he said. "Medical records have on the order of 50 to 1 value ratio compared to credit cards and other targets," Seibert said in the podcast.
Medical imaging sites provide relatively easy access to these data, he said. And the staff at these sites are partly to blame. Why? Because they do not recognize the vulnerability of medical imaging systems, he said. Weak passwords can be a result. Their existence serves both as evidence of the lack of staff awareness and ease with which hackers might gain entry.
"I could go into any institution and probably sit on an MR scanner and type in a password that is going to allow me to get in," Seibert said in the podcast. Hacking into a medical imaging site could allow hackers to get behind a "firewall and really… create a lot of havoc."
Those attending the June 27 SIIM session hosted by Seibert and another medical imaging physicist, Brett Strassner, will come to:
understand the scope of cybersecurity and its risks for medical imaging;
learn how to assess cybersecurity threats; and
discover how to draw an security blueprint that fits the threat/risk model, budget, and healthcare workflow of their institutions.
Greg Freiherr is a contributing editor to Imaging Technology News (ITN). Over the past three decades, he has served as business and technology editor for publications in medical imaging, as well as consulted for vendors, professional organizations, academia, and financial institutions.
Editor's note: This podcast is the fourth in a content series by Greg Freiherr covering the Society for Imaging Informatics in Medicine (SIIM) conference in June.
Related content:
DeepAAA Uses AI to Look Automatically For Aneurysms
Making AI Safe, Effective and Humane for Imaging
Cinebot: Efficient Creation of Movies and Animated Gifs for Presentation and Education Directly from PACS
How to Boost Cybersecurity in Medical Imaging 
WEBINAR: Realizing the Value of Enterprise Imaging: 5 Key Strategies for Success 
How to Protect Patient Health Data With Security Testing Automation