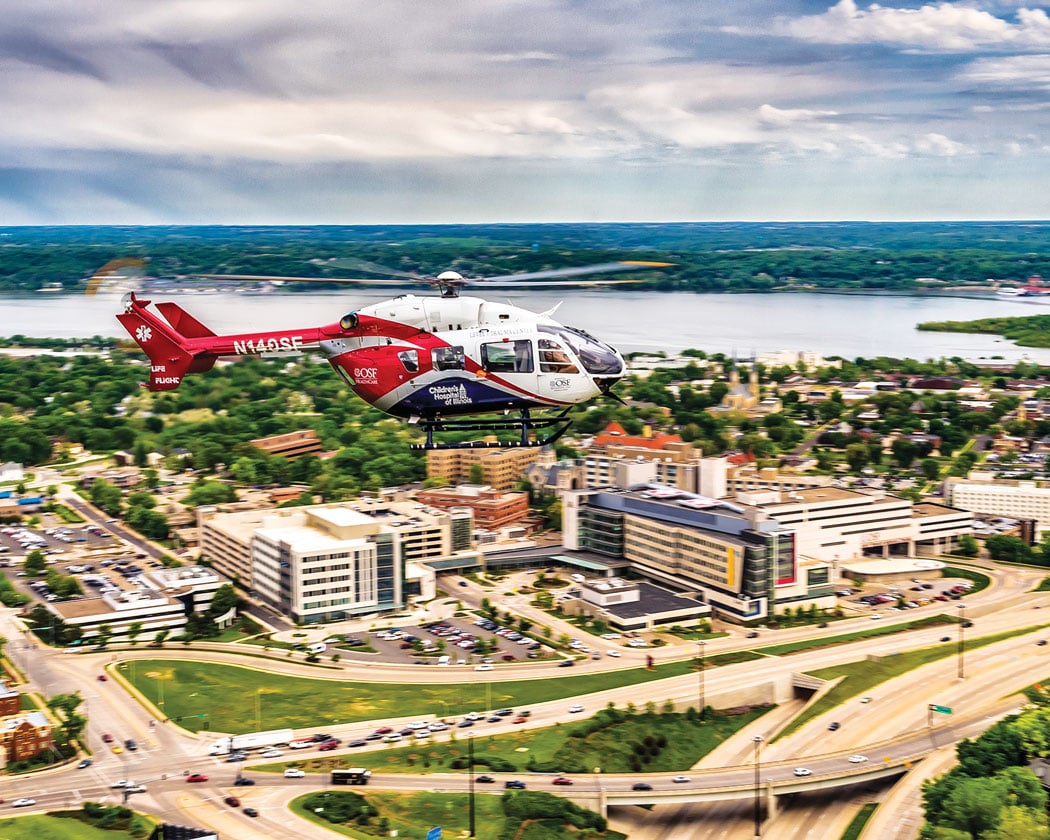 Flying over the main campus at OSF.
OSF HealthCare, an 11-hospital, 52-site, 138-year-old Catholic system based in Peoria, Ill., is recognized among Medicare's Pioneer Accountable Care Organizations. As such they are constantly looking to improve care quality while reducing costs - all with an eye on transitioning, as all U.S. healthcare providers must, from volume-based to value-based care. 
In this case study, Steve Kastelein, manager of diagnostic imaging applications for OSF HealthCare, discusses some of the overarching challenges they are facing. 
Q: In the past four years, what technology changes have occurred at OSF in support of your quality initiatives? 
A: In the past four years; I have been responsible for and lead four key quality initiatives: 
•  Installed McKesson's quality workflow and communications solutions, allowing the OSF radiologists to manage their peer-review work;
•  Implemented critical and noncritical results reporting workspaces within the solution to help document and manage those communications; 
•  Integrated the solution's ER Discrepancy Reporting workflow with their Epic EHR to allow data to flow to and from various care settings; and 
•  Configured the technologists' quality control workspaces to make the most of opportunities for physician-to-tech quality improvement. 
Q: What is one of the biggest challenges faced when implementing these new quality workflow processes?  
A: Not long ago, the OSF radiology and cardiology departments were bogged down in manual processes. As we moved to an automated and paperless environment, one challenge we faced was the fairly low tolerance our imaging professionals had for anything that takes too much time in their workflow. In the new processes, each step must be easy to do and be a part of the workflow or your adoption of new workflow processes will be low. You have to meet them in their environment and give them good workflow tools.
Q: What helped to improve the adoption?  
A: Good tools are important to improving adoption. For example, giving the radiologist the ability to flag something by keyword or click a few checkboxes and move on to the next study. This is possible in the peer review solution provided by McKesson. The system assigns the radiologist a certain number of cases and allows him or her to both view a prior exam and, on the fly, complete peer review work. They can make a comment right away and take care of some peer review as part of their normal workflow.  
Another important aspect that improved adoption was illustrating some of the prime benefits of the quality and workflow activities. At OSF these new workflow processes helped to improve communication between clinicians and ultimately provide better care to those we serve. The workflow solution helps ensure that messages are not just sent and received, but also documented. 
Q: How important is cost management in the transition to value-based care? 
A: I can't overemphasize the importance of cost management in this transition. We're looking at solutions to help get in front of the ordering workflow and provide better information to physicians on the appropriate use of imaging exams. Benchmarking is an integral part of looking for opportunities for cost savings. In our diagnostic imaging area, the departments analyze how well its costs compare with those of other institutions' departments. The OSF leadership wants to know when there are substantial differences and what causes those differences.
Q: How is technology helping in this transition? 
A: We have been working with our PACS/CPACS vendor to consolidate the physical footprint of those applications and also improve the data integration between those foundational imaging applications. With cardiology and radiology now on the same archive platform and the same storage platform, we are beginning the process of layering additional technology that will service the enterprise imaging needs of the health system. These technologies could include a zero-footprint viewer, additional worklist functionality, image exchange with our HIE or retention management. Because the imaging systems are integrated, I don't have to do things two or three different times. I am planning those connecting technologies for one consolidated infrastructure that we have within the McKesson platform.
Q: What do you expect from your IT vendor during this transition to value-based care? 
A: In our overarching IT strategy we value our vendor's ability to provide us with a broad array of services. We don't take a best-of-breed approach. For example, as we evaluated the technical needs for a vendor-neutral archive (VNA) solution, we worked with McKesson for a VNA-type product that we can use in our specific environment.
We feel we have a vendor partner that gives us the breadth and depth of products and services that allow us to stay within that single relationship and implement a lot of the strategies that we want to implement - not just now but into the future and as we transition to value-based care. McKesson is acquainted with our challenges and opportunities, and is aligned with OSF strategies. 
Case study supplied by McKesson.