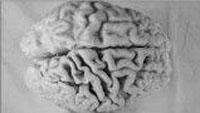 July 19, 2011 – The study "Use of Florbetapir-PET for Imaging beta-amyloid Pathology," published in the Jan. 19, 2011, issue of the Journal of the American Medical Association, has been selected by the Alzheimer's Association as the winner of the 2011 de Leon Prize in Neuroimaging for the "Best Paper" award in human neuroimaging, in the Senior Scientist category. The award was presented Saturday, July 16, 2011, to Chris Clark, M.D., co-author of the paper and medical director at Avid Radiopharmaceuticals, a wholly owned subsidiary of Eli Lilly and Co., during the Alzheimer's Imaging Consortium (AIC), in Paris, France. The AIC was a preconference to the Alzheimer's Association International Conference 2011 (AAIC 2011), held from July 17-21, 2011.
The paper reported the results of a Phase III "Imaging to Autopsy" study that was designed to determine if florbetapir positron emission tomographic (PET) imaging performed during life predicted the presence or absence of beta-amyloid plaques in the brain at autopsy. The ability to identify and quantify brain beta-amyloid potentially could enable a negative florbetapir-PET scan to rule out amyloid pathology in the brain.
"It is an honor to receive this award as it represents further validation of the importance of the study and recognition of the impact the paper may have on the future of neuroimaging of Alzheimer's disease pathology," said Clark. "Helping to lead this collaborative study was a life-changing event for me and I am pleased to be able to donate the prize earnings back to the Alzheimer's Association to support their efforts."
Florbetapir F18 injection is a molecular PET-imaging agent under investigation for the detection of beta-amyloid plaque in the brains of living patients. Florbetapir F18 was the first beta-amyloid imaging compound to enter multi-center, investigational new drug (IND) clinical studies in the United States. Florbetapir F18 is neither a screener for asymptomatic patients, nor a standalone diagnostic for Alzheimer's disease.
About the de Leon Prize in Neuroimaging
The de Leon Prize in Neuroimaging is presented by the Neuroimaging Professional Interest Area (NPIA) of ISTAART, the Alzheimer's Association International Society to Advance Alzheimer's Research and Treatment.
NPIA awards two prizes annually for the best papers published in any peer-reviewed journal, one in the Senior Scientist category and one in the New Investigator category. Both awards carry unrestricted prizes and are presented during the AIC, a preconference to the AAIC 2011.
The topic of the papers must relate to in-vivo neuroimaging of a neurodegenerative process. The nomination for the "Best Paper" award must be for papers published or in press galley proof, in the period between July 1, 2010 and June 30, 2011.
For more information: www.lilly.com